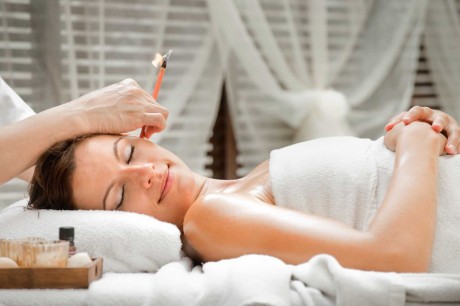 HOPI Ear Candling (also known as Thermal Auricular Therapy) is a pleasant, relaxing and non-invasive treatment of the ears to treat a variety of conditions.
Ear Candling is a safe simple remedy for relieving pressure, fighting infection and removing toxins and excess wax from the ears.
The entire process is relaxing and non-invasive. The treatment is used for healing and removing any unwanted materials and wax from the ears.
Clients who have increased pressure and itchiness in the ears benefit greatly from this and afterwards they may find their sinuses are draining or the drainage has increased which may relieve pressure and help clean out any material in your sinus area.
Ear candling is used to treat many ailments, including migraine and headaches, glue ear in children, catarrh, sore throats, sinusitis, tonsillitis, flu and excessive wax.
The treatment begins with a relaxing face, neck and décolleté massage followed by a foot massage, activating reflexology points.
During the Auricular candling a sinus massage takes place which helps clear any blockages reducing pressure in the head.
The candle is hollow which works like a chimney, when one end is lit there is a mild suction. The rising air inside the candle sets up a vibration which gently massages all of the structures in the ear. The ears, nose, sinuses and throat are all interconnected, so this has the effect of regulating and balancing pressure in the ears as well as the whole of the upper respiratory tract. To finish a gentle face, neck and décolleté massage is performed. This is one treatment everyone should try as it is so relaxing and enjoyable.
Mary Ferry is the proprietor of the Genesis Skin Care & Laser Clinic in Upper Dore, Bunbeg. Tel 07495 32575, www.genesissalon.ie. If you have a query you would like answered in Mary's column confidentially, e-mail healthandbeauty@donegalnews.com
Receive quality journalism wherever you are, on any device. Keep up to date from the comfort of your own home with a digital subscription.
Any time | Any place | Anywhere
Posted: 3:32 pm May 28, 2015