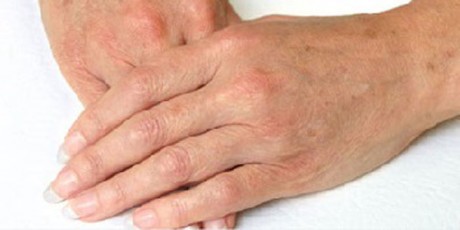 TRYING to keep our hands soft, smooth and youthful is not an easy task as they are always unprotected and exposed to sunlight, extreme temperatures, and a lot of wear and tear.
By the age of 30 skin cell production decreases by 10 per cent, making the skin less efficient at repairing itself. The tops of the hands where the skin is thin, can show signs of age first even before the face does as the skin is much thinner.
There is very little fat on the backs of the hands, so when even a small amount of collagen or elastin fibers begins to break down which is part of the normal aging process and partly from sun exposure it is going to have a noticeable impact on your hands.
This will result in wrinkly, crinkly crepe-like skin texture and the noticeable appearance of bulging veins, which also grow larger over time.
Help is at hand with the new laser skin tightening treatment for hands. This is ideal for anyone who would like firmer and tighter skin without visible post treatment scarring or marks.
Whilst other technologies have been developed to stimulate collagen production, the ND YAG is the most efficient, pleasant and cost effective and is FDA approved which means it is safe and it works!
The technology uses light energy to effectively remodel the body's collagen and regenerate damaged skin cells. This can not only dramatically enhance skin texture and reduce fine lines but reverse the signs of aging on the backs of the hands.
The skin tightening treatment takes only 20 minutes and during treatment, a brief warm sensation can be felt when optimum temperature is reached. This indicates the collagen is being tightened and stimulated in the epidermis.
The therapist will control the amount of energy delivered and will pause momentarily before proceeding to the next section or continuing. Once the area has reached effective collagen re-modelling temperature, the treatment will conclude. An aftercare sheet will be provided and post care advice by the therapist should be adhered to.
Immediately after treatment, you will notice redness and/or swelling that will subside within a few hours. The production of dermal collagen results in visibly looking taut skin improvements of up to 80 per cent and will also continue for four to six months post treatment due to continued collagen production.
Depending on the skin's condition, most people will need 6 treatments (one per month) and maintenance treatments thereafter.

Mary Ferry is the proprietor of the Genesis Skin Care & Laser Clinic in Upper Dore, Bunbeg. Tel 07495 32575, www.genesissalon.ie. If you have a query you would like answered in Mary's column confidentially, e-mail healthandbeauty@donegalnews.com
Receive quality journalism wherever you are, on any device. Keep up to date from the comfort of your own home with a digital subscription.
Any time | Any place | Anywhere
Posted: 11:00 am May 7, 2014