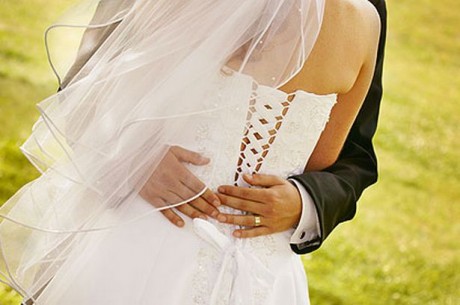 YOUR wedding day is one of the most important times in your life to look and feel your absolute best, where you will be the focus of attention of your closest friends, as well as the subject of a photographer.
But for many brides, the prospect of being the centre of attention adds to the stress levels. The real secret to looking beautiful on your big day is to relax and keep it simple. Here are some tips to make you look and feel fabulous.
When it comes to hair and makeup, consider not having to travel to a salon on the wedding day, instead have your make up therapist and hairdresser come to you, where you may be more relaxed in your own home or hotel room.
But if you find it quite stressful or too busy at home then take time out and make your appointments at the salons so you can get away from it all.
Tanning – Most brides will have a fake tan applied, it is very important to have a trial with your therapist well in advance to avoid the dreaded "tangoed" look.
Also make sure you emphasise to your therapist that it is for your wedding day and opt for a light colour as opposed to a dark tan especially if you haven't tanned before.
Then prepare the skin on a daily basis a few weeks before by exfoliating and moisturising to get rid of all dead skin cells and soften rough areas such as the knees and elbows. This will allow the tan to go on evenly and smooth giving you a healthy glow.
Eyebrows – Get your eyebrows and eyelashes done professionally, this will really add definition to the eyes and will look great in your photos. An eyelash tint will get right into the roots of the lashes adding length and really darkening them where it is impossible to get there with mascara. Adding colour to the eyebrows will really help define them and take years of you.
Preparing your skin – Discuss specific requirements with your therapist regarding your skin needs six months before your wedding, this will allow time to correct any skin problems.
Start having a facial every month which can be tailored to your skin type and remember there is a huge variety of treatments to choose from including glycolic peels to laser which will improve the texture and plump up fine lines by producing collagen, this will get your skin really glowing for your special day. A dermatologist once said "if you are intending to spend money on your skin make sure it is a glycolic peel as this is sure to give you results". How true!
Make Up – Have a trial make up done as this is the perfect way to meet your makeup artist and get a sneak peak at your make up before the big day plus the therapist will get to know you and the look you would like to achieve. She will take into consideration your own style and get to know any likes and dislikes you may have. Most brides at trial consultation will tell me that the makeup look they really want to achieve for their wedding day is to look like themselves but more defined and "pretty natural".
Natural warm browns or pretty greys and navy's are popular choices for bride's eye makeup. Definition can be achieved without going as far as a smoky eye, this can look too OTT when put together with a stark white wedding dress, even ivory dresses can make heavy eyes appear harsh, so, do keep this in mind. Remember if your wedding is day time, you do not want to look or feel too harsh or made up. You can easily add a darker colour of lipstick or eye shadow in the evening if you like. If you decide to have some black and white photos you need to make sure that your blusher is not darker than your skin tone otherwise the blush will look grey in pictures making the cheeks appear sunken-in.
Your makeup needs to be long-lasting without looking caked on. Using a primer and a translucent setting powder will keep your foundation in place all day and night.
Nails – Have regular manicures and pedicures two months before the wedding to get the nails and cuticles in good condition for those special photos. Arrange to have your manicure and pedicure done and day or two before the wedding to allow time for your last minute treatments like your tan. Gel polish is an excellent way to keep your nails glossy and smudge proof throughout the day and right through the honeymoon. Here at Genesis we are now offering Swarvoski Crystals for the nails which really sparkle and look amazing!
Do not get stressed – Do try to delegate as much as possible. Have daily lists and tick off as you go. There is absolutely nothing worse than stress to ruin anyone's day and especially your wedding day. Stress can cause many problems internally but can also cause redness around chest, neck area and in unfortunate cases can flare up eczema, cause breakouts and accentuate frown lines. The more you have organised, the less you will have to stress about. Have a body massage to relax and unwind the day before the wedding, this is a great way to help you get a good night's sleep. Sleep is vital for fresh skin, eyes and can make all the difference.
Salt – Reduce your salt intake or cut it out completely from your diet as this will reduce bloating and fluid retention and can also remove puffiness from your eyes.
We offer a one stop shop here at Genesis and cater for all of the above.

Mary Ferry is the proprietor of the Genesis Skin Care & Laser Clinic in Upper Dore, Bunbeg. Tel 07495 32575, www.genesissalon.ie. If you have a query you would like answered in Mary's column confidentially, e-mail healthandbeauty@donegalnews.com
Receive quality journalism wherever you are, on any device. Keep up to date from the comfort of your own home with a digital subscription.
Any time | Any place | Anywhere
Posted: 12:00 pm April 17, 2014