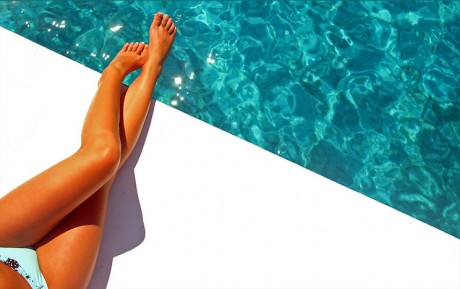 SUMMER is here and it is so nice to feel the warm air on your legs. That is if you do not have leg issues. Our legs have been in hibernation since last September under wrap from the cold winter weather. It is now time to unveil the pins and pack away the opaque tights as the hot summer approaches.
Unveiling the legs after a long winter is not a pretty sight, with pasty-whiteness and dry flakiness, they look withered and dead.  But the good news is that whatever shape or size yours come in, there are ways to make every pair of legs more beautiful. 
And however pale they are, there are always the self-tanners which get rid of that 'pasty' look faster than you can say 'fake it'. 
To get the most out of these, however, you first want to give legs some TLC. Legs don't naturally have too many sebaceous glands, so they get more papery (the skin can even dry up and crack), as we age.
It is important to keep the skin of the lower legs supple and resilient, because in old age, the skin here can take forever to heal, if damaged. 
First use a scrub massaging it into the skin covering all of the legs not forgetting the feet, removing the build up of dead flaky skin that has be nestling there for months. Use the scrub on dry skin to get an even better exfoliation.
Next step is to attempt hair removal either with a razor, depilatory cream or visit a salon for a professional wax or laser hair removal treatment. You have got to have hair free, smooth pins before your next step in applying self tanning lotions.
Apply a body cream that is super rich to help hydrate and smooth the skin and then either attempt to apply self tan yourself or have a quick spray tan professionally done that will cover every inch of the body and leave you golden bronzed in seconds.
Applying sheen to legs creates an illusion that they are longer and leaner. So for that optical illusion, apply a stripe of highlighter, leaving little shimmery particles of gold on your skin especially down the front of the shins. 
The legs need to feel as good as they look so after a long day standing on those now perfect pins try this for instant relief.
Lie on your back with your backside near a wall and rest your legs up against the wall at a 90 degree angle to your body, stay in this position for ten minutes and feel the total relaxation move into your legs and lower back.
Now with the legs relaxed, rested, soft, smoothed, tanned and looking fabulous for hopefully a hot summer ahead, we can look forward to wearing the shorter hemlines. This we will have to maintain until the leaves start to fall off the trees again.
Mary Ferry is the proprietor of the Genesis Skin Care & Laser Clinic in Upper Dore, Bunbeg. Tel 07495 32575, www.genesissalon.ie. If you have a query you would like answered in Mary's column confidentially, e-mail healthandbeauty@donegalnews.com
Receive quality journalism wherever you are, on any device. Keep up to date from the comfort of your own home with a digital subscription.
Any time | Any place | Anywhere
Posted: 1:00 pm May 24, 2014