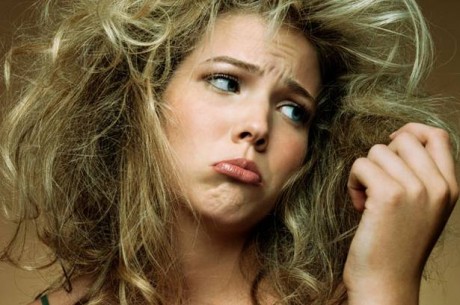 SUMMER is hard on your hair. Humidity is your hair's number one enemy. Increased moisture in the air not only adds frizz, but can also make hair weaker and more prone to breakage when you brush or gather it into a ponytail.
And to add to that, air pollution is higher due to summer travel, and exposure to drying chemicals like chlorine and damaging UV rays, so it is little wonder your hair can get in such a mess. Here are some tips on how to keep hair pretty, healthy, and frizz-free, even in the summer's hottest days.
Try to not use the straightening irons so much as this will create further damage and cause more frizz and a super sleek style will only make the frizz stand out even more.
In the hot weather you want to master the air-dry: If you have straight hair, distribute a styling cream from your roots through the midsection, then clip strands on the top of your head until they're almost dry. When you let your hair down, you will have more lift in the root area.
For curly hair, apply a curl-enhancing cream, twist sections around your finger to encourage spiral shapes. Once hair is dry, do not tousle it. A broken curl is a frizzy curl. Smooth any remaining frizz with a bit of serum.
Add sunscreen to your hair to prevent colour fading and highlights turning brassy. Hair products now contain sun blocking ingredients to help protect hair.
You can also protect your hair by running your hands through your hair after applying sunscreen to leave a fine residue of SPF on your strands.
Use a treatment on your hair. If you pull lightly at a strand of your hair and it stretches like an elastic band, it means it's been so damaged that the structure of your hair has been degraded. Use a spray or mask that has wheat-based or vegetable-based proteins listed in the ingredients to strengthen and repair the damage.
Get your hair trimmed regularly as split ends look scraggly and they can also travel further up the hair strands if they are not trimmed off. Go to a hairstylist and just ask for a mini-trim as not to lose too much of your length.
Water can be one of the harshest aggressors on hair and hair colour. Bring a bottle of regular or deep conditioner with you to the beach and apply to hair between dips in the ocean or pool. The coating of conditioning ingredients and silicones will help protect hair from the water.
Comb your hair rather than brushing. Brushing when it is humid can damage your hair more than in other types of weather. When hair soaks up moisture from the air, it swells and becomes more likely to break as you pull the brush through it.
To prevent this from happening, make sure to untangle tresses using a wide-tooth comb; it is less likely to snag strands than a brush.
Mary Ferry is the proprietor of the Genesis Skin Care & Laser Clinic in Upper Dore, Bunbeg. Tel 07495 32575, www.genesissalon.ie. If you have a query you would like answered in Mary's column confidentially, e-mail healthandbeauty@donegalnews.com
Receive quality journalism wherever you are, on any device. Keep up to date from the comfort of your own home with a digital subscription.
Any time | Any place | Anywhere
Posted: 12:55 pm May 22, 2014