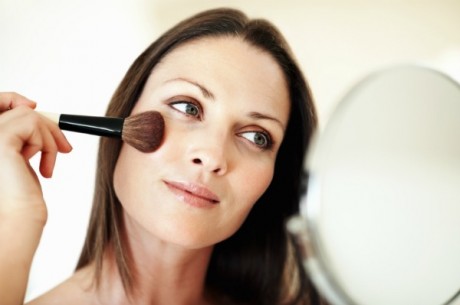 LIGHT-reflecting concealers are excellent for concealing dark shadows but also use them along frown lines just stroke the brush or wand along frown-lines and pat and see how your frown lines are considerably reduced.
When you are testing lipstick colour at a make up counter, apply to the inner pads of your fingertips, which have a natural rosiness not unlike lips, giving a much better impression of how a shade will appear on your lips. You can also extend the lipstick and hold it horizontally in front of your mouth to see what it looks like with your skin tone.
The best free beauty tool you will ever find is a mascara wand.  When you get to the end of your mascara, clean the brush with an oil-based or foaming cleanser to get rid of every last trace of product, then dry and use for combing brows into place.  If they're really straggly, you can use them with a touch of hair gel or a little spritz of hairspray.
If you have a cold, smear lip balm around your nose to stop the skin cracking and flaking.  Not very glamorous, but effective.
Brushing on powder is great for dealing with shine, but it can build up and look cakey. Try blotting sheets which simply lift off the oil, you can use a Kleenex tissue or even a piece of soft toilet paper, just peel the two layers apart, and press one onto shiny patches.
When you have had a manicure or pedicure, avoid soaking your hands/feet in a bath that evening. Hot water softens polish, encouraging peeling so if you are going to bathe, keep your newly polished nails out of the water.
To prevent lines around the eyes and crow's feet, always choose sunglasses with really wide frames.  Absolutely the best way to stop sunlight from ageing this delicate area.
If you have a low pain treshhold when it comes to tweezing eyebrows just dab a little Bonjela (mouth ulcer treatment) it numbs the area just fine.
To combat under-eye puffiness:  use a wrapped ice cube to smooth away the under-eye excess baggage.  Use an outward movement, towards the temples.
Microwaves come in handy warming up hair masks, put a dollop of mask into a bowl, switch on for 15 seconds, remove from microwave and put it on. Make sure you check the temperature first as you may want to put it on for a few seconds more if it is still not warm enough.  But think warm, not hot.
For a fuller looking lips, put a dab of gloss in the centre of the bottom lip or a touch of shimmery lipstick.
Revive your facial glow by doing a facial massage.  Try to incorporate two minutes of facial massage into your night-time regime, either while you are removing cleanser, or applying a facial oil.
To remove the hard skin on feet deeply massage first with a rich cream to loosen the layers of dead skin and then file them down.
Whenever you apply an SPF to your face, apply it to the backs of your hands as this is the best way to prevent age spots. An eyebrow shape and tint can take 10 years of you.
Mary Ferry is the proprietor of the Genesis Skin Care & Laser Clinic in Upper Dore, Bunbeg. Tel 07495 32575, www.genesissalon.ie. If you have a query you would like answered in Mary's column confidentially, e-mail healthandbeauty@donegalnews.com
Receive quality journalism wherever you are, on any device. Keep up to date from the comfort of your own home with a digital subscription.
Any time | Any place | Anywhere
Posted: 10:30 am July 5, 2014