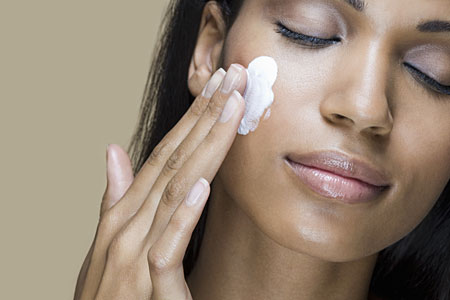 OUR skin is just amazing. It is capable of renewing itself once a month. The skin is the body's largest organ, it is waterproof yet it is porous enough to eliminate toxins through sweat glands but it can also absorb pollutants directly from the environment. Pores can easily become blocked by dirt, sebaceous gland oils and cosmetics.
A skin detox, along with a healthy diet and plenty of water, will help ensure you get the New Year off to a glowing start.
Regular exfoliation helps the body release toxins, as well as firming and smoothing the skin. Treat your body to a good scrub every three days to improve blood circulation, stimulate lymph drainage and remove dead skin cells.
Dead skin cells lying on the surface of your skin makes it look dull and prevents any moisturiser penetrating. Applying moisturiser on top of dead skin cells is a waste of product and money, the moisturiser is not capable of penetrating and will sit on top of the dead skin cells.
Dry brushing the body is an excellent way to help in elimination of old toxic fluid from the lymphatic system. Always brush upwards towards the lymphatic nodes found in the back of the knees, groin and under the arms. This can be done before your shower in the morning or evening using a dry body brush.
In winter, skin can be more sensitive than usual, so choose a gentle micro-exfoliant to keep the skin smooth and radiant. The skin can become much drier in winter from the environment and may need to be exfoliated up to three times per week.
Using a scrub or a cleanser with glycolic in it will certainly keep the skin look fresh and radiant and will ensure that your moisturiser works to its full potential.
Skin needs to breathe, and creams that contain mineral oils can suffocate the skin, trapping toxins under the surface. Instead, look for products that contain natural plant oils.
Products that contain mineral oils will also hold heat in the skin and cause it to become red and sensitive. It is not necessary to apply a really heavy moisturiser to re-hydrate your skin, but it is actually better to apply a moisturiser that penetrates immediately and effectively leaving no greasy feeling on the surface.
Face masks are an excellent way to draw impurities out of our skin. A mask should be applied once or twice a week to help remove impurities, improve circulation, refine pores and give the skin a really good deep cleanse. Make sure to choose a face mask suitable for your skin type.
Dark circles may appear around the eyes after all the parties and late nights over the Christmas. You cannot instantly get rid of dark circles, but you can help by detoxing the body, rest, drinking water and revitalise through good nutrition and exercise.
Mary Ferry is the proprietor of the Genesis Skin Care & Laser Clinic in Upper Dore, Bunbeg, Tel 07495 32575, www.genesissalon.ie. If you have a query you would like answered in Mary's column confidentially, e-mail healthandbeauty@donegalnews.com
Receive quality journalism wherever you are, on any device. Keep up to date from the comfort of your own home with a digital subscription.
Any time | Any place | Anywhere
Posted: 12:30 pm January 18, 2014