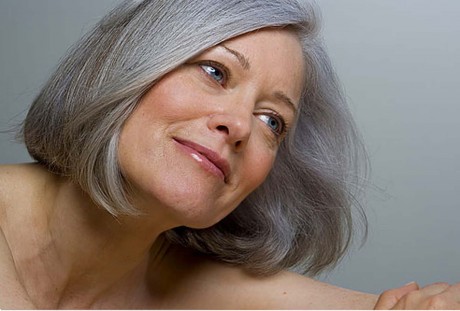 BEFORE menopause the ovaries do not ovulate regularly, oestrogen levels drop and the male hormones androgens increase stimulating hair growth. That is why most menopausal women will notice increased facial hair growth.
The pattern of hair growth and the number of hair follicles is determined by the time of birth. No new hair follicles develop after you are born; therefore if a hair and its follicle are totally removed, it will not return.
There are basically two types of hair, soft lanugo hair called vellus hair and a thicker, coarser hair called a terminal hair. Vellus hair is all over the body except for the palms of hands and soles of feet. If vellus hair is stimulated it is called hypertrichosis.
If vellus hair is changed to thick, coarse terminal hair, usually by an increase in the male hormone (androgens), this is called hirsutism.
The most successful method for reducing this hair growth is Laser Treatment. In order for laser to work successfully the hair must be dark in colour so that the energy from the laser light is absorbed by the melanin which is the pigment in the hair.
Because the light is attracted to dark colours the darker the hair the more effective the treatment. Laser is not effective on blonde, red or grey hair as there is very little melanin, therefore no heat can be generated in the follicle to destroy it.
The treatment sensation varies from area to area and from client to client. Most clients describe the sensation as quite moderate almost like the snapping of a rubber band.
To permanently reduce hair, the hair must be in the active stage of growth known as the Anagen Stage. Hairs that are not in the anagen stage will definitely grow back and that is why repeated treatments are necessary.
The number of hairs in the anagen stage at any given time varies from 10-30 per cent depending on the body site; therefore one can have minimum of 10 per cent and maximum of 30 per cent reduction in a single treatment.
This is why repeated treatments are necessary and it is important to keep intervals between treatments constant, as the aim is to get as many hairs in the anagen stage as possible in order to kill off the maximum amount in a single session, so as soon as new hairs begin to grow and emerge from the skin, they are usually in this active stage and treatment at this time is advisable.
Intervals between facial treatments are generally every 4-6 weeks and for body 6-8 weeks. The number of treatments varies where I have seen some clients getting 90 per cent reduction in just six treatments and where others need ten treatments in order to achieve this reduction.
It is important that you should avoid tanning one month before treatment and throughout the course of treatment.
You should also refrain from waxing, plucking and electrolysis for approximately three weeks before treatment and during treatment, as a root is required in order to kill off the hair. Throughout your course of laser hair reduction treatment you are only permitted to shave, or clip back as often as you like.
At Genesis we use a medical grade laser (ND Yag) which is capable of penetrating deep into the follicle and targeting the root of the hair giving excellent results.
Mary Ferry is the proprietor of the Genesis Skin Care & Laser Clinic in Upper Dore, Bunbeg, Tel 07495 32575, www.genesissalon.ie. If you have a query you would like answered in Mary's column confidentially, e-mail healthandbeauty@donegalnews.com
Receive quality journalism wherever you are, on any device. Keep up to date from the comfort of your own home with a digital subscription.
Any time | Any place | Anywhere
Posted: 4:43 pm April 7, 2014