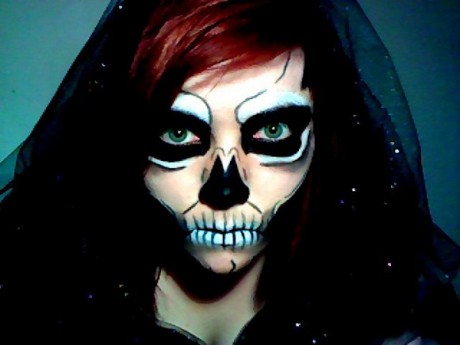 October is upon us and that means that the next holiday season is Halloween.
Halloween has taken quite a different turn in Ireland in recent years with everyone going all out and getting dressed up to the max.
Halloween costumes are most definitely going to the next level, now instead of just putting on a costume on, people are going for full on face painting, character creation and body painting.
So if you are a creative being it is the time to embrace it. Sculpt have developed a creative one day make up workshop based on this.
Designed to let you develop your own chosen looks this is the perfect creative outlet to carve a fun but professional Halloween creation.
The course will also guide you through creating casualty effects like cuts, bruises, scratches and burns. This course takes place on Sunday, October 13th from 11am – 5pm and costs €95.
www.sculptcosmetics.com for more info or call 085246706 to book.
An online shopaholic
When it comes to shopping we all can admit to buying things that we just do not really need, this can really be true of online shopping.
Shopping is one of those things that you just cannot explain why it gives us so much pleasure but it just does. Shopping for pretty things that enhance us and help us express ourselves is just dreamy.
With that in mind allow me to feed the aforementioned addiction with a host of the best online shops for beauty items and pretty things! Apologies in advance for any big hauls you become a victim of.
Beauty Emporium
Beauty emporium is a one stop shops for a huge array for beauty brands and I am definitely a massive fan! They stock a massive variety of product to suit various budgets, from Sleek Make Up, Leighton Denny Nails, Karora Tan, Daniel Sandler and China Glaze.
Beauty Emporium even offers you free shipping if you spend over €20 and on this store that is not hard to reach with all they have to offer!
It was even voted best online beauty retailer in 2012 if you are after an award winner and it is adding more and more brands each month. www.beautyemporioum.ie
HQ Hair
With brands like Kerastase, Redken and Urban Decay on board it is no wonder that HQ Hair is one definite go to site when you fancy a beauty treat.
One big plus is that delivery is free to Ireland, so not hidden costs at the checkout and the speedy delivery means you have your treats in no time at all. www.hqhair.com
Sculpt Cosmetics
Sculpt is another Irish brand who offer online beauty shopping. Sculpt offer a full professional make up range along with a full range of accessories, beauty equipment and tanning product. Nationwide delivery or local pick up is available. www.sculptcosmetics.com
Beauty Features
Stocking a variety of tan, make up, skincare and hair products, Beauty Feature or BF as they call it is a one stop Mecca for beauty junkies.
Hosting brands like Redken, Burt Bees, Clarins and Boo Boo Baby it boasts and massive variety of ranges and products. This site is really lovely to navigate through and easy to use too!
They offer you 10% off your first order for any novices out there that is the perfect incentive!
www.beautyfeatures.ie
Siobhan Boyle is the Director of Sculpt Studio A-1 Academy Court, Oliver Plunkett Road, Letterkenny
Receive quality journalism wherever you are, on any device. Keep up to date from the comfort of your own home with a digital subscription.
Any time | Any place | Anywhere
Posted: 8:41 am October 7, 2013