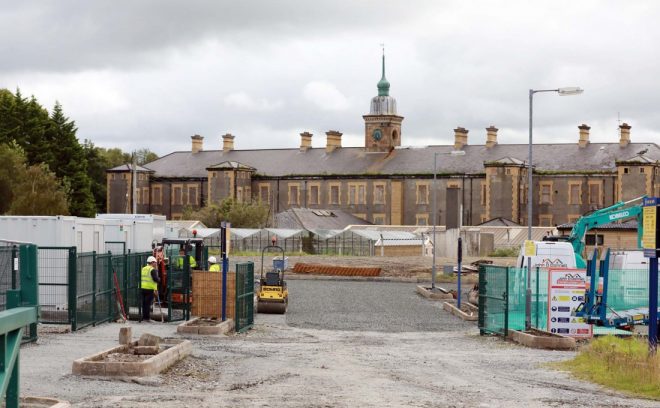 EVERYONE needs to remain Covid aware, everywhere.
That's the message from Doctor Paul Armstrong, Clinical Lead at the Covid-19 community assessment hub in Letterkenny which has seen an increase in the number of people being referred in recent weeks.
After going 23 days without a single Covid-19 case in May/June, Donegal has had twenty-five new cases over the last 14 days. Of these, 20 were found to be in the 25-54 year age group.
Included in those cases are 'three or four' in Letterkenny which prompted local GP, Dr Dara Scally, to take to social media earlier this week.
Dr Scally from the Scally, McDaid, Roarty Medical Practice in Letterkenny, sparked fear in the local community when she claimed that there was a huge cluster of cases in Letterkenny.
"Be careful my friends. Coronavirus is here in Letterkenny. I don't know why we, the public, aren't told what's going on. But me the doctor is. There's a huge cluster here. Please stay safe," read her post to Facebook on Monday afternoon.
The following afternoon, Tuesday, Dr Scally let her followers know that she was on holiday this week and was not taking calls but stood by her 'truthful' post.
It comes as the number of confirmed coronavirus cases in the Donegal continues to rise. The cases for May (18), June (12) and July (19) were in stark contrast to the number of confirmed Covid-19 cases in April (391) while there were 68 in March.
There were six cases in Donegal notified yesterday, Thursday.
Meanwhile, for the first time in over two months there were confirmed cases admitted to Letterkenny University Hospital last weekend. On Wednesday, there was still one Covid-19 patient receiving treatment in LUH.
The HSE confirmed that there has been an increase in the number of Covid-19 positive cases in Donegal over recent weeks, adding that this has been evident in most counties in Ireland.
"Since our first case on the 29th February 2020 there have been 758 cumulative cases of Covid-19 in the North West. Of these, 517 were in Donegal, 85 in Leitrim and 156 cases in Sligo.
"Over the last 14 days there were 25 new cases in Donegal. Of these, 20 were found to be in the 25-54 year age group.
All cases are followed up and investigated by the Public Health department, as are any linked cases. Covid-19 testing is a priority at present in the HSE.
"At times precautionary and pre-emptive measures may be implemented. We are being proactive in following up the current positive cases in Donegal, carrying out large volumes of testing. This is not unusual and done to identify any positive cases at an early stage, limiting the spread of the disease.
"As a community wanting to keep the disease controlled it is important that we do not become complacent," the HSE statement read.
The Covid-19 community assessment hub in Letterkenny has seen an increase in the number of people being referred in the last two weeks while there has been a spike in the numbers attending the Covid-19 test centre at O'Donnell Park.
Figures provided to the Donegal News from the HSE last week show that, in the seven days ending Sunday, August 16, there were 537 test were carried out in Donegal Community Testing Centre, O'Donnell Park, Letterkenny – – an average of 76 tests per day.
In the eleven days, ending Thursday, July 30, there were 320 tests carried out – an average of 29 tests per day.
This marks an average weekly increase of 168pc.
The assessment hub at Kilmacrennan Road has also seen a rise in patient numbers.
Designed to prevent Covid-positive patients with milder symptoms from overwhelming hospital ICUs in the advent of patient numbers becoming unmanageable, the Letterkenny facility opened in April.
Doctor Paul Armstrong said the hub is seeing anything from between six to twelve patients a day.
"The people we see are that bit sicker. They don't need hospital treatment but they need to be assessed. The numbers are running pretty steady in keeping with those presenting across the country.
"Even though our numbers are increasing the people that are being seen are predominately in the 20 to 50 age group who are healthy and fairly well. They're not getting as sick as the older people do so that's why we are not seeing the hospital numbers or deaths going up in a big way.
"The hub confirms that. It (Covid) is still out there but it's in a healthier cohort who are better able to handle it as far as we can see.
"There are cases in Donegal at present but they're scattered all over the county and they're in keeping with the national increase that we're seeing and, yes, I'm led to believe that there are three or four in Letterkenny.
"There's huge testing going on – over 500 tests in Donegal each week alone – which is showing up a two per cent positive rate. They're doing their very best to find them but it's very difficult to get rid of as many other countries all around the world are finding out. It's very difficult to completely eliminate but the numbers here are still quite small.
"You don't need to cancel your whole life but people need to be sensible in terms of how they follow the guidelines. Wash your hands regularly, wear a face mask and avoid unnecessary large crowds and close encounters," Dr Armstrong said.
Receive quality journalism wherever you are, on any device. Keep up to date from the comfort of your own home with a digital subscription.
Any time | Any place | Anywhere
Posted: 4:07 pm August 28, 2020