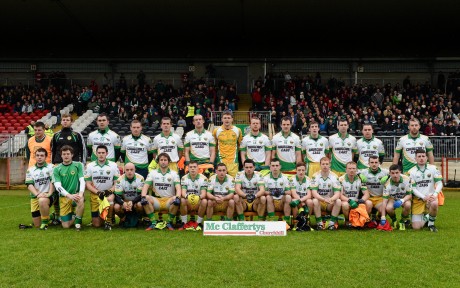 I WAS invited out to be a guest at Glenswilly's Up For The Match function last Friday night and, I must say, it was an absolute privilege to be in attendance.
You could just see what the whole occasion of the build-up to an Ulster club final meant to everyone, young and old, in the club.
From the stalwarts who foraged hard to found the club in the early 1980s to the excited young children from the local schools, everyone was involved; everyone played a part and felt a part of the club.
Isn't that what a good GAA club is all about?
Glenswilly have worked so hard as a club over the years. At times it hasn't been easy and at times it hasn't been too rewarding but this Sunday, I'm sure, every person who was involved in the club will take a great sense of both pride and satisfaction from seeing a band of men from their club race out to Healy Park to face Ballinderry, one of the big names in Ulster club football.
The thing that strikes me about Glenswilly – and it really hit home last Friday night, sitting in the function hall at the state-of-the-art clubhouse in Pairc Naomh Columba – is the work and development the people did when the club was in the nether reaches of the Donegal club scene.
All of this work and development hasn't happened just because they've been a senior club. Rather, the success on the field has followed the foundations laid in the club.
It is not often we see it in the modern game, but Glenswilly actually managed to put their horse before the cart.
They laid those strong foundations and really theirs is a template that quite a few clubs could take a peak at.
It all meant that when the team came they had the foundations and facilities to foster it and develop it.
They are playing at the highest level possible.
They are really well organised now and there are county sides around the country that wouldn't have the preparation levels of Glenswilly.
Club championship football can be very difficult to prepare for when you have county men in the squad. You might have two or three county players and not see them for weeks on end because the county is where the priority is.
When they are knocked out of the All-Ireland race the knock-on is huge for the club because now, all of a sudden, these guys are back in harness and devoting all their attention and effort to training and playing for the club. What a boost it has been for Glenswilly to have Michael Murphy, Neil Gallagher and Gary McFadden right at the hub of their preparation over the last three months.
That, surely has taken Glenswilly to a different level, having three Sam Maguire winners back in tow.
These aren't men who go through the motions, either. They are men who when they go to the training field they lead by example and by God do they have an influence.
They are coming up against a seasoned Ballinderry side that has a rich pedigree in Ulster football. The standard of club football in Derry is often lauded and it has been said that the standard of the Derry county team has suffered because of rivalries festering from the club scene and players not engaging with one another. Eamon Coleman managed to unite them to a degree in the early 1990s.
Ballinderry have a superb tradition and their side is littered with inter-county experience in the form of men like Michael McIver, James Conway, Ryan Bell, Conleith Gilligan and Kevin McGuckin.
That isn't to ignore big Enda Muldoon who can come off the bench; a hugely talented and influential footballer.
For me, Michael McIver is the danger man. Wearing number 4 he had a licence to roam against Kilcoo and got up to score 1-2. He is the man to watch.
Darren McGinley and Caolán Kelly play withdrawn roles for Glenswilly and their whole defensive unit will have to be on their toes for this one.
They will have studied the videos in depth and I know they also watched Ballinderry in the Derry League final. The homework has been done, but the bottom line is that Glenswilly need their big men to have big names, but they also need the likes of Ruairi Crawford, Kealan McFadden and Caolán Kelly to step it up and the experience of Joe Gibbons, John 'Brockagh' McFadden and Brian 'Shorty' McDaid cannot be discounted.
These men are really important on Sunday. Glenswilly cannot afford any slippage on Sunday.
In two of the last three games, Philip O'Donnell has shown to be prone to the odd mistake and error of judgement. Against a team of Ballinderry's stature, those mistakes will need to be erased. Glenswilly will need everything to drop in their favour, but they also need to keep the mistakes to a minimum.
Padraig Hughes, the referee, will be a key man on Sunday. Derry football is very physical, but Glenswilly will not be afraid of that. Certainly they won't be shying away from the rough and tumble if it's needed.
What an achievement it is for Glenswilly, a small club, to get here and you must credit all those who helped it grow. When Mick Murphy moved to Donegal, it was Finbarr Glackin who coaxed him into getting involved with the Glenswilly club, after a lot of persuasion they say! The rest, though, is history.
The acquisition of Eamon Ward has also been pivotal. He knew what it took to win a Championship and he has been very important, notwithstanding the bunch of players that came along in Glenswilly: Neil Gallagher, the Kellys, the McFaddens and Ciaran Bonner.
All of that under the watchful and careful direction of Gary McDaid has taken them to the brink.
The big reason I feel Glenswilly can and will win is that there is no better player in this county or country at the moment than Michael Murphy.
He is on such a run of form right now. He can be the man to take Glenswilly across the line. He'll be in for a different treatment from Ballinderry on Sunday, but he has the experience and know-how to deal with it.
With him at the controls, Glenswilly can reach the summit.
Good luck to them.
Vocational School demise
WE PROBABLY witness the end of the Inter-County Vocational Schools competition on Wednesday night as Donegal defeated Cavan in the final at Brewster Park.
The demise of the competition has been stark of late and while it has been given a moritorium of two years I was speaking to Jimmy Smith at the final on Wednesday and he didn't seem too hopeful for it being resurrected.
Donegal always took the competition seriously and it was a great competition for Donegal football, especially since we didn't have the same level of colleges football that other Ulster counties had. It was a great platform for some Donegal footballers but the ending was a sad one. It sort of felt like the way the Railway Cup had gone, just petering away without a whimper.
Donegal have won the competition fifteen times and it was always good to the county, though we couldn't really pass on the success to our county minor and under 21 teams.
Why that is we may never know now.
Wednesday's game was a fine way for Donegal to sign off.
Donegal deserved the victory and what a performance it was by Darach 'Jigger' O'Connor, who scored 2-2 and made another goal in a sixteen-minute appearance. It was as good an impact sub as you'll see. The two goals were of his own making and the two points he hit were sublime, again of his own making, with two superb finishes.
Have you a comment to make on any of the above, or would you like Declan to raise an issue in the column? If so, you can get in touch by emailing d.bonner@donegalnews.com
Receive quality journalism wherever you are, on any device. Keep up to date from the comfort of your own home with a digital subscription.
Any time | Any place | Anywhere
Posted: 12:20 pm November 30, 2013