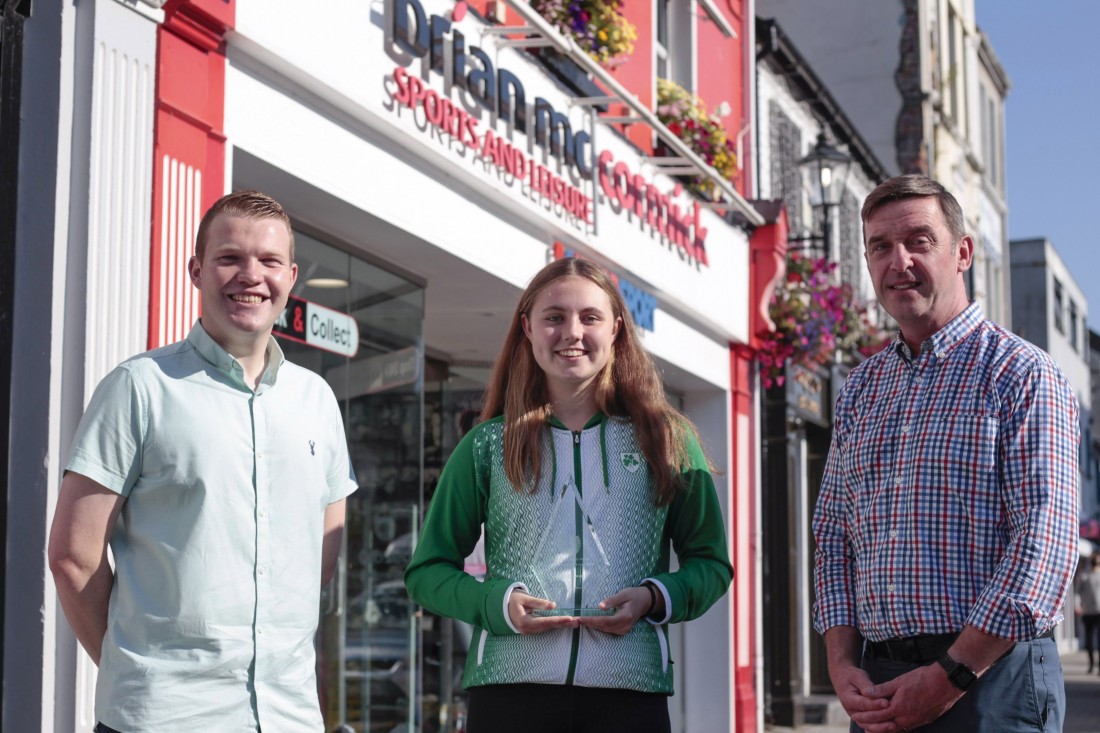 Adrienne Gallen receives the July Sports Personality of the Month award from Ryan Ferry (left) and Brian McCormick. Photo: Brian McDaid.
IT was a July to remember for teenage hammer-thrower Adrienne Gallen as she got to wear an Irish vest for the first time and won a bronze medal at the Under 18 Track & Field International meet in Franconville, France.
Gallen went up against the best Europe had to offer in the hammer and her excellent effort of 57.63 metres was good enough to secure her a place on the podium.
It was a deserved reward for the Lifford native, who has put in a huge amount of time and commitment to her chosen sport over the last four years.
There is no doubting her sporting pedigree as her mother Sharon (née Foley) was a fantastic Track & Field athlete who won a staggering 40 Irish titles in a range of events and competed for her country at the 1993 World Championships.
Adrienne is now on her own journey and this week, she was presented with the Donegal News Sports Personality of the Month award for July in conjunction with Brian McCormick Sports & Leisure.
She said: "Growing up I was always involved in athletics because my mum did it when she was younger, and she is now a coach with Lifford Strabane.
"I tried most events but I didn't really take to many of them until I started throwing events.
"Eventually I took up the hammer and it just kind of clicked and worked very well.
"Over time I just practised and practised, and now it's one of my favourite things to do."
Lifford Strabane are renowned as an excellent throws club and Gallen is one of a host of promising stars who are beginning to make their mark.
There are no short-cuts to success in the Hammer, and the 16-year-old says it requires time and dedication.
"There's a lot of practise and repetition needed, and a lot of it relies on technique.
"I wouldn't be one of the strongest throwers and I would rely more on my speed and how well I turn.
"Lockdown was the perfect opportunity to perfect and practise everything.
"We would train about five times a week. Some days we are at the track, and other days I would use the gym we have at the house.
"When lockdown hit, the track closed so we built a cage in the field next to my granny's house with some scaffolding.
"It's great fun, and I have a lot of friends who do it with me as well.
"John Barry is my coach, and we have a great group at the club who have been working really hard."
That hard work has paid off for Gallen, who has enjoyed a super 2021 so far.
She found out in early July that she had been selected to attend the international meet along with 22 other Irish athletes. Also included were Tir Chonaill AC's Lucy McGlynn and Oisin Kelly of Cranford.
"At the start of the year, we were hoping that there would be the European Under 18 Championships in Rieti in Italy but they were cancelled due to Covid.
"We were mainly just training away for national competitions, and then this meet came up.
"Athletics Ireland decided to take a team which was great, and then it was just about waiting to see if you got picked.
"I kind of cried when I got the news. It was emotional.
"They took a team of 23 of us away and it was an amazing experience to compete with all the other European countries."
The Hammer event in Franconville was won by Audrey Jacobs from the Netherlands, while Florella Freyche from France was second.
There was a high standard to the competition but Gallen was able to hold her own.
"It was very different to what I had experienced before.
"Everything was read out in French, and I had to chat to a French girl to find out what I had thrown. She translated for me.
"It was amazing with the way everything was run.
"It was my first time to wear the Irish kit so that was very special to me."
Gallen backed up her fine showing in France the following week by winning the Hammer event at the Juvenile Track & Field Championships.
"I went down to the National Championships in Tullamore and I threw a championship best.
"I got a PB that day of 60.90 metres which was a big thing for me.
"It's a great sign that something is going right."
Gallen has also won national silver medals in the Shot Putt and the Discuss in recent weeks but it was back to the her number one focus, the Hammer, at the Manchester International last week.
She was part of the Ulster/Northern Ireland selection and came fourth in her event, and it is a competition that should stand to her going forward as she threw with the 4kg hammer as opposed to the 3kg one which is used at juvenile level.
"Yeah that was very good. I moved up to the senior weight for there.
"It was good to try that because I need to get ready for that next year because I'll be moving permanently on to the senior weights.
"Every trip away is something different and so much fun."
It's back to school at St Columba's Stranorlar next week for Gallen but there is plenty more on the agenda before the year is out.
"I have the Donegal championships this weekend in Finn Valley so hopefully I will do good in that.
"After that there is the Tailteann Games where every province sends a team, and the top two in that competition get to go to the schools international which is over in Derby in England. So hopefully I'll be able to qualify for that.
"I'm going into fifth year at school now. I had a great year in TY and that gave me a lot of time to train.
"I'll have to find the right balance between school work and my training now."
Receive quality journalism wherever you are, on any device. Keep up to date from the comfort of your own home with a digital subscription.
Any time | Any place | Anywhere
Posted: 9:00 am August 28, 2021