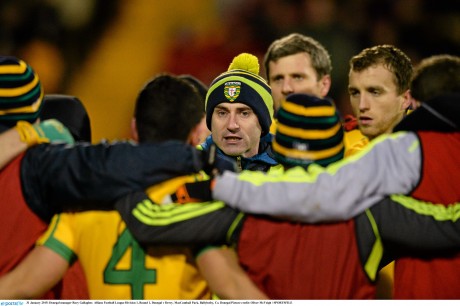 BY CHRIS MCNULTY
WHEN Jim McGuinness pressed 'send' on a group text around the Donegal players, management and support staff on the night of October 3rd, uncertainty swept across the Bluestacks.
From his apartment in the West End of Glasgow, McGuinness delivered the bombshell.
Donegal had been waiting for it, expected it even, but when the phones bleeped across the Irish Sea, there was still a sense of shock: It was over, just like that.
"It was like when the girlfriend walks out on you – there she is, gone, and there's nothing you can do about it," as Donegal footballer Eamon McGee put it at the time.
McGuinness thanked his troops for their service and their loyalty across the four years of his tenure. He wished them well for the future.  With that, he was gone, seeking the comforts of a week-long holiday with his family in Portugal. The road ahead was foggy in Donegal, the outlook littered with doubt.
In Killybegs there was clarity in one man's mind about what would happen next.
"I never had a minute's hesitation," says Rory Gallagher now of those moments in which he decided to put his hat into the ring to succeed McGuinness.
The draw for 2015 had already been conducted. Donegal had been pulled out first so the preliminary round was the first port of call. Against Tyrone.
"It presented a greater challenge, yeah, but I had made up my mind it was something I wanted to do," the former Fermanagh star – who served as McGuinness's assistant for three years – says.
"I had worked with the boys before, which was very rewarding for myself and for the players. I looked at the potential of our team and made up my mind that regardless of the draw it was something that I wanted to do. The reality is that there would be very few other teams in Ireland that would be as attractive as Donegal."
It was two weeks before Gallagher's candidacy was confirmed. Shortly before the 5pm deadline on the afternoon of October 17th, Gallagher's Cirriculum Vitae was dispatched to the Donegal County Board. A fortnight later, the coronation sword was placed on his shoulder at a meeting of the Donegal County Committee in the Villa Rose Hotel, Ballybofey.
A stone's throw from that room, the Cappry Suite, Gallagher will take his position in the dugout at Sean MacCumhaill Park this Sunday for his first Championship game as Donegal's manager.
Mark McHugh watched the summer of 2014 from afar. Having pulled out of the panel in the days after the Division 2 League final defeat to Monaghan last April, McHugh decided that he needed time out. New York was soon beckoning and he spent the summer months in The Big Apple.
Back at home for the All-Ireland semi-final and final, McHugh felt the regret eating him up on those days when he sat in the stand, with Croke Park heaving and Donegal's player toiling in the great theatre that once provided him with a stage for which he seemed ready made.
McHugh father, Martin, and Gallagher became close over the years. With Gallagher training and later managing his club, Kilcar, Mark McHugh got to know Gallagher better than most.
After coming through a trials process, McHugh made his return to competitive action with Donegal in January.
"It gave me a new freshness and I was buzzing…because I wanted to be there," McHugh says.
When McGuinness pulled the rug, McHugh was in no doubt that Gallagher was the man to pick up the pieces.
He says: "He's the most intelligent GAA man I've ever met. He would tell you about past players and present players from anywhere.
"He has a real eye for talent. His knowledge of football is unbelievable and his tactical awareness is brilliant. He opens your eyes to things you wouldn't normally see.
"He was the right man for the job. He had been there. A brand new manager would take four or five months to find his way and see what his plans were. There haven't been many changes with Rory, just little tweaks here and there to improve us."
Frank McGlynn had played under Brian McIver and John Joe Doherty before McGuinness came along. The Glenfin man has seen the changing of the guard before.
"We all know Rory and have great respect for him – the change in manager has gone as well as you'd want," he says.
"A new manager is always asking questions, looking for answers. Players are the same. That was all cut out when Rory was appointed. He knew us and we knew him. That's been a huge help because the getting-to-know-you phase wasn't needed during the League campaign.
"This weekend was always the date that was on our minds. We found out a lot about ourselves during the League and I think we did gradually improve as it went on."
Gallagher acknowledges that there is little in the way of a honeymoon period with Tyrone rolling into Ballybofey representing one of the sternest challenges facing any county in the opening round.
He says: "Yeah, sides are now looking to take our scalp – that's the reality. We're very much aware of that. We're up there to be shot at. That's part of the challenge."
The former Fermanagh forward feels blessed to be guiding a dressing room that includes the likes of Michael Murphy, Karl Lacey, Eamon McGee, Neil McGee and Neil Gallagher. 'Real leaders of men,' as they were described by Rory Kavanagh earlier this year.
The Donegal boss says: "We're lucky that we have a number of serious leaders in our group. But they take it upon themselves. They go to the gym in little clusters and they become pals. It's easier to go into the gym with someone else. Some of them are doing yoga. I've never been to one of those or even a strength training class – either doing one or watching one!
"But I do hear that they have the craic. There are WhatsApp groups and they're all slagging one and other. That develops itself. That's not something you can force. I've seen set-ups where that has been forced upon people and after a while so-and-so starts skipping nights.
"Our boys come in with a smile on their face every night. They might work very hard but they go home with smiles on their faces. They enjoy the bond they have with each other. It's special to them. It's an environment that everyone wants to be in or at least people with that ambition to play county football or to be the best that they can be in their chosen sport.
"That's a huge driving force for this group and for myself. It's a great honour to be at the level that Donegal have been at for the last number of years. It's not something that they take for granted. They put pressure on themselves to improve."
He's been at the furnace before on these weekends and Gallagher is well aware of the inner workings of an afternoon like Sunday's.
"Obviously there's the added pressure as the buck stops with you," he says of the differences now to when he was by McGuinness's right hand.
"The players got used to preparing, training and looking after themselves to a very high level. They wanted the best chance of being successful and that's something they wanted to continue. No matter who was the manager it was going to be something they players demanded anyway.
"Obviously there's the added pressure as the buck stops with you. I don't feel that too much. I know in the three years previous we never wanted to lose a game. From my point of view and the players, it was a major plus. I know them as footballers and I know them as people. Together, we can work well together and that's a big plus. In the bedding in period I knew them very well. There's not much I didn't know about them of them about me.
"I feel, having been involved, while we performed to a high level and prepared to a very high level, it's my job now to bring that on."
The more things have changed in Donegal, the more it feels as if they've stayed the same – and that familiarity is perhaps one of their greatest strengths.
Receive quality journalism wherever you are, on any device. Keep up to date from the comfort of your own home with a digital subscription.
Any time | Any place | Anywhere
Posted: 9:00 am May 15, 2015