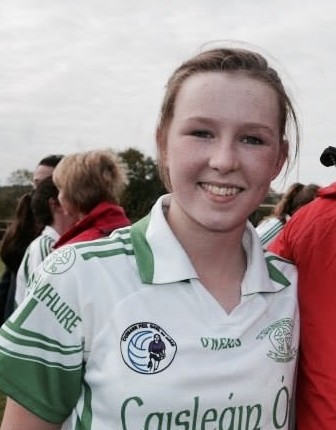 Name: Katie O'Donnell
Age: 17
Occupation: Leo's Tavern
Team: Naomh Muire LGFA
If you were throwing a party and you could invite anyone in the world, dead or alive, who would you ask around? Adam Sandler, Will Ferrell and Michelle Greene.

Where do you like to go out to celebrate after a big victory? Probably stay local as in Casadh'n tSugain
What's the worst pitch you've ever played on? Definitely Dungloe's pitch!
Which character in any film are you most like? All my friends say I'm dramatic, so probably Will Ferrell in Stepbrothers.
Any odd items in your kit bag? A three-week-old banana in my side pocket that I won't go near.
Who's the biggest joker in the team you play for? Would have to say Ellie Tracey, never stops laughing, and screaming with that loud voice of hers!
Which team mate has the best looking other half? None of us to be honest! We're all saints on this team!

Who is the worst trainer? Probably Ellie Tracey again, never stops complaining about any drill!

Who spends most time in front of the mirror in the dressing room? Definitely Aoife McGarvey! Always checking herself out!
Who's the best/worst person to sit beside on the team bus? Would have to be Nicole Boyle and Lisa McGee, they never stop chatting.

Who has the best and who has the worst diet on the team, and what does it include? Jade O'Donnell is always eating fruit or nuts when I see her, and I'd say I've the worst diet, always buying chocolate or ice cream on the way home from a game!
Toughest opponent you have faced? Probably Lauren McElwaine.

Best or worst quote you've heard, either from a manager, player, opponent? 'Extraordinary efforts equal excellent results' – probably the only one I could understand!
Best manager you've ever played under? Would have to be our manager John McGarvey!

Best ever performance? Probably our u16 final against Fanad! I'll never forget it!
One to forget? Aww there's loads of them but not for you to know ha!
Sporting ambition? To have a massive win with these girls!

When you were playing in the back garden, who did you pretend to be? Colm McFadden.

If you were in charge of transfers, who'd be in and who'd be out of the team? I wouldn't transfer anyone out of our team, but if I could transfer someone to our team it would be Geraldine McLaughlin.
Receive quality journalism wherever you are, on any device. Keep up to date from the comfort of your own home with a digital subscription.
Any time | Any place | Anywhere
Posted: 11:59 am May 5, 2016