DARREN McElwaine has led from the front all season for Letterkenny Rovers and he is dreaming of marching his team out at the Aviva Satdium in the FAI Intermediate Cup Final.
McElwaine is the team captain and he has scored in every round so far as they have progressed to the semifinals of the prestigious competition.
Cockhill Celtic, Dunboyne AFC, and Midleton FC were all dispatched with, before Rovers got the better of Killester United in the quarter-finals at Leckview Park.
McElwaine won and scored a penalty to put his team 2-0 up in that game and while the Dublin side replied with a goal, Rovers held on to qualify for the semi-final for the first time since 2004.
They have been handed a difficult assignment away to Cork's Ringmahon Rangers this Sunday (kick-off is at 1pm in Ringmahon Park), but it is a game that McElwaine is eagerly awaiting.
"Everyone is buzzing – we can't wait for it," said McElwaine, who is affectionately known as 'Macca.' "It's a massive opportunity for us. When we were drawn away to Cockhill in the first round, you wouldn't have thought that we could make it here to the brink of the final. "We know we're away, but we have kept our best performances for the Intermediate Cup this year, and we're going to need another big one on Sunday.
McElwaine has been a Rovers player for a decade now, and he has been an integral part of their team over that period. It hasn't been all straight forward for the big centre-forward either. He missed a season after rupturing his cruciate and two years ago, he found himself on the sideline again after dislocating his knee.
He fought his way back to fitness and has enjoyed a fine campaign as he has spearheaded the Rovers attack. "It's probably the best run we have had. We had a strong side in '09 too when we won the league, but it was hard to get out of Donegal in the Intermediate Cup. We probably should have done better looking back at it. "The Ulster Senior League is going through a tough time at the moment, but the Intermediate has given our season a whole new dimension.
"Each month since November we have had a big game in that competition to get ready for, and then when you throw in Derry and Cockhill in the league as well, it has been pretty competitive.
"It's nice to be able to prepare for those teams from down the country, but to be honest, we only really concentrate on ourselves. (Eamonn) Mc- Conigley's thinking would be to focus on making sure we play our own game."
The tough nature of the Intermediate Cup has been best demonstrated by the tight nature of all of Rovers' games. They have rode their luck at times, but have battled through and made the most of home advantage in their previous outings.
"We beat Cockhill 2-1, and we drew with Dunboyne. There was snow on the ground that day and it was a tough match, but we took them back to Letterkenny and beat them on penalties," said the 33-year-old.
"We beat Midleton and Kilester 2-1 as well, and it just seems to be one goal that decides these matches. "You can't afford to switch off. We were 2-0 up against Midleton and cruising, but then they scored and we had to dig deep.
"It was the same against Killester when we were under pressure late on and it was backs to the wall stuff." Ringmahon are in the second tier of the Munster Senior League, and they currently sit in third position in the table, one spot behind Midleton, who Rovers have already accounted for. McElwaine is anticipating a hotlycontested encounter, and he admitted that he would be more than happy if the teams are level at the end of the match, and have to do it all again at Leckview Park.
"I'm expecting them to be big and physical, like all Cork teams are, and they'll probably look to go direct. "It will be a tough 90 minutes but if we could even get a draw and take them back up to Letterkenny, we would be very happy with that. "It's up to them to come out and try and beat us. "They're at home, and they're favourites, but we'll look to stand up to their challenge."
A spot in the final is a huge incentive for McElwaine and his teammates, but with the decider taking place at the Aviva Stadium, there is even more at stake for the team. It is exciting times for Rovers, and it would be a fantastic achievement if they could reach the final. McElwaine says it would also be just rewards for the people who invest huge amounts of their time into the club.
"It would be a massive honour to lead the team out at the Aviva. We'll never have a better chance to get through to the final. "I've been playing for the club for 10 years now, and I know the work that goes in.
"The opportunity to walk out at the Aviva Stadium with a Letterkenny Rovers shirt on is huge, and one that I don't want to let slip away."
Save
Save
Save
Receive quality journalism wherever you are, on any device. Keep up to date from the comfort of your own home with a digital subscription.
Any time | Any place | Anywhere
Posted: 4:37 pm April 1, 2016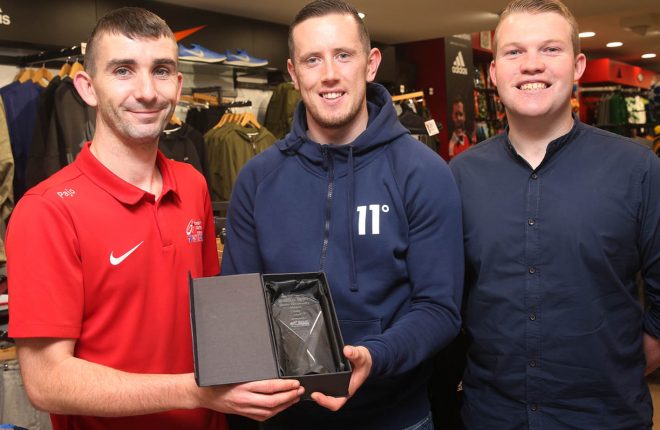 Gallagher was awarded the Donegal News Sports Personality of the Month award for July