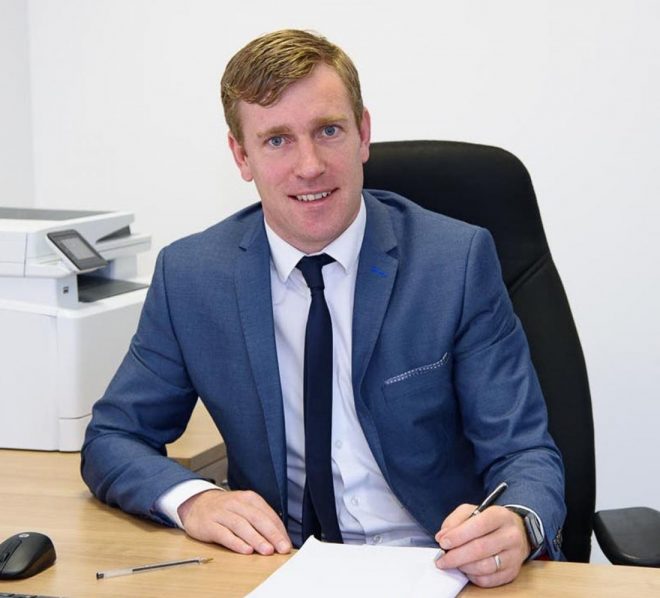 BUSINESSES in Donegal can expect some 'turbulence' as Brexit arrangements come into effect.
New customs and regulatory controls apply from today.
Conall Dunne, who runs his Chartered Accountancy practice in Letterkenny, has been busy helping businesses and individuals to prepare for the new procedures.
Three months ago he set up a company, Easy Customs, which offers customs clearance services to customers, mainly within the UK and Ireland.
Speaking to the Donegal News he acknowledged there will likely be 'challenging moments'.
There will be no immediate return to a regime of tariffs and quotas that could have disrupted trade after Britain's decision to quit the EU single market but importers and exporters will need customs clearance certification.
"One of the big misconceptions was that if there was a deal then customs clearance was not needed but that's not the case. If there had been a 'no deal Brexit' then cars coming into Ireland from Britain, for example, would have had a 10 per cent tariff slapped upon them straight away. While there are no tariffs, there's extra paperwork and administration now needed in the form of a customs clearance declaration," Mr Dunne said.
There is a separate agreement in place in Ireland – called the Northern Ireland Protocol – which ensures that there will be no return to a hard border on the island of Ireland.
"It's as you were for anyone trading cross-border. There's no changes to their day to day operations as a result of Brexit," he explained.
However, rules are different for Irish businesses trading with companies in England, Scotland and Wales.
"The only change that 'Joe Public' might see with Brexit over the coming weeks is that the cost of something could rise slightly due to extra administrative costs. Over the last twenty to thirty years, the price of food and clothing has come down relative to other items due to the fact that trade became more streamlined ever since the single EU market opened in 1993.
"There were less delays along the borders due to burdensome paperwork, allowing trade to flow smoother and more efficiently and at less cost which fed its way down to the customer.
"In the coming weeks people might notice a small increase in the cost of buying online because of an additional fee to get that parcel through customs. For smaller items, percentage wise, that fee will be larger but it shouldn't be too exorbitant," he said.
With experts suggesting that up to 90 per cent of business in Donegal will be affected by Brexit, are they ready?
"Not as well as they could be," Mr Dunne admitted.
2020 was to be a year of preparation for Brexit but, unfortunately, Covid-19 intervened.
"Covid certainly didn't help matters in what has been one of the craziest years ever. Brexit officially came into being in January 2020 but the transition year, where rules stayed the same, was to allow time to prepare and get ready but many people didn't get the chance to do that.
"It was mid-November before we started to get calls from people looking to get set up which, I suppose, was late enough in the day for them to start looking at things.
"We're also helping UK based businesses who are bringing their produce into Ireland and they're further behind the curve. Many of them have had their heads in the sand when it comes to Brexit although, to be fair, a lot of things were unknown until recent days as negotiations went right down to the wire," he said.
Having trained as an accountant with Price, Waterhouse Cooper, Mr Dunne held a number of senior financial roles in the food industry before setting up his own accountancy practice more than two years ago.
'Strategic look'
"Businesses are going to have to get used to this way of working pretty quick. Some things on the UK end are delayed until next July but it's already time for many companies to have a strategic look at the way they are operating.
"We're working with one Irish company, with fifty per cent of their sales in Britain, who are now seriously considering opening an office over there to make sure they have full and easy access to their market.
"Similarly, we've a company based in Scotland who do most of their business within the EU and are now relocating to Ireland to get to their market. Northern Ireland is being seen as a good location because there you have access to both the UK market and the EU – it's a sweet spot – and you may see increased activity in the number of companies opening offices there. Brexit might be good for the Northern Ireland economy, certainly in the short term," Mr Dunne said.
He believes that while there may be some 'turbulence' over the coming months Brexit will also prove to be good for Donegal.
"Anything that leads to an additional administrative burden is not good for anyone as it increases trade barriers but Donegal businesses tend to be innovative. They punch above their weight and I think in the long term Donegal will be okay. We'll be able to work through it," he said.
"We've been helping some of the larger businesses in Donegal, who want to do it themselves, get set up but it doesn't make economic sense for many smaller businesses.
"We are providing a local service that allows them to concentrate on running their own business with the peace of mind that the experts are looking after their customs clearance compliance," he said.
"There's hundreds and thousands of lorries at ports across Ireland and the UK at any given time. Each one of them is supposed to have paperwork detailing what's in every lorry. It's all about pre-lodging those details electronically in advance of the lorry landing at the port. That's what we do at Easy Customs," he added.
Receive quality journalism wherever you are, on any device. Keep up to date from the comfort of your own home with a digital subscription.
Any time | Any place | Anywhere
Posted: 9:00 am January 1, 2021