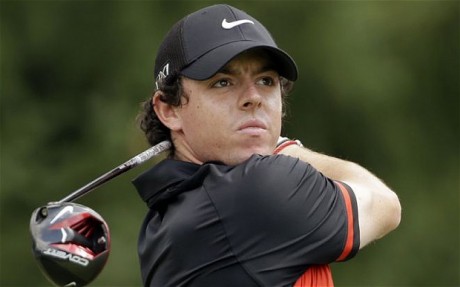 AFTER six holes of the final round in the Honda Classic at the weekend, Rory McIlroy had moved to 13-under par and looked like he was romping to victory for the first time on the PGA tour in quite a while.
However, McIlroy shot five-over for the last twelve holes and then lost in a play-off, which included three other players.
It was an incredible collapse by McIlroy and one that could have a bad effect going forward. Mind you, he has shown before that he has the ability to recover quickly from these set backs. Hopefully he will do so again.
The warning bells were ringing during the third round on Saturday when, afer a flawless opening two rounds of 63 and 66, he struggled a bit but still shot 69.
Nothing could have prepared us for McIlroy's game completely deserting him on Sunday. Here was a young man who has won two Majors, played in several Ryder Cups and has already occupied the number 1 spot in golf, despite being only 24 years old.
On Sunday, as the pressure mounted and victory was in sight, he began hitting shots mostly to the left and into trouble. For some reason he didn't appear to be able to do anything about it.
It resulted in him dropping six shots in the final twelve holes.
Even after he hit a brilliant second shot to the 18th and almost eagled it to steal the win, the damage was well and truly done and a winning opportunity was missed.
To compound matters another bad shot in the play-off cost him his second chance at the victory.
Top-level golf is a stressful place to find yourself at times.
On Saturday he played with Brendon de Jonge, who started the third round just a shot behind in second place. After rounds of 76 on Saturday and 78 on Sunday, he dropped down to 63rd in the field by the finish.
Interestingly, of the top eleven finishers on Sunday, only four of them managed under-par rounds. That included eventual winner Russell Henley; he could only manage two-over par, 72, including a double bogey at 15 when the pressure began to build. He parred the final three to get a play-off.
Joining he and McIlroy were Russell Knox, who shot 71, including a double bogey at 14 and American Ryan Palmer, who bogeyed 16 and 18 to miss a chance of victory. After hitting a third shot close to the water he followed it up with a terrible putt which would have won it.
It seemed that all four threw away great chances of winning it in normal time. McIlrpoy was five-over for the last 12, Henley two-over for the last four, Palmer two-over last three and Knox was three-over for the last 15.
So, we wonder, is it all down to nerves?  These players had performed so well to get themselves in contention to win.
The four that made the play off were a combined six-over for the final round with Palmer the best on 69.
Certainly in McIlroy's case it seemed as if, once he began to think about the winning post, his game fell apart. Try as he might he couldn't get back on track. Even when he hit the wonder shot to the 18th, he couldn't convert an eagle-putt to take victory from the jaws of defeat. He was quick to admit his game let him down.
Professional golfers are no different from other sports people: They'll never admit that a fear of winning led them to lose a chance to take victory.
The records show that, last year, Phil; Mickelson won British Open with a brilliant final round 66, including four birdies in the last six holes at Muirfield.
He spoke afterwards about how he'd been at the start of the round when victory seemed, at best, a distant hope.
On that day, of the last 22 players on the course, big Phil was the only one to break 70 to claim a famous win.
Others fell apart when the prospect of winning a Major title presented itself: Lee Westwood shot 75, as did Hunter Mahan, and Tiger Woods could only shoot 74.
Adam Scott, who led with nine holes to play, made four bogeys to shoot 72, a year after he bogeyed the final hole to hand Ernie Els victory. Mickelson had finished as the runner-up on five previous occasons and it seemed as if his time had come, but when the pressure came on his game failed him and Justin Rose came from behind to win.
Even the best get the jitters when victory is in sight. Top footballers miss penalties, top rugby players drop the ball, top tennis players double fault, top snooker players hit the jaws and top GAA marksen have, on many occasions, missed that 'easy' free that would have secured a victory.
It has and will continue to happen to the best of the best because, of course, like the rest of us, they are only human. If anything, it's one of the reasons that make sport great to watch on occasions.
Here's hoping Harps
THE League of Ireland gets underway this weekend and Finn Harps are in action tonight, under new manager Ollie Horgan, who will take charge of the team in a competitive match for the first time.
With Harps in recent times it appears to have been a case of hoping for the best but perhaps fearing the worst.
In November, Ollie Horgan's appointment took everyone by surprise, but only as his application for the job had been such a well-kept secret. It was only when the club announced his appointment did anyone outside the selection committee become aware of his interest.
That was a remarkable feat as keeping secrets was never a gift bestowed upon Finn Harps Football Club in the past.
Ollie, we're told, shot the lights out at the interview and romped home when the votes were counted, thanks to his passion and ideas for the club's future.
I recorded a Talking Sport podcast with Ollie this week. That conversation confirmed what I said here after his appointment: Ollie Horgan says what he means and he means what he says, with no frills attached.
He is clear that is well aware of the challenges that he faces at Finn Harps. He is managing a team in the First Division with limited resources, but he knew that would be the case when he applied for the job, never mind when he actually got it.
Back in November, and again this week, Ollie spoke about the challenge of managing a team in the League of Ireland, and how that had been an ambition of his for some time.
He has done with Fanad United and with the Republic of Ireland Schoolboys' international team, but he's well aware that this step is different to anything that has gone before.
Some of those who know him better than I do, from his playing days and from his days as a manager with Fanad have no doubt that when Ollie says Harps can challenge for promotion if everyone applies themselves properly, it is only because he believes they can.
Who knows if he's right or not?
To get them to that level he faces the biggest challenge of his career so far.
Good luck to him and everyone involved.
It's time we had a seaosn talking about just the football at Finn Park.
And finally…
While Ollie begins his tenure at Finn Park, Jim McGuinness and Donegal continue theirs in the National Football League. The stats from the opening three games are impressive: 24 players used: 5-46 scored; 1-31 conceded, the best in any of the top two divisions; 3-9 from Colm McFadden, 2-5 from Odhrán MacNiallais and 0-11 from Michael Murphy.
There have been impressive inputs from newcomers MacNiallais and Ryan McHugh, also from Martin McElhinney and Dermot Molloy, and the returning Christy Toye.
Eamon McGee, Paddy McGrath and David Walsh have yet to play in the League so you could say that things are looking good with six points from three games.
Perhaps the best thing to do is to say it quietly and perhaps the rest of the country won't.
Receive quality journalism wherever you are, on any device. Keep up to date from the comfort of your own home with a digital subscription.
Any time | Any place | Anywhere
Posted: 5:00 pm March 7, 2014