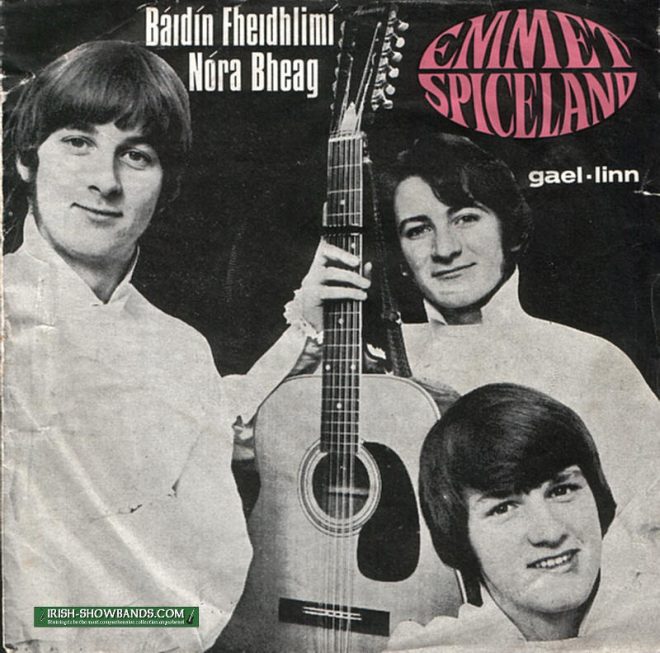 AS the Rosses prepares for the annual Mary From Dungloe festival, there is real excitement building around the reunion of one particular band.
The annual festival marks its 50th anniversary this year, the committee is delighted that Emmet Spiceland will be performing a one-off concert in celebration at the end of the month.
The trio were the inspiration behind the festival when they released the song Mary from Dungloe over 50 years ago.
One member was Donal Lunny, who has very strong connections to the Rosses, with his mother hailing from Rann na Feirste.
Donal said when Emmet Spiceland formed it was the amalgamation of two folk groups; The Emmet Folk, a trio (Mick Maloney, Brian Bolger and Donal) which had just disbanded, and the Spiceland Folk (brothers Brian and Mick Byrne).
He said: "Initially Emmet Spiceland was a foursome, with Brian Bolger, but within a few months he decided to complete his degree in UCD, and withdrew."
The first successes Emmet Spiceland enjoyed were winning the Wexford Folk Festival, and the Kilkenny and Tralee Ballad Festival competitions, which at the time were somewhat of a big deal, Donal revealed.
"There were a few experimental management situations before solicitor Joe Colgan took on the role, having never had anything to do with showbiz or band management before.
"What he lacked in experience, he made up for in energy and imagination. It was Joe's idea to have us perform at half-time at the All-Ireland final – the first musical entertainment in generations in Croke Park.
"And it was his initiative that enabled Emmet Spiceland to record and release Mary From Dunloe on the Outlet label in Belfast.
"It shot to No.1 in the charts, and soon there was a big Dublin fan base, mostly female, many of whom came to Emmet Spiceland concerts dressed in outfits identical to the band's stage gear, which was nothing if not stylish!"
The Irish language promotion agency, Gael-Linn, had an enterprising record label going, and Emmet Spiceland recorded several singles in the Irish language.
"Which was quite an accomplishment for Brian and Mick, who had grown up in Sheffield, but nobody would have guessed that they hadn't a word of Irish between them," Donal said.
Soon after that the band signed to the Page 1 record label, and had their only album produced by Phil Coulter, who added drawing-room string arrangements to the songs. Some time after that, the Mary From Dunloe festival came into being, and Emmet Spiceland performed at it.
But changes were happening, and Donal left to pursue a silversmithing career – although music eventually won the day, with his founder-membership of several major Irish bands.
During his time as a Silversmith, Donal created the chain that was presented to the Mary From Dungloe in 1968 and unbeknownst to him it is still being used to this very day!
Brian moved from solo stage performance, and has travelled the world performing in theatre and stage musicals.
Mick moved to Bristol, and did a B.A (Hons), gained an M.A. in Cardiff Institute and has been teaching Art for many years. He still performs traditional Irish music, but mainly paints under the name Eugene Lambert.
All three are happy to meet up again for this great occasion, and are looking forward to meeting the Marys once again.
Emmet Spiceland come together for one night only with Special Guests Clann Mhic Ruairí at The Waterfront Hotel, Dungloe on Monday, July 31. Tickets on sale now from: Supervalu Dungloe, The Cope Dungloe, Charlie Bonner and Sons and Áislann Rann Na Feirste.
Receive quality journalism wherever you are, on any device. Keep up to date from the comfort of your own home with a digital subscription.
Any time | Any place | Anywhere
Posted: 12:42 pm July 28, 2017