BY CHRIS MCNULTY
c.mcnulty@donegalnews.com
LAST month on these pages, new Donegal manager Rory Gallagher referred to Michael Murphy as 'the perfect captain' for Donegal.
Now in his fifth year as the county skipper, Murphy also had a year captaining the under-21s. The haul of honours he's collected since 2010 make him Donegal's most successful captain of all time.
He doesn't look back, though. 'You have to live in the present,' he reminds us on a couple of occasions on a rainy Tuesday morning in the Coffee Factory, just next to the recently-opened Michael Murphy Sports and Leisure.
Murphy has come to shoot the breeze with the local press and he makes it clear that keeping Donegal on the winning trail is foremost in his thoughts.
Chuck Noll was a long-time coach of the Pittsburgh Steelers, who won four Super Bowls in six years in the 1970s. Noll was a strong believer in the power of the positive. 'On every team, there is a core group that sets the tone for everyone else,' he once remarked.
'If the tone is positive, you have half the battle won. If it is negative, you are beaten before you ever walk on the field.'
In Donegal, there was an air of uncertainty and worry in the hours and days following Jim McGuinness's announcement in October that he wouldn't be seeking another term as manager of the county's senior footballers. Four weeks to the day from McGuinness's jolt, Rory Gallagher was appointed to the position.
"D'ya know what's really encouraging?" Murphy glows when asked about the new regime. "The whole environment. Training is very enjoyable and there's a freshness with the new players coming in. The 'older' players, if you want to call them that, have come back in with great hunger. When you blend that together for games it's boding well. It's early yet, though, so we'll keep the heads down.
"There is good continuity there. Rory has been there before for three years; we all know him and he knows us. He's been trying to unearth a few knew players and I think he's been very successful in that.
"We heard quite quickly that Rory was interested in taking the job. It was the right way to go and it's great to get him on board.
"He was a big part of it when he was involved with Jim before. You can make all you want about managers – and in terms of getting the thing all together, of course it's a big part – but a lot of it is down to the players and their attitudes, hunger and desire. That has been the most encouraging thing since the departure of Jim and the arrival of Rory: the way the players have put their hands up.
"I want to be captain of a team that's winning things. That's the desperation at the moment, to keep pushing the thing on, to keep going for as long as we can."
As Noll attested with his Steelers squad, the 'core group' is vital. The same is true of Donegal. With the likes of Murphy, Karl Lacey, the McGees, Neil Gallagher and Christy Toye leading the way, the newcomers to the squad quickly see the high standards being set.
On the latter two, so influential on Saturday night when Donegal turned over Derry in the second half, Murphy says: "They lead the way and they're consistent with their performances. They're standout players for any new player who comes into the squad.
"The performances they churn out every week is the standard for other players looking to get game time. Even for those of us getting games, it's something we'd aspire to. They look after themselves well and they manage injuries well. They give us a great platform around the midfield."
Along with the farewells to McGuinness, Donegal have bid adieu to the retired Rory Kavanagh in recent weeks. Leo McLoone is another who has decided to take 'a break' from inter-county football, although Murphy says the Glenties man could be tempted to return.
He says: "Hopefully Leo will be back by the time the years turns and when the ground gets a bit harder we'd want him to have reversed his decision. We look forward to getting everyone on board again. If that is the case, brilliant, but if it isn't we'll just have to keep going. I wouldn't say 'replacements' as such, but we have in the squad able people to push things on in the direction we want to go."
He's still only 25, but Murphy been around the senior set-up since he took a call, while still a student at St Eunan's College, from Brian McIver for the 2007 campaign. Already, he has clocked up 87 appearances in Donegal's colours.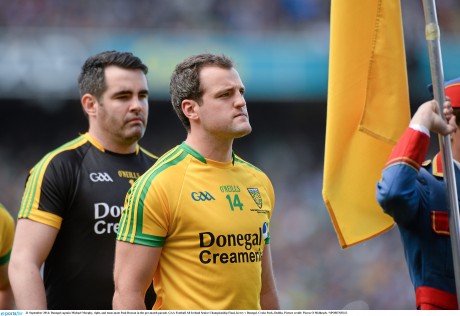 His positioning was an endless debate during McGuinness's tenure. Regularly deployed in a deep-laying role around the middle third, many voiced the opinion that the Glenswilly man's talents are better suited to the edge of the square. In the 2012 All-Ireland final, Murphy scored a devastating early goal and it was when he went in for bombardment in the semi-final last year that he helped break the ball for Ryan McHugh's opening goal against Dublin.
On Saturday night, Murphy wrecked havoc when he went to full-forward for the second half against Derry, prompting the former Laois player and now GAA pundit, Colm Parkinson, to consider it 'mad to play Murphy anywhere but full-forward'.
Parkinson wrote: 'If I was Donegal manager I wouldn't allow Murphy outside to opposition's 45-metre line. Yes he is a good tackler and has presence but there is no great skill in that. You could make a good fist of coaching any level of player to tackle and put in hits and be disciplined, but you can't coach players to do the things Murphy does at the business end of the field.'
Murphy seems amused by the furore.
He'd played a similar role while with St Eunan's College in the MacLarnon and MacRory Cup campaigns during his time at the castle on the hill.
"I want to develop both sides of it," he says.
"The more I do that, the more I'll be a benefit to the team.
"There would have been a time where I'd have said I wouldn't have suited playing out the field. There might have been a fear there about not being able to do a job. Gradually getting into the position, I've got used to it and started to enjoy it.
"As regards a preference, I don't have one. Two or three years ago I'd have said I would have preferred being in, but now I don't mind. I enjoy the two roles: Being out the field, creating things, touching the ball a bit more and influencing things; I like being inside too, the danger thing of scoring scores and making scores."
During McGuinness's tenure, Donegal gained a reputation for being a third-quarter team. Their scoring spurts after half-time regularly put teams to the sword over the last four years. On Saturday night, they trailed by three points at the break before the seized the initiative again in the moments after the re-start.
"It's something we don't think much about," Murphy says.
"In an ideal world, you want to lead the game after five minutes. That doesn't always happen, especially in Division 1.
"These teams aren't in Division 1 by chance – they're very good teams and they'll all have a purple patch. We just needed to get together and revise what we were doing at half-time. There's no thinking that we'll let a team get ahead and that we try to get back in the second half. There are teams that you can't let get away from you, as Monaghan showed in the 2013 Ulster final.
"Against some teams it's dangerous to let them get a run on you like that. It's something we need to work on as a team. That start is something we need to look at.
"The thing about playing in Division 1, against the likes of Dublin, is that they can do it in the blink of an eye because they have the firepower."
Donegal are back in the top flight after winning promotion from Division 2 last year and Murphy says the big aim this spring is to cement their place among the top sides.
He says: "The number one aim is to stay in Division 1. It has to be. The way we've been kind of yo-yoing, we'd like to consolodate ourselves in Division 1. We've a number of players coming through and it would be great for them to play consistently in Division 1.
"The big one is Tyrone (in the Ulster Championship) and that won't be long coming around the corner. It's there in the back of the head as we're preparing. The challenges are what you enjoy about being in the heart of it."
Receive quality journalism wherever you are, on any device. Keep up to date from the comfort of your own home with a digital subscription.
Any time | Any place | Anywhere
Posted: 9:00 am February 7, 2015