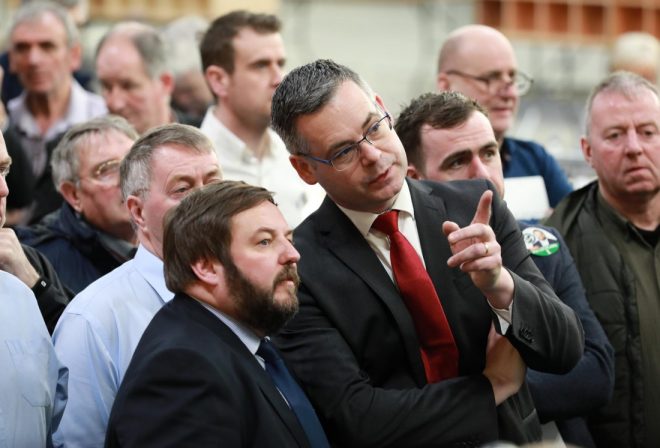 Donegal has swerved to the left for the first time. A county with the reputation as being the most conservative in the Republic now has three left-learning TDs who were elected on a combined vote of over 52 per cent.
Donegal's new political status comes after a ground-breaking election in which Sinn Féin candidates Pearse Doherty and Pádraig MacLochlainn took 45 per cent of first preferences.
Thomas Pringle attracted transfers from across the board to take the third seat in a nail-biting finale at the Aura centre in Letterkenny on Monday, with Fine Gael's Joe McHugh in fourth and Charlie McConalogue taking the fifth thanks to transfers from Councillor John O'Donnell. Opinion polls had predicted a battle between Pringle and Pat the Cope Gallagher for the final seat. In the event, Gallagher lost.
The newly elected TDs are expected to play a leading role in how the next government should be formed.
Pearse Doherty, Sinn Féin chief negotiator, has already "reached out" to the Greens, People Before Profit, Social Democrats and Labour as the party launches negotiations to a form a government.
Speaking at the count centre on Sunday two of the Donegal TDs just elected to the 33rd Dáil – Fine Gael's outgoing Minister for Education Joe McHugh and Fianna Fáil's Agriculture spokesman Charlie McConalogue – threw the gauntlet down to Sinn Féin to form a government.
Meanwhile, Killybegs based Independent TD Thomas Pringle believes that Sinn Féin should concentrate its efforts on putting together a government which excludes both Fianna Fáil and Fine Gael.
"My preference would be a left wing led government. I accept that's more difficult based on results but I think we can still achieve close to 70 TDs. People voted for change and it's well worth trying it out as in reality, the only other possible permutation is Fianna Fáil and Fine Gael going in together.
"Sinn Féin and Fianna Fáil together in government is not change and would set the country back years," Deputy Pringle warned.
Deputy Padraig MacLochlainn said the election result provides a huge opportunity to change the face of Ireland and Donegal.
"Sinn Féin will be looking to talk to all the other party leaders. There is an onus on the parties to respect that mandate and to respect the people who voted for Sinn Féin," Deputy MacLochlainn said.
"The people of Donegal voted for a new government without Fine Gael or Fianna Fáil. We are seeking to reach consensus on the big issues like health, housing, childcare and climate change as well as putting more money in the pockets of ordinary working people.
"The reality is we want a stable government and at some point we'll have to talk to Fianna Fáil but they'll have to accept that they can no longer dictate the programme for government. Personally, I would like to see a progressive government, one which will be led by a strong platform set out by Sinn Féin.
"I find it humorous to hear Fianna Fáil people say that they won't go into government with Sinn Féin. Those same people are also saying that they won't go into power with Fine Gael. It's quite childish really and there's a lot of sensible people in Donegal watching on in horror.
"The people of Donegal have to be respected and personally I think that Mary Lou McDonald should be Taoiseach and not Micheal Martin. Fianna Fáil have to accept that if they are in government they will do so in support of a progressive group and one that will not be dictated to and they won't dominate the Ministerial posts as they did in the past. It's now up to people like Charlie McConalogue to ensure that his party grows up and does right by the country. They are no longer the biggest kids in the playground. They're no longer the bullies," Deputy MacLochlainn said.
Both Fianna Fáil and Fine Gael were adamant before the election that neither party would go into government with Sinn Féin, and Joe McHugh said this would still be his preferred position. He called on Sinn Féin to deliver on what they promised to the people before the election.
"We were consistent in the campaign that we won't be going in with them. We are so incompatible in so many ways and they think money grows on tress in the department of finance, it doesn't.
"If they want to spend money on public services to the extent they are looking to spend someone has to pay," Deputy McHugh said.
The 33nd Dail sits for the first time on Thursday next, February 20.
Receive quality journalism wherever you are, on any device. Keep up to date from the comfort of your own home with a digital subscription.
Any time | Any place | Anywhere
Posted: 4:25 pm February 13, 2020