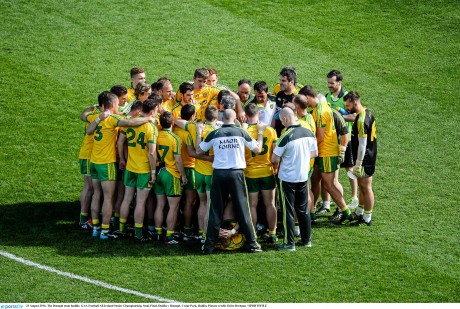 But it's then, then that faith arrives
To make your feelings alive
And that's why (why) you should keep on aiming high
Just seek yourself and you will shine
– M People, Search for the Hero
BY CHRIS MCNULTY
c.mcnulty@donegalnews.com
LAST August, in the weeks after Donegal's crushing All-Ireland quarter-final defeat by Mayo, Jim McGuinness arrived at a fork on the road.
Less than a year after delivering Sam Maguire to Donegal for the first time in twenty years, McGuinness was at a low ebb, unsure as regards his next move.
The sixteen-point hammering had his head spinning, but the manner in the unravelling of the summer – and the reasons behind it – left him, he says now, 'angry and frustrated'.
The club championship's scheduling left him chasing time during the Ulster Championship and a patched-up side that just hadn't put in the necessary hours of preparation demanded by a manager as thorough as McGuinness had its grip on the handles of the Anglo-Celt prised away by Monaghan.
In the space of a month, Donegal had been left empty handed.
When Michael Murphy, on his way to training for the International Rules squad, got a text with news that McGuinness was having cold feet and turned his car in Monaghan and headed for home, with Neil McGee on board, it was a clear sign that Donegal's players were uncomfortable. They'd do whatever it took to keep their manager.
McGuinness met with his players in a Letterkenny hotel, but was still unsure.
"There was no point conning people and saying, 'we'll start training in a couple of weeks and everything will be ok and we'll pick up pieces and build momentum'," he says now.
"It isn't about that. It's about: 'Do you want to be remembered and how do you want to be remembered?' or 'do you want to be remembered for being beaten by sixteen points in a quarter-final?'
"That was the question that had to be answered and then it was about what was involved in that and: 'Are we prepared to do that?' I wanted that out in the open. I didn't want anybody going into anything blind. I wanted to gauge the room. If I felt that it wasn't genuinely in the room then I probably wouldn't have went on."
These meetings have always been important to McGuinness. On day one, November 6, 2010, he assembled a panel of players in the Rosapenna Hotel in Downings and famously produced a cutting from a national newspaper, showing Donegal in the also-rans position of nineteenth.
Two years later, he had them at number one, as they'd discussed that afternoon in Downings. In a four-year term, winning Sam was always the plan – in 2012 they just happened to achieve that ultimate goal earlier than had been expected.
Their assembly last August had a very different tone.
McGuinness says: "I wanted to know where I stood with the players. I didn't want the Mayo game to be the one that defined that team because that wouldn't have been fair on them.
"I just told them what I felt was required to be successful at this level. They're aware of that anyway. The key thing is that you need everyone moving in the same direction. It just will not work if everyone is not moving in the same direction. It wasn't a gun to the head situation.
"We needed to know what we wanted to do. A half baked attitude wasn't going to win anything this year. Everybody had to be either fully in or not fully in."
The tides of change were sweeping over Donegal. Rory Gallagher, Maxi Curran and Francie Friel were not going to be part of the set-up again for 2014.
By the time the panel returned to collective training, Ryan Bradley was in Dubai and Ross Wherity was New York-bound.
When McGuinness told the group what he was planning he asked them to go away for a week before making a commitment.
"I didn't want an answer at the meeting," he says.
"I don't believe in snap reactions and I don't believe in lip service. I have been in meetings myself and every man has the hand up, 'we'll give this a push', then half of them walk out the door and that isn't the case. It's too superficial."
Time was when McGuinness, in his days as a free-spirited student around Jordanstown, went by the nickname 'Jimmy Tunes'. He fancied himself as a DJ and spun house as his music of choice. His music has meaning.
Music is never far away for his Donegal squad either.
"We train to music a lot of the time," he says.
"When it's mundane or running through stuff that is repetition we train to music. It's good. You get someone like Eamon McGee who puts on the iPod Shuffle and it tells you a lot about the man. I remember the first time I heard his I was thinking: 'That has sorted out a lot of questions in my head!'
"Anything that can make the thing relaxed and get the work done I have no problem."
In 2012, Old Crow Medicine Show's 'Wagon Wheel' was heard blaring from the speakers in Donegal's dressing room after they captured Sam Maguire. It was all in the lyrics: "But I ain't turning back to living that old life no more."
After they wrestled the Anglo-Celt back from Monaghan in July, M People's 'Search for the Hero' was among the tracks that filled the compact corridors of St Tiernach's Park.
McGuinness's dilemma last autumn ran so deep he commissioned a medical report, which analysed the when, how and whys of a lengthy injury list that plagued Donegal's summer.
When they returned, he was ready for the long road again.
So, too, were his players.
Respect and honesty are traits that McGuinness doesn't just look for within his players – he demands it of them.
He says: "I have a simple strategy from the first year that if anybody disrespects anyone in the group we all do 100 press-ups. That only happened five or six times in that year and it was wiped out.
"There is a boundary. If that line is broken, we all come in and everyone does the press-ups. At the end of it all we say: 'We don't disrespect'.
"How can you disrespect a team-mate and expect that team-mate to fight tooth and nail for you in a Championship match?
"Stuff like that festers, it rolls over in the sub conscience and it will come out eventually. We don't have that. We have a very happy camp. There are so many blaggards, but there is no-one carrying anything. What comes out is devilment. When you have that and people are working very hard then it is very pure.
"The fact that they're so committed to the jersey and so committed to the training, it makes it very pure. There is nobody bullshitting and there is nobody cutting corners.
"There is nobody not doing gym work away from the group and when they're with the group everybody is pushing. There is never any bad feeling."
The 'group' has been key to Donegal's success since McGuinness's installation as manager four years ago. With three Ulster titles and an All-Ireland already won, the Glenties man has already been immortalised. Another capture of Sam and the stone cutters will have the chisels at the ready.
This is Donegal's best ever period, matched only in reaching five Ulster finals in a row from 1989-1993, a time that saw Donegal win Ulster twice as well as lifting Sam in '92.
McGuinness has managed to take the once also rans to a position where they can run the greatest of steeplechases. The final fence awaits them on Sunday. In 23 Championship games, McGuinness has won 20.
"They try to push themselves to the border, to the edge of their intensity," says McGuinness.
"We have had a very committed group of players who have worked so hard.
"I have had experiences of players who were really good players with a bad attitude. It's very frustrating to coach someone like that. It doesn't happen with our lads. They work really hard and they push really hard.
"I have pushed them so hard and I don't mind saying that. I have pushed them so hard to get to the level. The harder you push them, the more they want to be pushed.
"They can go out with that wee bit more sense about themselves because they know they have that hard work in the bank. It makes it very special and we hope now we can go one more step and enjoy it as a group."
That autumn day last year, as the rain pelted the window panes, McGuinness echoed M People's words.
He says now: "I wanted them to think about it. What I said was: 'You need to think long, hard and deep about this, you need to look inside yourself."
They had to search for the hero.
Receive quality journalism wherever you are, on any device. Keep up to date from the comfort of your own home with a digital subscription.
Any time | Any place | Anywhere
Posted: 9:00 am September 20, 2014