FOUR Donegal-based Liverpool supporters will leave Letterkenny in the early hours of this morning, Friday, on their way to Kiev for Saturday's Champions League final clash with Spanish giants Real Madrid.
Kevin Neely and his younger sister Clare from Drumoghill will be joined by Clare's husband Chris Dullaghan from New Mills and David Moen, who has called Letterkenny home for more than twenty years, on the marathon 3,000 mile round trip to Ukraine.
While all four have been fortunate enough to get a ticket inside the NSC Olimpiyskiy Stadium on Saturday night they've encountered major headaches trying to organise transport and accommodation due to the chronic shortage of flights and hotel rooms.
"It's been a logistical nightmare," Kevin Neely, Assistant Secretary of the Liverpool Donegal Supporters' Club, admitted.
With basic budget hotels in Kiev charging thousands of pounds per night, the Donegal supporters have decided against staying overnight in Kiev.
"We're flying from Dublin to Frankfurt on Friday morning and, from there, on to Warsaw. We spend most of the day in Poland before boarding an overnight coach to Kiev, arriving there on Saturday afternoon.
"We leave Kiev one hour after the game is over and do the same thing in reverse – arriving back in Dublin late on Sunday night and getting back to Donegal at some ungodly hour on Monday morning," he explained.
Having attended the 2005 and 2007 finals in Istanbul and Athens respectively, Kevin and Clare have experienced both the highs and lows of Champions League final night while Chris and David have yet to see the club lift the coveted trophy as they were only present for the '07 decider.
Married to Breid (nee Breen), Kevin's wife gave birth to a baby son Ronan last October.
"Ronan's birth curtailed my trips to Anfield a bit and I missed a lot of the group stage matches but I got back on track in the New Year. I've been to Portugal and Rome supporting the team this year and decided that, within reason, I would try to get to the final too.
"It's a long trek and it will cost me about €500 to get there and back plus £61 Sterling for the match ticket. If it wasn't affordable I wouldn't have went but I feel that I'm getting value for money," he said.
An IT manager with Allstate in Derry, Kevin will be back at work on Monday morning before jetting out to Spain on a week's holiday on Wednesday.
"Breid has been a saint and I promised that we would head away on a break once the football was over," he said.
Liverpool received an allocation of 16,626 tickets for the showdown with Real Madrid but the Donegal contingent won't be all sitting together.
"We've two, one and one behind the Liverpool goal with Clare and myself having the two seats together. I'll probably give my seat to Chris though," he said.
How does he think the match will pan out?
"It will be a fifty fifty game but I'm feeling more upbeat than I was for the previous two finals. It's a tremendous achievement and the players have given us a great journey. To finish it off with a sixth European Cup would really be the icing on the cake," he said.
Receive quality journalism wherever you are, on any device. Keep up to date from the comfort of your own home with a digital subscription.
Any time | Any place | Anywhere
Posted: 3:20 pm May 24, 2018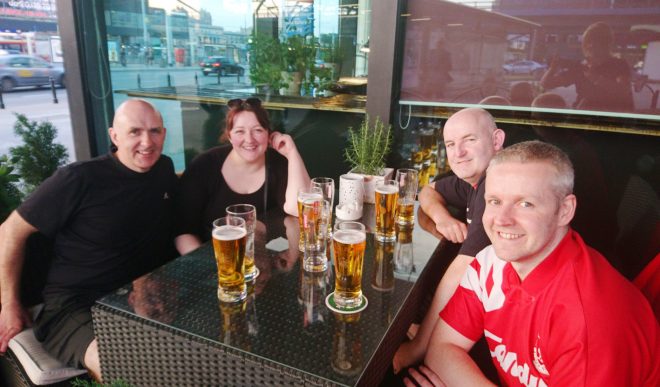 The 2018 Champions League final ended in disappointment with Liverpool on the wrong end of a 1-3 scoreline against...