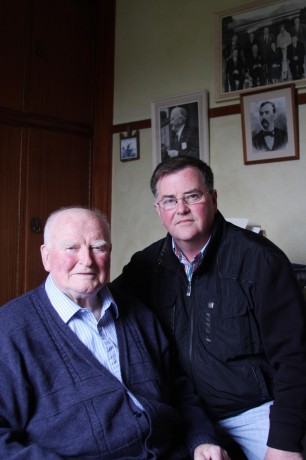 By Cronan Scanlon
IRELAND'S oldest photographic agency celebrates a unique birthday this year, a century after it was founded by an 'orphan' from Rathmullan.
Daniel (Dan) MacMonagle founded his photographic company in Killarney, County Kerry in 1913 along with Killarney Printing Works, and later, 'The Kingdom' newspaper.
Born in Philadelphia, USA, in 1883 of Donegal emigrant parents, he was 'orphaned' at the age of three when his father, also Dan, passed away.
It is believed his mother, Roseanne, could not afford to raise him on her own, so she sent him on the boat back to Ireland along with another family member to be reared in her home town of Rathmullan.
Roseanne (nee Canning) married Dan MacMonagle (Snr) from Sallywood, Killygordon before they both emigrated to America in search of a better life.
Dan Snr was joined in Philadelphia by his brothers Patrick and James and they ran a bar there while another brother, Charles, went west to Los Angeles.
According Mr Paddy MacMonagle (92), a son of Dan Jnr, the family know little of what happened to Roseanne, however, they believe she may have remarried twice – first to a McElwee, then to a Mr O'Dowd.
Speaking from his Killarney home this week, Paddy said his young father was brought back to Ireland by Roseanne's sister, Elizabeth Canning.
Another sister, Kate, married Mickey McBride and they reared young Dan as one of their own.
The McBrides had a shop and 'fancy goods' store in Rathmullan and had a lucrative contract to supply the many navy ships that docked there.
However, the navy decided to use Castletownbere in County Cork as their Irish port of choice, so the McBrides moved their business there too.
"My father emigrated from Rathmullan to Oban in Scotland after borrowing money from a local publican to pay for his ticket on the ship out of Derry," Paddy explains.
"One of his first jobs was sweeping the floor of a photography studio before he moved to Glasgow where he took up photography as a profession.
Dan went on to work in Belfast and Dublin before moving to Castletownbere, where the McBrides had relocated to.
There, he started working as an "itinerant photographer", travelling the south west region, taking and selling photographs before moving to Killarney to work with the famous French photographer, Louis Anthony.
Dan soon became one of Anthony's 'senior photographers' before marrying local woman, Catherine Fogarty, and setting up his own studio in the bustling tourist town in 1913.
He also set up the Killarney Printing Works the same year.
The MacMonagles had five sons, Paddy, Sean, Donal, Louis and Harry and two daughters Mai and Kathleen.
Paddy himself went on to become an author, photographer, printer and publisher before taking over the family business.
Don MacMonagle is the elder of two sons of Donal and runs the business in Killarney today.
Receive quality journalism wherever you are, on any device. Keep up to date from the comfort of your own home with a digital subscription.
Any time | Any place | Anywhere
Posted: 2:03 pm April 5, 2013