Letterkenny company, Arklu, was this week announced as one of 30 high potential Irish Startups selected by Google Ireland to participate in its Adopt a Startup programme.
Arklu will now receive 12 weeks of mentoring by a dedicated Google support team. The team will work with the Letterkenny company to develop and improve their overall business strategy and at the end of the 12 weeks they will be invited to take part in a Dragons Den style competition.
"The principal aim of our Adopt a Startup programme is to assist Startups to develop their business strategies and provide them with hands-on support and advice on how they can take their enterprises even further," explains Paddy Flynn, Head of Google Ireland's Startup programme. "Now in its fourth year, this is a highly effective and successful initiative for Google in Ireland. Over two cycles of the programme in 2015 we had 16 finalists and a total of 52 Startup participants. Many of these companies have gone on to raise significant capital funding and greatly increased their employee numbers."
He added: "This programme is a further opportunity for Google to support the Irish Startup ecosystem in a meaningful way. The calibre of participants in the Spring programme is very strong and it's great to see that close to half of the companies are based outside of Dublin with a large number headed by female founders and co-founders."
Previous participating companies including Bizimply, FoodCloud, Jobbio and Beats Medical have all taken the skills developed during the mentoring programme back into their companies and their continuing success is well documented. For example Bizimply recently raised €2 million in investment funds and announced plans to open an office in the UK.
Each of the Startups will receive 12 weeks hands-on mentoring, access to an exclusive lecture series at Google offices and Google Apps for Work licenses, free for a year. Successful Startups will also get the opportunity to pitch their developed business plans and results of the program to members of Google Ireland's leadership team as well as prominent figures from the Irish Startup Community at a Grand Final in Google's European Headquarters in July. Last year's panel included external judges Patrick Walsh, Managing Director of DogPatch Labs and Kevin Sherry, Global Business Development with Enterprise Ireland. The winner will receive €10,000 Google AdWords credit and will also become eligible for the Google Cloud Platform for Startups program which comes with $20,000 Google Cloud credits.
The Adopt a Startup Programme forms part of Google's commitment to supporting the Startup community in Ireland through mentoring events such as Ireland's Best Young Entrepreneur and hosting community events with partners like Startup Weekend and Enterprise Ireland. This commitment includes the expansion of the Google Tech Hub Network to Ireland by partnering with Dogpatch Labs a physical space for startups to work from and for community events. The Google Tech Hub partnership helps to open new doors to mentorship, investment and growth opportunities, and to help developers and entrepreneurs launch new ideas and turn them into thriving young companies. Irish Startups also avail of direct support from Google for Entrepreneurs programs in Dublin, London and the US.
For more information go to https://events.withgoogle.com/adoptastartup/
Receive quality journalism wherever you are, on any device. Keep up to date from the comfort of your own home with a digital subscription.
Any time | Any place | Anywhere
Posted: 12:21 pm April 22, 2016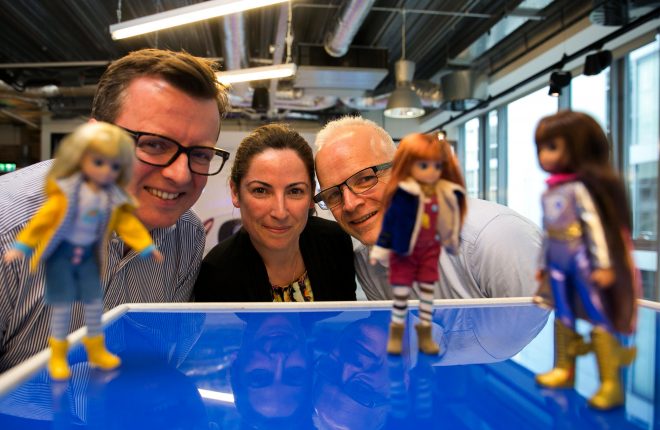 "Arklu was selected by the judges because they made a lot of progress throughout the programme and committed 150%...