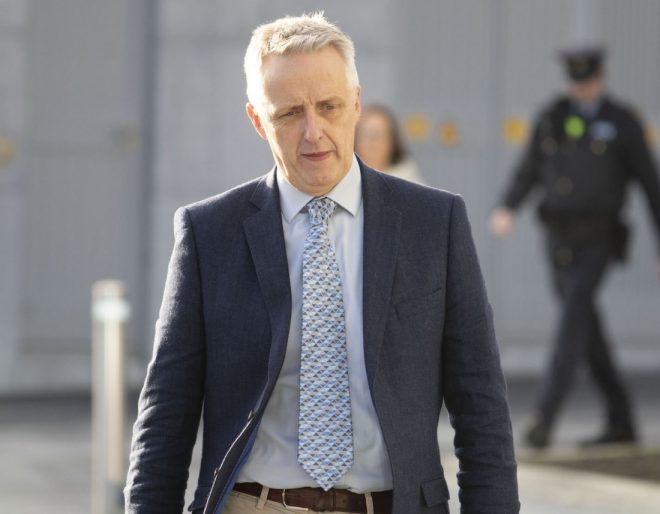 DONEGAL could be put into another full lockdown before Christmas if new coronavirus restrictions are not followed, a leading doctor has warned.
Stranorlar GP Dr Denis McCauley said Donegal could get through winter without a return to a Level 5 lockdown if "everyone plays by the rules", but suggested tougher measures could soon be implemented if Covid-19 infections continue to surge.
Dr McCauley, who is Chair of the IMO's GP Committee, said that Donegal had reached a critical crossroads in its battle with coronavirus.
"If people in Donegal want to continue to work and function financially between now and Christmas we have to stop interacting outside our homes once we come back in from work in the evening – it's as simple at that," Dr McCauley said.
His warning follows the latest figures which show Donegal now has the highest 14-day Covid-19 incidence rate in the country.
Earlier this week, it was confimed that Brindley Manor Nursing Home in Convoy has 30 confirmed cases of Covid-19.
Meanwhile, the incidence rate in Lifford-Stranorlar remains as 603 cases per 100,000 population, again the highest in the country, this week.
'Hopeful'
Dr McCauley said he remains 'hopeful' that the current high rates will start to decline in the coming weeks.
"The amount of triage assessments within the practice have dropped from as high as 120 a day last week to under 50 this week. There are still positive cases out there but the numbers are dropping in Stranorlar. That means that Level 3 restrictions are probably starting to work but it very much depends now on our compliance with those restrictions," he said.
The GP said there were four elements in play – namely going to school, going to work, socialising outside the home and inside the home.
"There's been no real concerns with going to school or work while there's no socialising outside the home under Level 3. So it comes down to people coming together from outside your actual household unit and that is where the problems have been in Donegal.
"We've all been slack and two weeks ago we got an awful shock with the high figures in Donegal so we were willing to adhere to the restrictions. However, if we get complacent again I think the Government will go straight from Level 3 to Level 5. If that happens, businesses will close down and no productive financial transactions will take place in Donegal. It will be a hard Christmas," he warned.
"Essentially, when we come home from work in the evening we should only socialise with those in the same household. If you see someone going out to socialise in another house or going to a party call them out. That sounds harsh but it's where we are at," he added.
Dr McCauley said that contact tracing over the past number of weeks had shown that the disease spread through people socialising, inappropriately, in large groups indoors.
"That was always going to be a recipe for problems. It's easy to stigmatise one age group but I think that complacency had crept in across all age groups," he said.
The recent level of infections in the Lifford-Stranorlar area was greater than doctors would have seen during the first wave in March.
"There are young people in Letterkenny University Hospital who are sick with this at the present moment. Just because there's not as many people on ventilators as there may have been four or five months ago doesn't mean it's no longer a problem. It's evolving.
"Hospital admissions are going up – you only have to look at the figures from NPHET over the last two weeks. There's growing momentum and if we don't stop this we'll be right back to where we were in March. Potentially, it's very scary. We have to make Level 3 work or we are going to jump to Level 5," he warned.
All over the county
While the Lifford-Stranorlar Electoral Area has been getting the headlines in recent days, Dr McCauley said the figures were high across the county.
"I'm aware of cases all over the county. There's an awful lot of sickness out there there that people just aren't aware of and we need to flatten the curve.
"The momentum has started and we have to stop it because if we don't we find ourselves at Level 5 and all commercial activity will stop.
"Our daily numbers are in the thirties and we need to see them drop into the teens to say that Level 3 is working. The fact that they're not escalating is a positive sign though and, hopefully, in a month's time we'll still be at Level 3," Dr McCauley said.
Receive quality journalism wherever you are, on any device. Keep up to date from the comfort of your own home with a digital subscription.
Any time | Any place | Anywhere
Posted: 5:00 pm October 9, 2020