BY CHRIS MCNULTY
LITTLE Harry Doherty gave Paddy Barnes a run for his money when the double Olympic bronze medalist visited the Illies NS, Buncrana with the Northern Ireland Commonwealth Games boxing team.
While Barnes, his fellow Olympic bronze medalist Michael Conlan and the NI team were the star attractions it was budding boxer Harry who was the star of the show. The mischievous youngster, a pupil in the junior class of the school, was ready for action with the popular Belfast boxer.
Harry's hard hook on Barnes raised the roof with Barnes and his team-mates posing for pictures with the youngsters and signing autographs on a tour of the school. Barnes left with his own memories of the wee character a the back of the room who grabbed the limelight.
The NI team spent Tuesday-Friday on a training camp in Buncrana, training at the Illies Golden Gloves club, and wound down by paying a visit to the local school.
Barnes and Conlan were joined at the training camp by other members of the Norther Ireland boxing squad Alanna Audley-Murphy, Ruairi Dalton, Joseph Fitzpatrick, Sean Duffy, Steven Donnelly, Stephen Ward and Derry duo Connor Coyle and Sean McGlinchey, as well as coach John Conlan.
They were accompanied by Sadie Duffy, the well-known local referee and Illies GG clubwoman.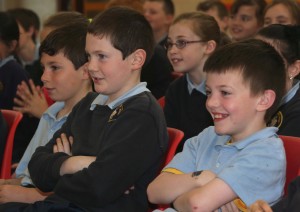 The party was welcomed to Illies NS by school principal, Mrs Martina Cunningham and John Grant, Chairman of the Board of Management.
"It's great to give us the chance to showcase our great boxing talent and great for the kids to see these people up close," said Sadie Duffy.
In the hall, the NI team took part in an enjoyable Q&A session with the children. Alanna Audley-Murphy told how she had boxed Katie Taylor in Ireland's first-ever sanctioned womens' bout in 2001 (a fight refereed by Sadie Duffy) and how she had been the first female to represent Ireland in an international in Iceland.
"I only joined boxing to keep fit," she told the kids. "I was a dacer until I was about 12 and then I asked the coach if I could join the boxing."
The Commonwealth Games take place in Glasgow from July 23rd until August 3rd.
Receive quality journalism wherever you are, on any device. Keep up to date from the comfort of your own home with a digital subscription.
Any time | Any place | Anywhere
Posted: 4:00 pm June 17, 2014