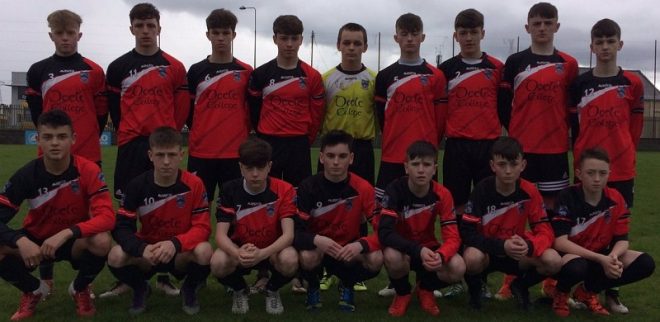 The stage is set for the Bank of Ireland FAI Schools Minor Boys National Cup Final as Ulster starlets Deele College, Raphoe, who are newcomers to this level of competition, will take on the experienced Killarney outfit St. Brendan's College in this season's Cup decider on Tuesday, April 4 in Home Farm FC, Whitehall at 2pm.
The classy Raphoe side dispatched Connacht Champions St. Gerald's College, Castlebar in an eight goal thriller in their semi-final outing.
Three times, St. Gerald's had taken the lead and each time they were pegged back by Andrew McFadden's charges. Oisin Bonner turned Zack Tinney's cross into the net for the first equaliser before half time but again St. Gerald's took the lead just before the interval, 2-1.
Aaron Murtagh then headed Deele's second from a well worked corner. Again St. Gerald's scored shortly after. This time it was Captain Robert O'Donnell who capitalised inside the box to make it 3-3. An unmarked Anton Murtagh scored from a corner to take the lead for the first time in the match with over ten minutes remaining. Captain O'Donnell put the icing on the cake with his second and Deele's fifth deep in injury time to ensure their advancement into this season's finale.
The Raphoe lads have impressed in front of goal this season as they notched up a 5-4 winning score-line in the Ulster Final against PCC Falcarragh. Their previous outing in the provincial semi-final was a tamer affair with the game ending 1-1 against the Rosses after extra time. It took penalties to decide the winner, Raphoe winning out 4-3 on spot kicks.
Equally, St. Brendan's made hard work of their Cup campaign when they took on Leinster stars St. Joseph's SS, Rochfortbridge winning out 5-3 after extra time.
Similarly, the Killarney students were chasing the game for long periods and came from behind three times to take the match into extra time with six minutes remaining.
St. Joseph's were two up inside the first 12 minutes with some super attacking prowess upfront. It took Dylan Callaghan twenty minutes to tag one back for the Munster men to bring them back into contention.
Niall McGillicuddy saw his corner guided into the net just before half time to make it 2-2. Again it was St. Joseph's who increased their goal tally 11 minutes into the restart, 3-2. McGillicuddy found his range six minutes from time to make it all square, 3-3 and take the tie to extra time.
The hero for Trevor Nagle's side was youngster Emmett O'Shea who scored a brace late into the first half of extra time. A wonderful set piece from 25 yards and a splendid close range effort killed off the Rochfortbridge attack and set up another National Cup Final appearance for the Kerry School.
Nagle's side won the First Year Cup last season with virtually the same squad. As last season's National Cup Champions, St. Brendan's College will represent FAI Schools at the Allen McKinstry Cup (Home Nations Tournament) in May when Wales play host.
The Killarney teacher has also notched up the National title at Minor level back in 2014 so he will be going for a remarkable three titles in four years. The only thing stopping him with be the Deele College contingency. If they find their range early on, it could make for a goal scoring spree in Whitehall!
The pressure will be on St. Brendan's College to continue winning ways as their Senior GAA squad retained the Hogan Cup in Croke Park at the weekend to make it a 3 in-a-row for the Kerry School. A great sporting tradition that they will want to rival in Whitehall come Tuesday evening.
DEELE COLLEGE, RAPHOE | David Arthur, Corey Brolly, Aaron O'Donnell, CJ Clarke, Gavin Mc Gee, Anton Murtagh, Corey McBride-Gillen, Robert Donnell (Captain), Zack Tinney, Ronan McKinley, Oisin Bonner
SUBS | Jack McAuley, Kyron Coyle, Shane Coyle, Dean Quigley, Pierce Lindsay
TEACHER | Andrew McFadden ASSISTANTS | Zac Brolly, Alex Carolan
ST. BRENDAN'S COLLEGE, KILLARNEY | Eoin Moynihan, Tom Doyle, Ryan O'Grady, Neil O'Shea (Captain), Emmett Finnan, Evan Looney, Cian O'Leary, Niall McGillicuddy, Eoghan O'Sullivan, Emmett O'Shea, Dylan Callaghan
SUBS | Daniel Okwute, Ruairi Doyle, Owen Benson, William Shine, Conor Henderson
EXTENDED PANEL | Craig Boyle O'Sullivan, Robert O'Shea, Joe Rudden, Matthew Fleming, Philip O'Leary, Lawrence O'Donoghue, Jack McCarthy, Conor O'Leary
TEACHER | Trevor Nagle ASSISTANT | Joe Hurley KIT MAN | Matas Starosas
REFEREE | David Buckley (Dublin)
Receive quality journalism wherever you are, on any device. Keep up to date from the comfort of your own home with a digital subscription.
Any time | Any place | Anywhere
Posted: 2:50 pm April 3, 2017