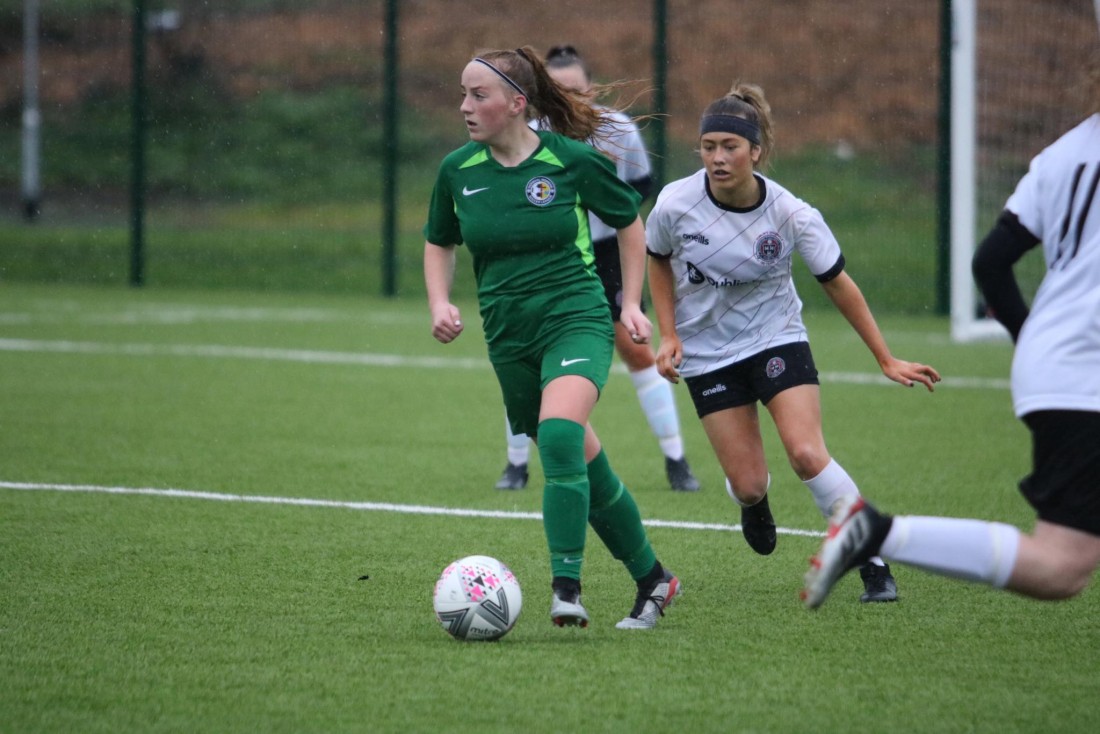 WHILE most people had turned their attention to wrapping presents or preparing the Christmas dinner on December 23, Aoife Gallanagh and her Donegal Women's League Under 17 teammates had their biggest game of the season.
After a stop-start campaign, the Donegal side got a good run of matches in December and reached the Shield Final where an in-form Bray Wanderers side stood in their way.
Dundalk FC's home ground of Oriel Park was the venue for the decider and it proved to be a close, tense match.
There was only one goal in the game, and it was Gallanagh who produced the goods with a smart finish.
Brid McGinty's side held on for victory and were thrilled to bring the Shield back to Donegal.
"It was an unbelievable day," said Gallanagh, as she collected the Donegal News Sports Personality of the Month award for December, in conjunction with Brian McCormick Sports & Leisure.
"It was a real team effort from all the girls and the feeling after the match was amazing."
Gallanagh has always been passionate about football as is her twin sister Louise, who was also on the Under 17 team,
"We would have started off on the boys teams, and then there was an Under 14 girls side with Cockhill," Aoife explained.
"There was an Under 16 team as well but after that we joined up with Donegal.
"That means driving forty minutes to and from training three nights a week which is hard on mum and dad.
"But we started a trend. Three other girls from Inishowen also joined up with Donegal after we did."
The Gallanagh twins signed up for the 2019 season, and they thoroughly enjoyed it even though they were playing a year above their age group.
They were older and more experienced for the 2020 campaign, but it took some time for the team to get into their stride.
"There were some tough games at the start but we improved as the season went on.
"A couple of players came in and joined the team as well – Ciara McGarvey, Sinead McBride and Orla Corry.
"They are all good players who brought a bit of extra strength and that made a difference."
The Donegal Women's League Under 17 side first linked up in December '19 for trials and it proved to be a very long season.
They had to stop on a couple of occasions due to Covid-19 but Aoife says they didn't allow the virus to have a detrimental effect on their season.
"Covid was hard on everyone, but I actually think it was a positive for us.
"It gave us a break and I think that showed the girls how important it is for us and how much we missed it when we didn't have it.
"But we all kept in touch. John (Cannon) organised zoom work-outs for us and they were great craic.
"I think the whole Covid break definitely helped to make a stronger connection between the team."
A Shield competition began for Donegal in December and they defeated Bohemians 3-1 before drawing with Sligo Rovers in the Showgrounds.
Sligo could have sneaked into the final ahead of Donegal if they defeated Bohs by two clear goals but thankfully that match ended in a 3-3 draw.
That set up a final against Bray, who had won all their games in the Shield, and chances were at a premium.
"It was a really tight game. There wasn't much between the teams.
"We got the goal just before half-time which set us up nicely.
"We came out in the second half hoping to get another goal to kill the match off.
"But they were a good team and we couldn't get it. We were under pressure but the defence stood strong.
"Lucy Canning was amazing on the left wing. She kept us in it with some brilliant play."
The all important goal arrived in the 45th minute when the Bray goalkeeper failed to hold Erin Doherty's free-kick and Gallanagh was alert to fire home to the net.
"I was delighted to score. I didn't want the game going to penalties. My nerves wouldn't have held up.
"I didn't even realise I had scored to be honest until all the girls started running to me.
"It was nothing special – just a tap in. But they all count."
Gallanagh – who is a student at Scoil Muire in Buncrana – was quick to pay tribute to the team manager Brid McGinty and her helpers.
"Brid, John (Cannon) and Benny (Doherty) deserve all the credit. They were brilliant for us all year.
"They put in so much work and helped us so much. We definitely wouldn't have been able to do it without them,"
It was a particularly special triumph for the Gallanagh family, as Aoife was joined on the team by her twin Louise.
"It's unreal to play with Louise.
"She is my best friend and such a good player. I wouldn't know what to do if she wasn't playing along with me. I'd be lost.
"I play in centre midfield and she plays on the right wing. It's a good job we don't play in the same position because I would definitely be on the bench."
The Gallanagh twins now move on to Under 19 level, and Aoife is hopeful that Donegal will be able to field a team at that grade in 2021.
"Hopefully we will be able to put a team in the Under 19 League.
"We are looking to get new players in so if anyone is interested they should get in touch.
"The majority of the girls are still Under 17 so they will be staying at that level.
"There are five or six of us who are overage now and we're hoping that there will be a team.
"It's a great standard against teams from all over the country and great fun as well."
Receive quality journalism wherever you are, on any device. Keep up to date from the comfort of your own home with a digital subscription.
Any time | Any place | Anywhere
Posted: 3:30 pm February 18, 2021