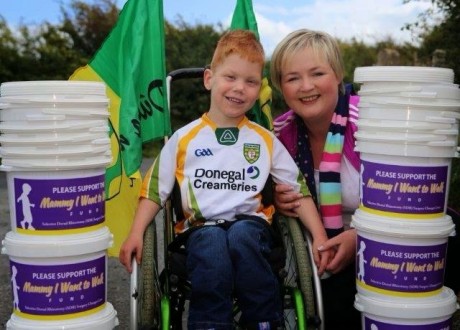 MARCH 3 has been confirmed as the date when a young Killygordon boy will undergo a life-changing operation in America to help him walk for the first time.
Only last September, Ms Anne Marie Doherty embarked on a major fund-raising campaign to raise €60,000 so that her son Paul (5) can get vital treatment.
The 'Mammy I Want To Walk' drive is all about raising funds for brave Paul as there is no assistance available at home because the HSE cannot fund the operation.
He has spastic quadriplegic cerebral palsy and to date has had physio, occupational therapy, speech therapy, conductive education, Botox injections, three weeks at the Peto Institute in Hungary and all sorts of medicines, but to no avail.
Less than three months after the campaign was launched, more than €66,000 has been raised.
Ms Doherty, explained that, since Paul could talk, he always told her 'mammy, I want to walk.'
"It broke my heart to see him stuck in a wheelchair, not being able to run about with his brother and sister or even to be able to pick up a toy from the floor that he wanted to play with," she said.
"Paul is a happy boy, playful and full of devilment. As his mother, I always fought to get him the services and therapies he needed. While the HSE gave Paul what they could, they could never offer him the opportunity to be able to walk. Then I came across an operation in America called Selective Dorsal Rhizotomy (SDR). The operation involves cutting some of the nerves in Paul's spinal cord that are misfiring the muscles in his leg."
She was present at the Finn Valley Centre in Stranorlar on Sunday where details of a marathon relay in aid of the fund were released.
A strong group of 56 mixed ability runners are registered for the 2015 Belfast City Marathon.
The will form a relay team which will take on the marathon on Monday, May 4. Patsy McGonagle, FVAC gave the group words of encouragement and paid credit to the tremendous work that had been done locally to support Paul.
Professional boxer, Jason Quigley, was also there to support the event.
The relay is being organised by James Maguire.
Anne Marie concluded: "We are organising this relay marathon so that Paul will have funding for more of his therapy after the operation. One day we would love to see Paul doing a part of a relay marathon with us. Even 50 metres walking would be a dream come true for Paul."
Receive quality journalism wherever you are, on any device. Keep up to date from the comfort of your own home with a digital subscription.
Any time | Any place | Anywhere
Posted: 12:47 pm December 15, 2014