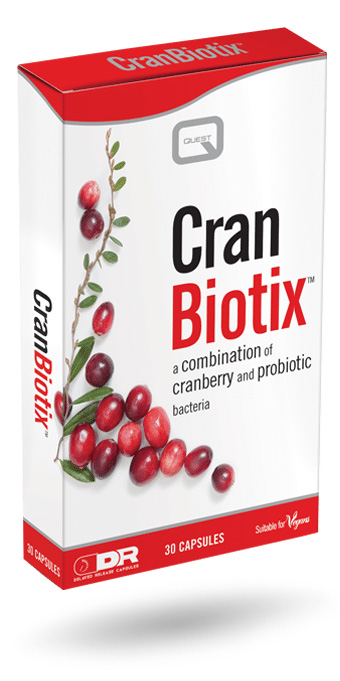 Urinary tract infections (UTIs) are a big problem for modern woman. Many experience at least one in their life. UTIs are simply due to unbalanced gut bacteria. Bacteria transfers from the colon to the intimate areas, so healthy gut bacteria is imperative for intimate health. E.coli is the main culprit as its fingerlike protrusions easily cling onto the bladder wall, causing inflammation and pain.
WHAT CAN BE DONE?
Cranberry extract – This provides a proanthocyanidins which gives cranberries their colour. Scientific papers demonstrate proanthocyanins' ability to prevent the adhesion of the E.Coli to the bladder wall. Cranberry extract has many advantages over fresh cranberry products as it contains less sugar which can worsen infection. Cranberry extract contains a higher content of proanthocyanidins. Probiotic bacteria – Bacteria must be corrected in the gut to prevent high concentrations of E.coli. Lactobacilli probiotic bacteria alongside dietary changes positively manipulate gut bacteria and therefore the intimate areas.
QUEST CRANBIOTIX
CranBiotix was developed with the 2 main causes of UTIs in mind and provides cranberry extract with lactobacilli bacteria to target the active infection and the underlying cause. CranBiotix capsule shells are delayed release. They do not breakdown in the harsh acidic stomach, instead protect the bacteria until it is released in the intestines. This insures survivability of the bacteria so it can work effectively. CranBiotix may be taken as a preventative and during an active infection, on its own or combined with antibiotics.
• For more information call into the Natural Way Letterkenny Shopping Centre Tel: 0749125738.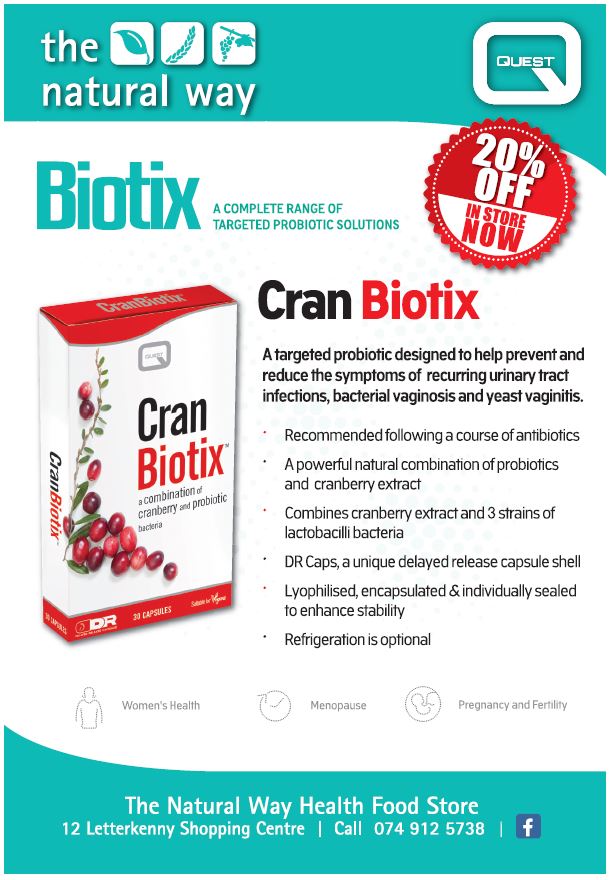 SPONSORED CONTENT BY: THE NATURAL WAY
Posted: 10:16 am September 8, 2018