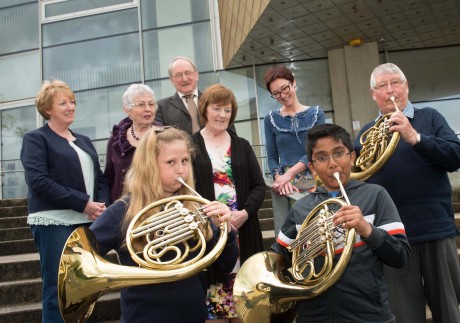 IN 1987 the Donegal School of Music and the County Donegal Youth Orchestra were founded by Mr Jim Rafferty, Sr Concepta Murphy and Mr Sean O'Longain with the aim of providing music lessons to young people in county Donegal and give them the opportunity to play together in music ensembles.
Jim, a music teacher at St Columba's Comprehensive School in Glenties, was the conductor and musical director of the youth orchestra until his death in 2006.
Jim's love and enthusiasm for music and his interest in the young people he guided made him a much respected and loved figure.
The French Horn was a particular love of Jim's and he wished for such an instrument to be part of the Donegal Youth Orchestra. However, at the time there was no local tutor available.
It has long been the wish of the voluntary committee of the Donegal school of music to award a scholarship in Jim Rafferty's name and it is delighted that students will now have the opportunity to learn the French Horn under the tuition of Mr Ken Goodman.
The scholarship was offered to young people interested in taking music lessons with the music education partnership. Students underwent an audition process before two recipients, Courtney Brennan and Prathamesh Sai Sanker, were selected to be awarded the scholarship. 
The Donegal School of Music Committee is proud to award this scholarship in Jim's name and hopes that these young musicians will eventually become members of the County Donegal Youth Orchestra, now one of the music education parternship's performing groups.
Posted: 10:05 am June 12, 2014