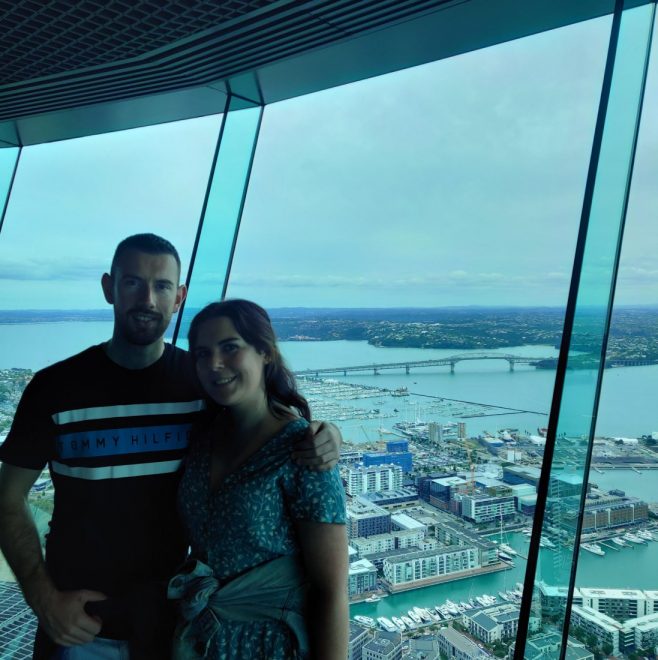 A DONEGAL couple who had been stranded in New Zealand due to the coronavirus pandemic arrived home safely this week, just days before all flights out of the country are grounded.
Letterkenny man Ciaran McBride and his partner Leanne Gibbons from Ramelton were five days into a two-week holiday when the New Zealand government declared a state of emergency and closed its borders
The couple had been living in Australia for the past two years. They travelled to New Zealand on holiday with a friend and had intended going back to Australia and starting the third year of their working holiday visa.
They found themselves stuck in Auckland having been told that their flight back to Australia had been cancelled due to government border closures. New Zealand entered a full lockdown from last Wednesday with only essential services remaining open in a bid to control the Covid-19 pandemic.
The couple were among hundreds of Irish people stranded in cities and airports and on cruise ships across the world who have been repatriated in recent days.
"We arrived in New Zealand a few days before St Patrick's day. We knew about the coronavirus before we went but all the major headlines were about China and Italy. Since we were going to New Zealand, where there was only six confirmed cases at that stage, we didn't think it would affect our holiday which we had already fully paid for," Ciaran explained.
Within days of their arrival things escalated quickly with lockdowns and border closures around the globe making them quite anxious and, realising that they were unable to get back into Australia, they decided to books flights home to Ireland.
There weren't many flights and any that were available were over triple the normal price but they did manage to get one booked for Tuesday, March 24. However, on the morning of the flight they discovered that Emirates had cancelled all its flights due to border closures in UAE.
"The issue for us was finding a place to stay in New Zealand because as the lockdown came into place it was getting more difficult to find any accommodation. We already had air BnB bookings and booking.com cancelled and seen signs on caravan parks saying that they weren't accepting guests who entered New Zealand from overseas after 1st of March.
"I know there were hundreds in a similar situation in New Zealand but what made our situation worse was the fact that myself and Leanne had our car, accommodation, belongings and winter clothes all in Australia and we couldn't get back into Australia due to the border restrictions they brought in and they were only accepting Australian citizens," he explained.
"We were very lucky when an Irish girl Shannen from Portlaoise got in contact with us via the 'Irish in Auckland' Facebook page offering us a place to stay while we figured out what we were going to do," he said.
The couple had been in contact with the Irish embassy in New Zealand but there wasn't much they could do only keep them updated with whatever information they were getting from the airlines and the Government They were also in correspondence with local TDs Thomas Pringle and Padraig MacLochlainn who were doing what they could from home.
After hours on hold on the phone and constant refreshing of the Air New Zealand web page they finally managed to get a flight booked via San Francisco back to Dublin (again for over triple the normal fare) but they knew this might be their last opportunity to get out for a while as there weren't too many flights operating in April.
"Thankfully it worked out and we are back at home now. We are still awaiting a lot of refunds as it wasn't only our first flight home that was cancelled we also had our domestic flight, and our return flight back to Australia cancelled as well as camper vans, accommodation etc which we are all owed but hopeful of getting returned.
"For others in this situation where there are long delays on refunds, this may be a massive issue as many Irish living in New Zealand and Australia have lost their jobs and are still expected to pay rent etc, with many desperately putting the last of their savings into incredibly expensive flights home only to have these cancelled with no promise of quick refunds," he said.
"There was another couple from Donegal we met on our flight home and we're all so grateful to be back home safe and sound," he added.
Receive quality journalism wherever you are, on any device. Keep up to date from the comfort of your own home with a digital subscription.
Any time | Any place | Anywhere
Posted: 9:26 am April 4, 2020