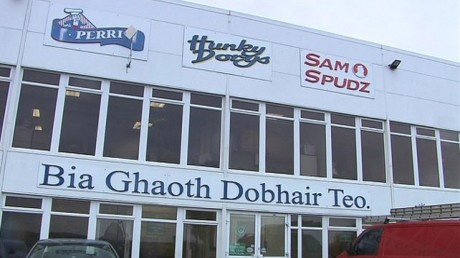 BY SEAN HILLEN
Like Br'er Rabbit, west Donegal's largest economic development group is captive.
Captive to the belief that call centres and large manufacturing companies are the only way to create jobs – and to a golden circle that benefits from such thinking.
As such, Údarás na Gaeltachta is a Tar-baby, ever-more entangled in a sticky situation. With 142 jobs gone at Largo Foods and after spending more than two million euro in the Donegal Gaeltacht over the last year, it has suffered a net loss of 78 jobs, according to its own figures, the worst record for many years.
So where has all the money gone?
Remoteness, poor infrastructure and a narrow skills' set have proved difficult obstacles in attracting companies to the rural Gaeltacht. But does this excuse Údarás' poor performance and lack of transparency as a public body?
After announcing recently it created 220 jobs in Donegal last year, Údarás promptly declined to give a breakdown of the figure. Following a Freedom of Information request I made seeking a list of funded companies and their job numbers, as well as pension payments, it replied, "For data protection and commercial sensitivity reasons. We do not release specific information collated for the purposes of the Údarás employment survey to the general public," adding that pensions, while funded by the taxpayer, were private matters. 
I asked Senator Trevor Ó Clochartaigh of the Oireachtas Joint Committee which revealed Údarás pays half its annual budget in pensions for 136 former executives, to follow-up. Gerry Adams TD, submitted Dail question Nr. 127, as well as Questions 416 and 417, asking the Minister for Arts, Heritage and the Gaeltacht to "detail final salaries levels, lump sum or additional payments and the pension payments made to each chief executive officer or regional executive of Údarás who retired in the past three years."
Minister Jimmy Deenihan answered: "I have been advised by Údarás na Gaeltachta it considers the payments referred to are covered under the Data Protection Acts 1988 and 2003. Accordingly, it is not in a position to supply the information requested."
Mary Lou McDonald, TD, Sinn Féin's party's spokesperson on public expenditure and reform, then submitted Parliamentary question Nr. 148 asking the Minister to "reference the specific provisions of the Data Protection Acts to which he refers; the basis on which he believes Údarás na Gaeltachta does not, unlike all other senior managers across the civil and public sector, have to make public, details of public service pension arrangements." An answer is still awaited.
Such lack of co-operation by Údarás is disconcerting and leads inevitably to questions, making the words of its Arranmore-born chairperson Anna Ní Ghallchóir to me – "utter transparency is a given" – seem pale.
About one billion euro has poured into the Donegal Gaeltacht since Údarás was founded – for a population of 24,000. Result: the highest unemployment rate nationally, ugly, empty, ghost-like industrial estates blighting a rural landscape and a horrendously under-developed tourism sector.
Two years ago, a new board promised change with both Ms ni Ghallchoir and fellow board member John Curran saying to me in interviews that widespread funding for 'cultural tourism' projects would be given to create sustainability by attracting more visitors to west Donegal.
Two years later, less than five per cent of Údarás' budget has gone to such projects, leading people at a recent EU-backed tourism CeangalG conference in Gaoth Dobhair to complain.
In the case of Largo Foods, where is the sustainability that grants totaling 6.2 million euro by Údarás to it (over 43,000 euro per job) should have created, and what business-sense does it make for Údarás to allocate half a million euro for two years for this company, who didn't even bother to draw it down? With call centers and large manufacturing units merely band-aids for local unemployment, why has Údarás shown little trust in small businesses forming the backbone of the area's economy? Especially so when a national economist who completed her Doctorate on Údarás operations, concluded, "on supply chain factors alone, a long-term, job creation strategy based on manufacturing was, and will continue to be, insane." Could the fixation with short-term job numbers be linked to retention of Údarás' staff jobs, which average 80,000 euro annually, excluding expenses?
  
Instead of cultural tourism being expanded, Gearóid Ó Smaoláin, the organisation's tourism officer, said "discussions are well-advanced" on building an addiction clinic in Falcarragh, beside an existing golf course in the Ballyconnell House estate. It is believed Údarás, having already turned down several tourism ideas for the area, will allocate between several hundred thousand and one million euro to the project, run by an arm of the Catholic Church.
Ultimately, decent Donegal people deserve better. How many more millions must be wasted, how many more years lost, for Údarás' vision to change and for transparency and accountability to be achieved? Perhaps only then will the brain-drain halt and our native language escape withering on the vine.
 
Sean Hillen is a writer living in Gaoth Dobhair. He can be contacted at seanhillenblog.com
Receive quality journalism wherever you are, on any device. Keep up to date from the comfort of your own home with a digital subscription.
Any time | Any place | Anywhere
Posted: 1:00 pm March 21, 2014