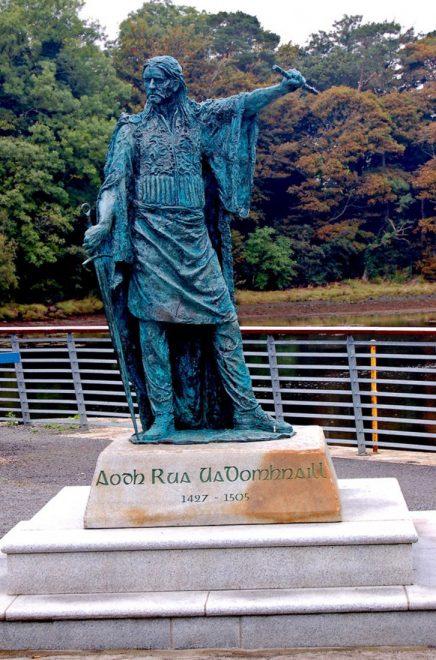 A descendant of Red Hugh O'Donnell, King of Tyrconnell, would like to see the former king's remains brought back to Donegal Town and buried in the former Franciscan chapel there.
Francis (Frank) Martin O'Donnell, who now lives in Vienna, represents the next-of-kin who are watching closely to see if bones found during an archaeological dig in the Spanish city of Valladolid are those of Red Hugh O'Donnell.
The Donegal man fled Ireland after losing the Battle of Kinsale to the British but is remembered as one of the great heroes of Irish freedom, having waged a nine-year war for independence. He died in Simancas Castle in Spain on September 10, 1602 aged 29. He was given a royal funeral and was buried in the Chapel of Wonders in the old Convent of San Francisco then the biggest monastery in Spain. It is same chapel Christopher Columbus was buried in.
On Tuesday the archaeologists discovered a skull and what appears to be two coffins in the former chapel. It is anticipated one of the coffins could be empty as Columbus' remains were moved in 1506, the year he died, and are now in the cathedral in Seville.
Speaking to the Donegal News this week Frank O'Donnell outlined some of the possible paths ahead if the bones can be verified as those of Red Hugh. Mr O'Donnell has had his family's ancestry confirmed by a number of genealogists following the publication of his book 'The O'Donnells of Tyrconnell- A Hidden legacy' which contains 30 years of research. They are direct descendants of Red Hugh's nephew Donal Oge O'Donnell.
"My late father was from Ardfert and he grew up listening to family stories that we were descended from Red Hugh. When I was born in 1954 he became more interested and attended the first reunion of the clan for 350 years under the auspices of An Tóstal in Donegal around Easter in 1954.
"My book has been through the hands of several genealogists and they have certified my family. We are the only direct descendants of Red Hugh's family. The Duke O'Donnell in Spain and the Austrian Count O'Donnell are descended from Red Hugh's cousin," Frank said.
He added that Tuesday's find is exciting and they will first have to consider if the bones found are those of Red Hugh and if the skeleton shows that the two big toes are missing as he lost them through frost bite. The other skeleton could be the remains of Red Hugh's travelling companion Tioboid mac Walter Ciotach Bourke.
"If they have found the skeleton the next thing will be to see if they can extract DNA and find people like myself to compare the DNA. If the skeletons are not complete they will have to test every bone to confirm who they belong to. The Spanish and Austrian O'Donnells have never been willing to publicly declare their DNA. The DNA is a sensitive issue.
"I have been told we can expect the result of what the dig has found this week, recovering whatever bones are there. The DNA testing and matching could take a while now," he added.
Repatriation
Because Red Hugh was Ireland's last independent sovereign, Mr O'Donnell believes the king should be given a formal state funeral after lying in state for a number of weeks in the Pro Cathedral in Dublin or in Dublin Castle where he was imprisoned.
"There will be the legal issue of ownership of the remains. Will the Franciscan Order still be able to exert ownership of what was their property. What will the government in Madrid want, then the Irish Government. Should he be buried in Glasnevin where so many national figures are buried?
"I think if we take him home to Ireland he should be buried in Donegal Town perhaps to the old Franciscan Abbey where his ancestors are buried – perhaps finish the renovation of Donegal Castle and have a suitable sepulchre in a restored and renovated abbey.
"It would be extremely beneficial for Donegal Town, the county and Ulster to have a historical personage come home. Donegal Town could become a sister town of Valladolid which will have many benefits if they have Christopher Columbus' remains. There are interesting times ahead and will have all sorts of conferences before final decisions are made," Frank concluded.
Francis Martin O'Donnell was born in Dublin in 1954. He has served abroad as an international diplomat in senior representative positions with the United Nations until retirement, and became Ambassador for the Sovereign Military Order of Malta to the Slovak Republic from 2009 to 2013. The world's oldest humanitarian diplomatic organisation.
He is a life member of the Institute of International and European Affairs(under the patronage of the President of Ireland). He currently continues to serve pro bono as an advisor to the Global Partnerships Forum founded by Amir Dossal, and is a listed endorser of the NGO consortium known as Nonviolent Peaceforce. He previously served as a United Nations official for 32 years, most recently as the Resident Coordinator of the United Nations system in Ukraine, from 30 September 2004 until 31 March 2009, and previously in the same capacity in Serbia-Montenegro. In early 2012, he was appointed to the Council of the Order of Clans of Ireland (under the patronage of the President of Ireland), and was elected its Chancellor in May 2014. He also served on the Board of Directors, and completed both terms of office in April 2015.
He is an occasional guest speaker on Irish history and genealogy in Dublin, Madrid, Vienna, and at the Sorbonne in Paris.
Since the outbreak of Covid-19 he has been in lockdown in Dalkey since March 6.
Receive quality journalism wherever you are, on any device. Keep up to date from the comfort of your own home with a digital subscription.
Any time | Any place | Anywhere
Posted: 1:00 pm May 29, 2020