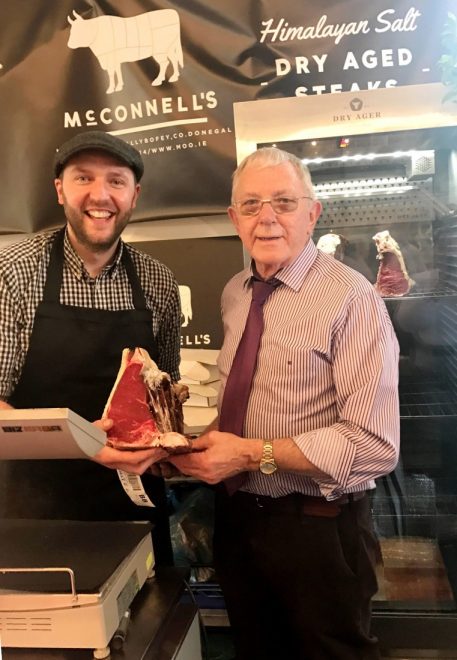 A DONEGAL butcher is using a two-metre high solid wall of Himalayan rock salt bricks to dry–age premium beef sourced from local suppliers.
The translucent blocks were imported by McConnell's Butchers, Ballybofey, from mines in the foothills of the Himalayas in Pakistan's Punjab region. Each of the 360 salt blocks was individually hand cut.
Shane McConnell, who runs the shop alongside his father John, said the salt wall creates the perfect environment over the ageing period, and concentrates the flavour of the meat. It purifies the air in the room, producing a clean and fresh atmosphere.
He said that they are always on the look out to combine new creative techniques with traditional methods, which led to their decision to invest in the wall.
"I looked up other people in the industry who were using the bricks and did a bit of research. We started off with a small cabinet in the shop and it took off from there. We were the first butchers in Donegal to use the salt bricks.
"Two years ago we built our own chamber solely for the dry-ageing process and it's worked out really well for us," he said.
The health and therapeutic benefits of Himalayan salt have been known for centuries, but its benefits in the dry–ageing of meat are only a recent phenomenon.
"The bricks are shipped from Pakistan to Germany and we take them on to Ireland from there. We bought seven tonnes of salt and our salt chamber – which is two metres high and four metres long – contains 360 bricks which weigh a ton.
"We've since sold bricks to other butchers in Donegal but we're still the only ones to have a dedicated full unit for housing them," he said.
Through a process called ionisation, the negative ions from the salt counteract the positive ions of meat, and result in a totally unique sweet and flavoursome end product. It is not the salt alone, but a combination of temperature, humidity, and UV light combined, that deliver supreme dry–aged meat.
"It allows the beef to stay on the bone longer. The wall of salt enhances the overall ageing process over a period of 28–45 days.
"Meat won't get any more tender after about thirty days and thereafter it's all about developing the flavour. It helps to develop a more intense, nuttier, earthier flavour," he explained.
"All of our beef loins and ribs are now aged in the salt chamber and we source all our beef locally," he added.
Four years ago, McConnells Butchers set up Meat Order Online (MOO.ie), a business which enables customers to get locally sourced meat delivered to their door. The product range includes dry-cured bacon and hams, home made sausages and bacon jam as well as McConnell's 30 day dry-aged steak, cured with Himalayan Salt.
"Initially, we started off with a nationwide service but when the pandemic came in we cut it back to local delivery. We were lucky that there was a good demand and we were doing two to three hundred orders a week.
"Today, we service the Finn Valley and Letterkenny areas. People phone in their order and if it's in before 11am they get same day delivery to the door," he said.
Receive quality journalism wherever you are, on any device. Keep up to date from the comfort of your own home with a digital subscription.
Any time | Any place | Anywhere
Posted: 5:00 pm October 24, 2021