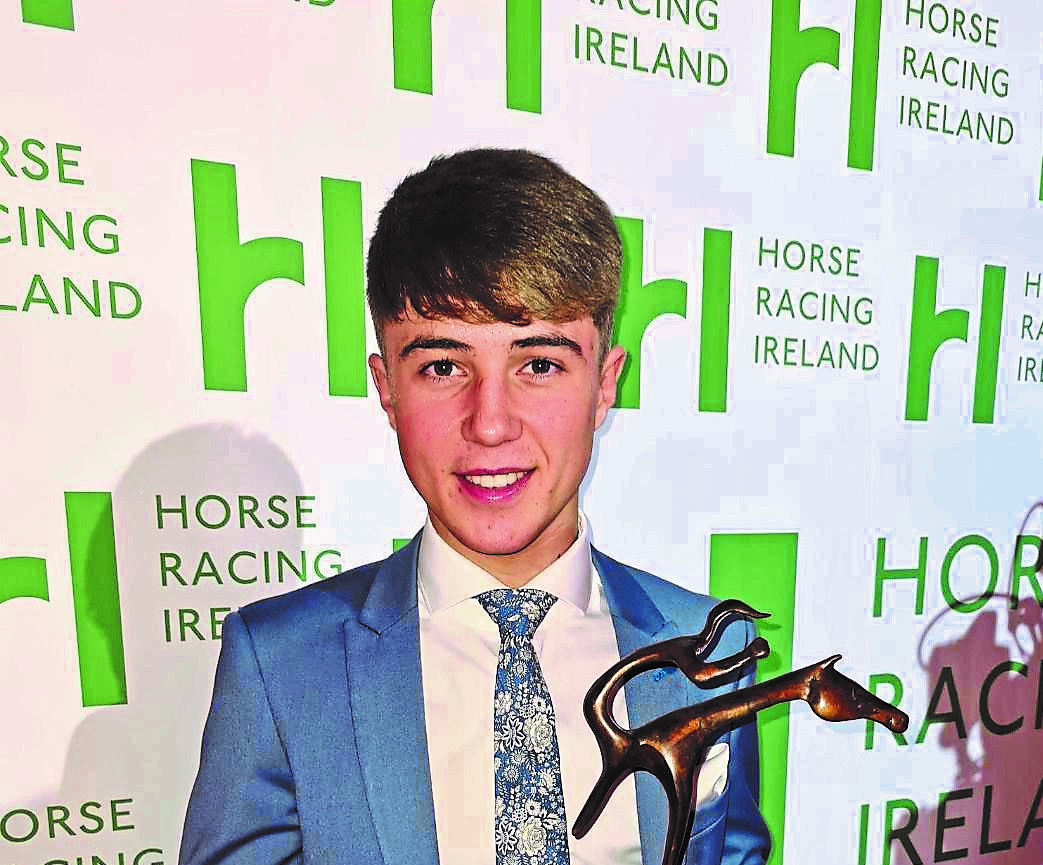 Dylan Browne McMonagle

DYLAN Browne McMonagle's trajectory continues to power upwards and he can reflect on another tremendous season in 2022.
The young Letterkenny jockey rode out his claim and went on to retain the Championship Apprentice crown.
He took a huge step forward in his career by notching his first Group One winner, while last week he won the Flat Racing Achievement award at the Annual Horse Racing Ireland prize-giving.
The 19-year-old has come on a long way since his pony racing days, and he's one of the hottest young stars in the horse-racing industry in this country at present.
Browne McMonagle was this week honoured with the Donegal News Sports Star of the Month award for September, in conjunction with Brian McCormick Sports & Leisure, for his Group One success at the Curragh.
Group One races are highlight events on the racing calendar. The best horses compete in them, as do the elite jockeys.
So it was a considerable achievement for Browne McMonagle to end up in the winner's enclosure in the Goffs Vincent O'Brien National Stakes.
Browne McMonagle was first past the post on board the 9/1 shot Al Riffa for trainer Joseph O'Brien, and it was a massive moment in his career.
"I was absolutely delighted to win it, and it was something that I wasn't expecting really.
"It was the biggest weekend of the year in the National Stakes.
"It was a small field but it was a very competitive field and there were a lot of good horses in it.
"Things worked out very well and it couldn't have gone any better.
"I'm just very thankful to Joseph to be given the opportunity to ride that kind of quality of horses.
"Some people ride for twenty or thirty years and never get close to winning a group one, so I'm lucky I got the opportunity."
Browne McMonagle has developed a strong partnership with Joseph O'Brien, who is carrying on his rich family tradition as a trainer after enjoying success as a jockey himself.
The former Errigal College student is at home at O'Brien's yard in Owning Hill near Piltown in County Kilkenny
"It's great to be on board with Joseph.
"I moved straight down here when I finished school, and he has a great set-up.
"He's been there himself and rode some of the best horses for his father Aidan, and he knows what its takes.
"He's a very hard worker as well and I'm lucky to have his support. He gives me plenty of support."
There can be huge highs and no shortage of glamour on the big race days but away from the high-profile meets and TV cameras, a lot of hard work goes in to ensuring the horses are ready for action.
"When the flat season is on we could be racing five, six, seven days a week just depending on the calendar.
"You're riding out horses in the morning, and if you're not racing, you're just making sure all the other horses are ready.
"There's plenty of work to be done and there are no days off.
"We know what's involved when we sign up for it, and you just get used to it.
"It's not the easiest of lifestyle and you have to be careful about your weight and so on.
"Thankfully my weight is fairly consistent so I'm lucky enough with that."
Browne McMonagle sealed his 95th winner at the start of the year and therefore rode out his claim, and his apprentice licence is now invalid as he moves on to a full professional licence.
He could have rode out his claim last year but perhaps wisely decided to take a more patient approach, and it paid off as he went on to retain his Champion Apprentice title.
With plenty of competition in the country, Browne McMonagle says there were no guarantees he would win it again.
"There are plenty of good riders and any of them could have won it.
"I held off on riding out my claim last year and I got that with my first win of the year
"I just decided for the sake of one more winner that I would hold on, and that meant I had to miss a few races in Dundalk at the end of last year.
"It was definitely worth doing it because it meant I got to race in forty apprentice races this year.
"And even though I knew there were no guarantees that I would win the Champion Apprentice again, it did give me something to work for, and it was good for the profile to get those wins."
Talented jockeys are always in demand in Ireland but when things quieten down over Christmas and the New Year, they do get the opportunity to broaden their horizons.
Some head towards America or Australia, but Browne McMonagle is Dubai bound once the New Year comes.
He's ready to embrace a different culture and see what tips he can pick up a long the way, but he won't be gone for too long.
"I'm looking forward to spending Christmas at home, and then I'm going to go to Dubai in January and link up with Bhupat Seemar for the month.
"That will be a different type of experience for me. It's a very different type of lifestyle over there, and it will be good to see how they do things.
"I'll come back at the start of February when the two-yea- olds season will be in full flight, and then I'll get ready for the flat season starting up again in March, and it will be full on from then.
"There's plenty to look forward to."
Receive quality journalism wherever you are, on any device. Keep up to date from the comfort of your own home with a digital subscription.
Any time | Any place | Anywhere
Posted: 11:03 am December 20, 2022