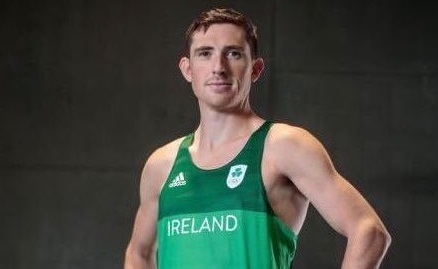 THERE were many fine Donegal sporting achievements in August, but nothing comes close in comparison to Brendan Boyce's fantastic tenth place in the 50km Race Walk at the Olympics.
Boyce battled the searing heat in Sapporo, Japan and finished in a time of 3:53.40.
It was a remarkable performance among the top athletes in that discipline in the world, and it was the Milford man's best showing of his three appearances at the Olympic Games.
However, speaking this week, he said there is still a nagging thought that things could have gone even better.
"I'm still kind of in two minds over how it went," said Boyce, who is the Donegal News Sports Personality of the Month for August, in conjunction with Brian McCormick Sports & Leisure.
"I think there might have been an opportunity to have done things differently and I wonder how that might have panned out.
"But when I look at how the last 20k went, I think it was good to make the top ten. I don't really think I could have finished higher with how the race played out.
"I would say I am content with how things went rather than ecstatic."
At the half-way stage, Boyce was 20th but in the lead pack, with 22 men separated by five seconds.
However, the Finn Valley AC man felt that the pace needed to be greater. Dawid Tomala from Poland was still fresh enough to move on and win in convincing fashion.
"I think there was probably a chance early in the race to push it a wee bit more.
"The first 10km was a gimme for everyone. It was fairly slow really.
"I did go to the front for a bit early on after about four or five kilometres but I do wonder if I could have pushed things on a bit more and tried to make it about pure endurance.
"As it went, I would say a lot of people were happy enough at 30km knowing they had more to give and it was really going to put me outside of my comfort zone to go with them.
"Like if I had gone with the Polish guy who won it, I would have blown up and come last.
"I would say he took a huge gamble. His background is mainly in 20km, and I'd say he got to 30km mark and thought I'm fresh here, I'm going to go for it.
"It paid off for him. I didn't realise at the time but his splits between the 30km and 40km mark were crazy.
"I'd have really needed things to push on earlier so everyone got fatigued more and then would have been too scared to drive on at 30km in case they couldn't keep the pace."
Preparing for the Games wasn't straight-forward as Boyce had to alter his training schedule when they were pushed back by a year, and there was uncertainty over whether the Olympics would go ahead at all.
The Race Walk was moved out of Tokyo to Sapporo due to the heat.
It didn't have the usual Olympics feel with the competitors locked away in a hotel for ten days.
"I guess with the year we had everyone was just happy to get to the Olympics but it was definitely the most restricted event I was ever at.
"We weren't allowed outside the hotel apart from a specific time when you went on a bus out to your training.
"It was very subdued and a lot of athletes weren't happy with how we were treated.
"Normally in the week before a big race, the hard work is done and you're trying to relax and maybe go out for coffee and things like that.
"But it was hard to relax when you were just in a hotel along with the very people you were competing against.
"It was ok for me because I'd experienced the Olympics before, and my sole reason for being there was to perform.
"It was the same story for the three days after we raced.
"I actually went out at 4am the next morning to help provide support for the woman's marathon. I was delighted to just get out of the hotel."
Boyce said he was in the best shape of his life before Japan, but added this week, that it doesn't take long for things to change in that regard.
However, he has enjoyed a break with his wife Sarah and twins Thomas and Isabelle and has got to spend some time at home in Donegal where he has been well received.
"The last few weeks have gone really well.
"It was great to get up for the homecoming in Donegal and it was nice to be back up last week for a few days with the babies as well.
"It was nice to talk to people and get their reaction to how it went.
"I don't get up much and you wonder does anyone pay attention.
"But it was great to hear of all the support I got and there was a great crowd out to welcome me back."
Boyce will return to training in Cork over the next few weeks, and he will start preparing for the 35km Race Walk now that the 50km has been shelved.
There is a possibility of a fourth Olympics in France in three years time but he isn't looking that far ahead yet, and his focus is on a busy 2022.
"Paris is a wee bit far away at the moment.
"The IOC still haven't confirmed what the event will actually look like.
"There are three big championship races next year.
"There's the World Cup in Oman in March.
"Then there is the World Championships in Oregon next July, and the European Championship are in Munich in mid-August.
"That will be different to have two events so close together. I'll probably look to peak for the World Championships and maintain that then for the next month.
"I'll get back in to training properly in October. The World Cup is earlier than usual so I'll need to be ready.
"I'll also have the National 35km in mid-December and that will be very important this year as it will directly lead to qualifying for the championships next year."
Receive quality journalism wherever you are, on any device. Keep up to date from the comfort of your own home with a digital subscription.
Any time | Any place | Anywhere
Posted: 10:47 am September 27, 2021