A DONEGAL representative of the Church of Scientology has admitted that parts of a propaganda video suggesting it helped reduce Irish drug crime by 85 per cent was a reenactment.
It comes after the front page of this newspaper, with a mock-up lead story, featured in the video.The video also portrays "interviews" supposedly carried out by the group on BBC Radio Foyle and Ocean FM as well as piece in the Inishowen Independent.
Mr Columba Gill, editor, Donegal News, described the front page depicted on the video as 'bogus' while both radio stations said the interviews had been faked.
"That front page never existed," said Mr Gill. "The story was reported in the paper, but nothing like in that manner," he said.
The anti-drugs campaigner referred to in the headline is Mr Kristian Shortt who was involved in the campaign with his sister, Zabrina Collins (nee Shortt).
Ms Collins is now a member of the Church of Scientology.
Several businesses in Dublin have also hit out at the church for filming their premises as part of a video shown at a New Year's Eve celebration in Clearwater, Florida. The video, which is a presentation by Scientology leader David Miscavige, claims to show the work done by the controversial group around the world and includes a special feature on its efforts in Ireland.
The group, whose most famous members are Tom Cruise and John Travolta, has premises on Abbey Street in Dublin's city centre where it has been 'testing' the public and also holding life-improvement classes.
In the video, the group says it has distributed more than 110,000 information booklets in various businesses around Dublin and elsewhere in Ireland and that this has resulted in an 85pc drop in drug-related crime.
One of the premises named and shown in the film was Carndonagh Garda Station, although a garda spokesman said they had no knowledge of it.
See tomorrow's Donegal News on Friday for full story.
Receive quality journalism wherever you are, on any device. Keep up to date from the comfort of your own home with a digital subscription.
Any time | Any place | Anywhere
Posted: 12:40 pm January 16, 2014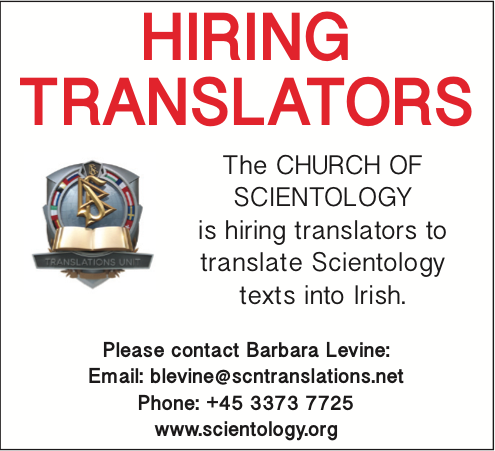 Irish language translators in Donegal are being sought by the Church of Scientology to translate their scripts, due to...