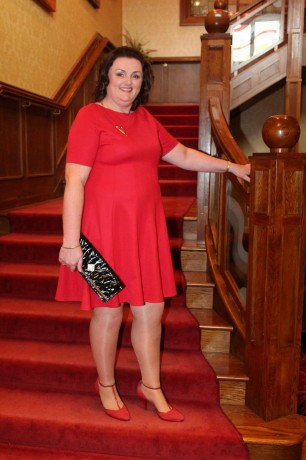 A NEWTOWNCUNNINGHAM farmer's wife blazed a trail for the more curvaceous women of the world when she modeled at the internationally renowned London Fashion Week last Sunday and will do so again this Sunday.
Diane Marshall, a part-time lecturer in Business and Computing at NWIFHE in Derry, never dreamt she would be striding the catwalk at one of the world's most prestigious fashion weeks. A UK size 18 who is 5′.9″ in height and 48 years-of-age, Diane is not the typical fashion week catwalk model but she represents a recognition by the fashion world, that 50 per cent of women in the developed world, are a size 14 plus. An economic reality the fashion industry is now embracing.
As Diane prepared to head off to London today (Friday) with husband Brian and their two teenage daughters, she told the Donegal News how she arrived at this, never imagined, juncture in her life. She expressed the hope that her unexpected modelling career would inspire other women to feel comfortable in their own skin.
"It began back in 2000 when Brian began looking to the internet to diversify from just farming. He began developing domain names and found his niche in the plus size sector. I took a career break when my late mother Sadie was ill. In June last year I started a blog about plus size people – trends, the fashion industry, models, health and various relevant issues, mainly to promote Brian's websites.
"In September of last year I went to a bloggers workshop in Manchester to keep me up to date and ended up modelling at a fashion show held for us bloggers for plus size fashion designed Curvissa. After that I was approached by a modelling scout who I very politely dismissed.
"I was flattered and the first approach was followed by two more scouts who stressed the need for older women of plus sizes for the industry but I thought how could I fit a modelling career with living in Donegal, being a farmer's wife and raising my family, so I refused all three," Diana explained.
At breakfast the next morning she got chatting to a fashion designer who explained to her that designers such as Zandra Rhodes had people in the previous day's audience. The woman encouraged her to take the modelling opportunity if for no other reason than to promote her blog and she echoed the changing face of fashion to needing larger curvaceous models.
Leggings and T-shirt
When called to London for selection for fashion week she was told to bring black leggings and a short-sleeve black T-shirt, have her hair pulled back and no make up.
"I had to run to Dunnes to get a pair of €5 black leggings as I didn't own a pair. I was the oldest model there and even though I got through to the final I didn't have social media set up to vote for me. However, a week later I got a call to say that the famous choreographer Reuben P Joseph wanted me for his London Fashion Week show. He said I was special because of my age and the agencies were out there looking for older women like me. He also liked my poise and naturalness," she said.
Diane is also in discussions with modelling agents for an Italian catalogue which caters for sizes 14 to 28.
"What I have realised is that I can be a model as most models only work part-time and have other jobs in the performing arts or where ever. I could fly out from Derry at weekends.
"I was a size 16 until my mother passed away and I went up to an 18 which I still am. I am content where I am at but would maybe go back down to a 16 and stay there. I think as we get older it is more flattering.
"I believe that the only way to lose weight is to eat sensibly, eat nutritiously and get exercise. I think the diet industry thrives on selling a dream, and in five years time this conversation might be redundant.
"Fashion designers need to be using more models the same size as the customers they are selling to," Diane concluded.
Receive quality journalism wherever you are, on any device. Keep up to date from the comfort of your own home with a digital subscription.
Any time | Any place | Anywhere
Posted: 5:17 pm February 18, 2014