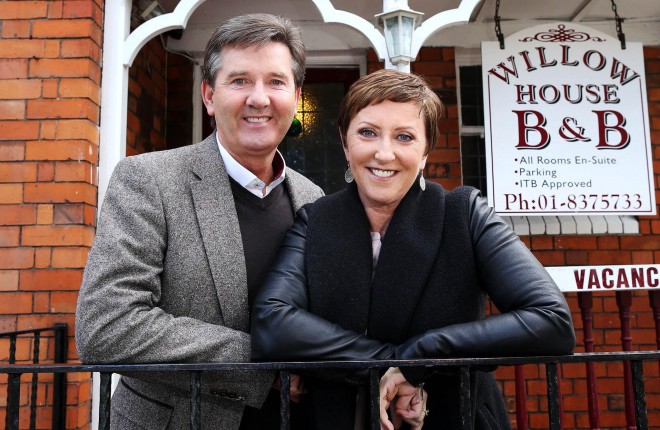 DANIEL and Majella O'Donnell's much anticipated B&B Road Trip' will be broadcast exclusively on UTV this Monday, October 26, at 8pm.
The first episode of the series sees Daniel and Majella arrive at Anne's B&B in Tulsk, County Roscommon – owned by Anne Sheerin and her husband Noel, a retired school teacher.
As a huge Daniel O'Donnell fan, Anne is overwhelmed with excitement upon the couple's arrival. After settling in to their first pit-stop, Anne, Noel, Daniel and Majella get dressed up for a night on the town at Tulsk's Country Ballroom, which attracts over 200 local residents each week. This week, however, the local dance hall will have two very special, unexpected guests. 
  
The six-part travel series with a difference will show Daniel and Majella as we have never seen them before, as the famous couple embark on a journey across Ireland, staying in B&Bs and delving into activities organised by the B&B owners.
A clip from the opening episode featuring the vivacious Anne has gained substantial traction on social mediahttps://www.youtube.com/watch?v=ohugF3WfRy8
Speaking about the new series, Commissioning Editor, Mary Curtis, said:
"Since we announced Daniel and Majella's B&B Road Trip, we have been inundated with requests and queries from the couple's fans all over the world. They have a huge following and having worked with both of them, it is easy to understand why. Aside from Daniel's successful singing career, they are a fantastic couple. This series will show a side to them that many of us haven't had the privilege of seeing.
The production company behind the series, VIP Productions, have done a brilliant job in putting it together and I think Daniel and Majella's fan base will grow even bigger from Monday onwards."
Throughout the series, viewers will see Daniel and Majella take part in a range of unexpected activities, including tractor racing in Enniskerry, paddle-boarding in Bantry Bay, rocking out at a house party in Newtownabbey, and playing football in Gort's very own Anfield Stadium. Viewers will also see the couple going in search of leprechauns in Carlingford with Ireland's last remaining leprechaun whisperer.
Majella O'Donnell said they really enjoyed it.
"It was lovely. I felt that we really did reach the heart of Ireland. When you're in cities all the time, the old Irish ways can get lost, but I feel that we really did reach the heart of Ireland, so in that respect, it was really good," she said.
 
Receive quality journalism wherever you are, on any device. Keep up to date from the comfort of your own home with a digital subscription.
Any time | Any place | Anywhere
Posted: 11:17 am October 21, 2015