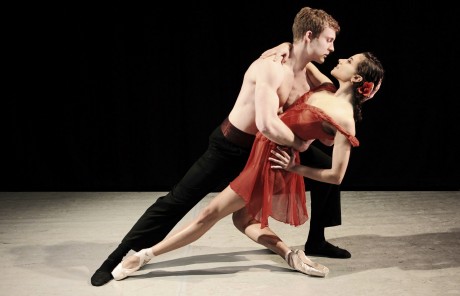 BALLET Ireland, the National Ballet of Ireland, return to An Grianán Theatre, Letterkenny, this midterm break with their passionate and romantic classical ballet version of Bizet's Carmen this Wednesday, October 30 at 8pm.
Carmen is the story of a young, naïve soldier Jose, who is bewitched by the beautiful and fiery gypsy, Carmen. Obsessed and reckless, Jose turns his back on respectable life to be with her. But Carmen, like love, is a bird that cannot be tamed and Jose's desire to possess her may eventually destroy them both.
This new ballet based on this timeless story of lust, passion and betrayal will resonate with you long after you have left the theatre. And while it may not be suitable for very young ballet fans, it will be a great night out for mothers and daughters or why not make it a date night as this production promises to sizzle with Latin fire!
Ballet Ireland's director Anne Maher said: "Over the past months we've been working in and out of the studio on our new ballet, Carmen, choreographed by Morgann Runacre-Temple. Morgann has choreographed other ballets you may have seen us perform, including Romeo and Juliet, Scheherazade and Cinderella, After the Ball. We're very fortunate to have Morgann work with the company given our commitment to creating new work for you to see. This allows us to stretch our dancers by taking on exciting new choreography; inspire our designers and give you, our audience, and the opportunity to see a whole new generation of ballet.
"So what can you expect to see on stage? Firstly, this timeless story will be told through the eyes of Jose, the man who does all in his power to possess the fiery Carmen. The set is quite modern with a creative twist that has kept our design team very busy! You'll also recognise many of the stunning dancers on stage including Zoe Ashe-Browne (Juliet in Romeo and Juliet) and Jane Magan (Cinderella, Swan Lake); James Loffler (Cinderella, Romeo and Juliet) and Richard Bermage (Romeo and Juliet, Scheherazade and Cinderella). There will also be a Flamenco guitarist on stage, John Walsh, who hails from Longford!
"Leading up to and during the choreographic process, Morgann has been very interested in looking at how a woman with Carmen's spirit would be viewed in today's society. Was Carmen an intelligent, independent manipulator and siren or in fact a monster or martyr? We'll let you decide."
Posted: 12:12 pm October 25, 2013