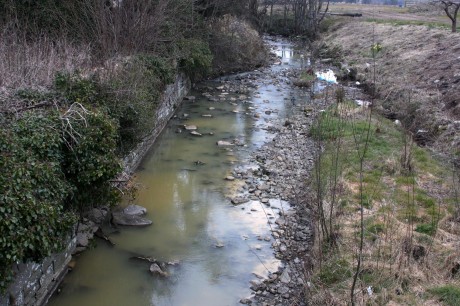 A NUMBER of authorities are investigating a potential pollution threat to a tributary of the salmon rich River Finn near Killygordon, which occurred this week.
Both Donegal County Council and The Loughs Agency are investigating an incident which saw the stream running through Crossroads village turn a yellow colour.
A spokesperson for the council said they had been made aware of an "uncontrolled release" of partially treated effluent into the stream from nearby Donegal Creameries plant.
"This has arisen due to an unforeseen process malfunction and the company has acted promptly and in accordance with their discharge licence conditions.
"The matter is being dealt with and officers from both the council and the Loughs Agency are monitoring the situation, with no evidence of a fish kill detected to date," the spokesperson said.
An agency spokesperson also confirmed that there has been a "pollution incident" in the stream.
"This has been dealt with by Loughs Agency staff. Water samples have been collected and sent to the laboratory for analysis. This investigation is ongoing, and it is yet unclear what caused this pollution or how it happened," the spokesperson said.
A spokesperson for the creamery said they discovered early on Wednesday morning that a small quantity of by-product from the milk plant had accidentally and unintentionally entered the stream.
"Management at the plant immediately notified the local authority about the incident and is co-operating fully with all relevant authorities. The source of the issue in question was identified and appropriate steps have been taken."
The Loughs Agency prosecuted Donegal Creameries in 2003, 2004 and 2011, for polluting the tributary of the Finn.
The plant was sold to Connacht Gold in late 2011.
Receive quality journalism wherever you are, on any device. Keep up to date from the comfort of your own home with a digital subscription.
Any time | Any place | Anywhere
Posted: 10:11 am April 12, 2013