ON Monday, Sinéad Jennings gripped the oars for the first time since finishing sixth in the women's lightweight double sculls final at the Olympic Games in Rio back in mid- August.
The following morning she awoke to blisters and cracked, bleeding skin – a common complaint after a return to the sport – yet the mother of three couldn't have been happier.
Today, Friday, she celebrates her fortieth birthday but most of the spotlight this week has been on her daughter Molly's fourth birthday.
Next week it's back to work as the trainee GP at a Limerick Hospital. The national rowing trials are on the horizon once more (October and November) while the 2020 Olympic Games in Tokyo remains a live goal. That all can wait however.
This week she's been busy getting her girls settled back at school. The Letterkenny native moved to Limerick after her marriage to Limerick's two time Olympic rower Sam Lynch.
They have three daughters Clodagh, Molly and Hannah. "We went to Eurocamp in Spain for the first time as a family after the Olympics and we had a great time. Life is good," she said.
JOURNEY
Sinéad came sixth in the women's lightweight sculls pair Olympic final, in Rio de Janeiro with Claire Lambe having become the first ever Irish female crew to reach an Olympic A final.
Along with the O'Donovan brothers from Cork, who won silver in Rio, they have propelled rowing into the national conversation. "It's been a magical journey and one which I'm just about getting my head around now.
It was a brilliant experience and, looking back, we rowed as well as we possibly could in the final," she recalls. Within a week of that Olympic final, Sinéad was back home winning the women's Half Marathon in Letterkenny with younger sister (and fellow Olympian) Caitriona first across the finish line in the full marathon.
More than 100 people gathered in the town's Market Square to welcome Sinéad home with nearly as many again cramming into the family home in Hawthorn Heights a few days earlier to watch the final live in the company of her parents Mick and Teresa and sister Caitriona.
"I believe it was great craic – so much so that I nearly wish I was there myself," she joked. "On a more serious note though, getting to the final of the Olympics was a dream come true. It was a long, long road to Rio and there have been so many people there supporting me along the way. It was great to see so many of them in Letterkenny that night and to get the opportunity to thank them for that support. They really pulled out all the stops in organising the homecoming. It's something which I will always be grateful for," she said.
After winning the lightweight single sculls World Championship title in 2001, Sinéad's initial quest was the 2004 Olympics in Athens but her preferred discipline wasn't an Olympic event and forming a formidable doubles partnership didn't work out.
Four years later the Olympic dream was again dashed. That's where the rowing career looked destined to end, as Sinead and Sam began their family soon after. Then came a twist and a potential shot at the London Olympics – Cycling Ireland were assembling a women's team for the 3km pursuit in track cycling and following the British model of bringing in athletes from different sports.
A shock place in the Games looked possible until a puncture at a World Cup event, in Kazakhstan. The competitive bug never disappeared though and last September Sinéad along with Claire Lambe booked their place in Brazil for the women's lightweight double.
FUTURE
So what does the future hold for the Letterkenny doctor? "I'm really not sure yet. I would love to go to Tokyo (2020) but between now and then I would need to set a few intermediate goals as I find it hard to train without having some sort of goal in mind.
"I would like to take some time away from the international scene but I don't know if that would be allowed. I'll have to chat with the powers that be in Rowing Ireland. Claire (Lambe) is off to Cambridge this year so I'll probably do the trials and keep my hand in. They're in October and November so I'll have to rely on my fitness at this stage," she said.
Last year, Sinéad and her family moved to Cork to allow her prepare for Rio at the National Rowing Centre on Inniscarra Lake. Maybe, just maybe, she might take some more some time away down by the banks of the Lee in three years time.
In the meantime, she'll be kept busy completing her GP studies and looking after her three daughters Clodagh, Molly and Hannah.
Save
Save
Receive quality journalism wherever you are, on any device. Keep up to date from the comfort of your own home with a digital subscription.
Any time | Any place | Anywhere
Posted: 3:29 pm September 29, 2016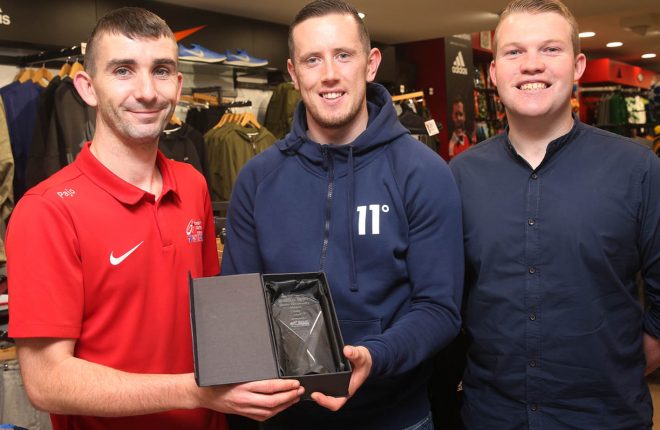 Gallagher was awarded the Donegal News Sports Personality of the Month award for July