TODAY'S column is perfect for the bride who likes to be hands on and loves a wedding D.I.Y project. The best part, you can rope the bridal party in to help you, in particular his lordship, the groom!
So with that in mind, today's wedding decor idea is something to ease a groom into his wedding D.I.Y duties, by involving him but not leaving him with full responsibility!!!
I absolutely love the new trend for glass table seating plans and menus at wedding receptions. From using an antique mirror to salvaging old windows or picture frames or decorating your own, writing on glass has taken over from blackboards as the new way to add a little rustic chic to your wedding reception.
There are lots of ways to adopt this trend depending on the style of your wedding and the look you are going for whether it be rustic, vintage, old school or glamour. This project will also depend your budget and the time you have for wedding D.I.Y.
I will run through some options to give you an idea of what might work for you.
Seating plans on Windows / Picture Frames
For the rustic or vintage look you may need to take a trip to a vintage market or local car boot sale as well as charity shops.
Starting simple with a wedding menu on glass, there are two items you could use: a single frame from a window or cabinet or a picture frame with the glass secured but with the backing removed.
I don't think I need to state the obvious but be sure to clean your frame or window extremely well! Lastly, to write the guests names onto the glass you will use a regular white board marker. There may need to be some last minute changes to the seating plan so it is important to use a marker that will easily rub off without leaving any marks or stains.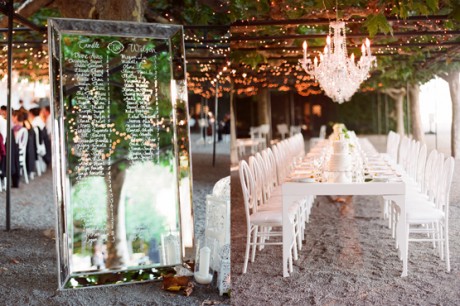 Mirror, Mirror on the wall…!
I will admit I love this idea. It's so glamorous and unique and it adds that touch of Parisian restaurant chic. All you have to do is find a gorgeous large mirror, maybe you already have one lying around that you no longer use.
I think it's best to choose a long standing mirror if you have invited a large number of guests to your wedding.
Again for the writing, use a white board marker or a dry ease markers which will come off with wipe easily. So beware if you're going to be using any family heirlooms or beloved mirrors from home!
So there you have it, hopefully I have given you a few ideas to get the creative juices flowing and the wedding D.I.Y salvaging started.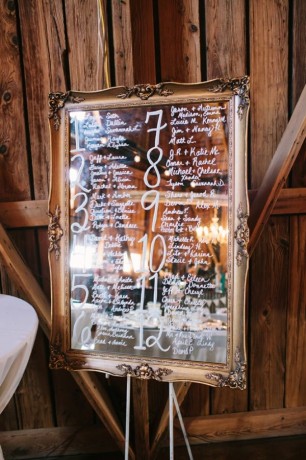 Zara McDaid can be contacted on Facebook, search 'Zara Mc Daid Art', www.zaramcdaid-art.blogspot.ie, e-mail is zaramcdaid@hotmail.com, Twitter @zaramcdaidart and Instragram ZARA MC DAID
Receive quality journalism wherever you are, on any device. Keep up to date from the comfort of your own home with a digital subscription.
Any time | Any place | Anywhere
Posted: 4:32 pm March 27, 2015