BAREFOOT Sandals are the perfect accessory for women of all ages and can be worn just about anywhere. Whether you are a fashionista or mother-earth type, nothing is more liberating than going barefoot.
And when you dress up your footsies with beautiful handcrafted art by Alison Gallagher, going barefoot takes on a whole new meaning!
This week I met with the very creative and fashionable Alison Gallagher from Ramelton. I popped into her studio in Ramelton to have a look at her new designs and creations. Immediately I was in heaven! A new delivery had arrived and the room was filled with bags of stunning unique beads, stones and gems.
If I am honest it took me a while to concentrate as my eyes were darting from one area of the room to the next admiring all of her creations.
Alison explained that from an early age she has always had an interest in the fashion industry, having covered many aspects of it from retail in bridal-wear and fashion, modelling, catwalk training and choreography, fashion shows to event organising.
Alison said that her recent involvement in event organising was a lot of fun and it required her thinking outside the box. This in turn fuelled and inspired her creative side and she found herself compelled to put her imagination and skills to use and design and create a product which combined both her love of fashion and her artistic nature.
Alison has designed and created a very unique accessory called 'barefoot sandals' which she designs and makes from her studio in Ramelton.
To create these stunning foot accessories Alison uses beads ranging in quality and also in price, from Czech beads, jade, quartz, turquoise, hematite, crystal, magnesite, moonstone, natural polished stone, wood, shell, Navajo pearls to Swarovski crystals to name but a few. 
A custom piece can be created to co-ordinate with your outfit and individually sized to your feet measurements. One off limited edition pieces are also available in standard shoe sizes.
These beautiful creations can be worn on holiday, a casual walk on the beach, at weddings at home or abroad to compliment an outfit for a special occasion, or just a night out with the girls! Different styles, colours and sizes are available and ladies the best part, they range in price from a very reasonable €20-€50.
Liam Grier Knitwear Design Studio, in Ramelton has kindly offered Alison the exciting opportunity to showcase her creations to the public for the first time at the Ramelton Festival Fashion Show this Wednesday 9th July at the Town Hall at 8pm. Alison's creations will also be available to purchase at Liam Grier's Design Studio in Ramelton.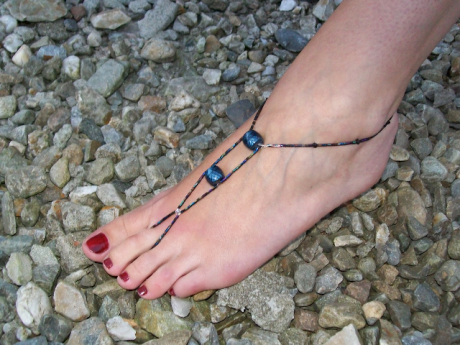 Barefoot Sandals are the perfect gift for a friend who seems to have everything or who values a unique, hand crafted gift. These creations are stylish, light-weight & easy to store in a purse or small clutch bag if your heels get the better of you on a night out or after too much dancing at a wedding!
Also, the beauty of Alison's creations is that they can also be worn with heels if you don't want to go barefoot which will add interest and that something special to your outfits.
I wish Alison all the best with her bare foot sandals and I am looking forward to seeing them at Liam Grier's fashion show in the Town Hall, Ramelton this Wednesday, July 9 at 8pm. An event not to be missed. For more information contact barefootsandalsdonegal@gmail.com

Zara McDaid can be contacted on Facebook, search 'Zara Mc Daid Art', www.zaramcdaid-art.blogspot.ie or e-mail is zaramcdaid@hotmail.com
Receive quality journalism wherever you are, on any device. Keep up to date from the comfort of your own home with a digital subscription.
Any time | Any place | Anywhere
Posted: 9:30 am July 9, 2014