APRIL was a month to remember for the Raphoe Hockey's Ladies team and their goalkeeper Denise McElhinney. Raphoe only stepped up to Senior 1 last season, but they were more than comfortable at that level, and soon found themselves in the mix for promotion.
In the end, it all came down to a winner-takes-all league match between them and rivals Rainey. A tight, cagey battle ensued and neither team could score during the game or the ten minutes of extratime, meaning penalty flicks would decide who would be stepping up to the Ulster Premier League.
Fortunately for Raphoe, their goalkeeper McElhinney is a dab hand when it comes to shoot-outs, and her heroics helped the team to a famous victory.
"It was 0-0. We had chances and they had chances, but when it came to the end of the game, they forced seven short corners," the 29-year-old explained.
"They put a lot of pressure on us, but we managed to keep them out and it went to the flicks. "I've always liked penalties, whether it be football or hockey, and I was confident I would save a few. "They scored their first one and then I saved the next three. Then our captain Rachel (Buchanan) scored the last one to send us up."
While most of her teammates have been engrained in the sport since they were at school, McElhinney didn't even start playing hockey until eight years ago.
SOCCER
She is a soccer goalkeeper noted for her courage and determination, and when asked to give Hockey a go, she soon got to terms with the game. "I was playing soccer with one of the girls that played hockey, and she said that they needed a 'keeper.
"I had never even seen a hockey ball, never mind try and stop one. "Sabrina Bennett and Annette Pearson persuaded me to try it for one game. "I was asking all about the rules, but they just told me as long as you touch the ball you're alright. "Things went ok and I stuck at it. It's a great club to be involved with, and I think most of Raphoe knows me as the 'keeper by now."
It has been a remarkable three years for McElhinney and her teammates. Richard Tinney has worked the oracle with the team since he took charge and they have gone from strength-to-strength.
"We've had a few promotions in-arow now, we were in Senior 2 and then Senior 1, and now we're up to the Premier. "We always had a good crop of players, but now we have the right structure of players there as well. "Richard Tinney has come in and got everyone together. I was away in Australia, and a few other girls weren't playing, but he's got us all back into the fold. "We didn't expect it. We were kind of just hoping to stay in the league and compete in it, and see how we got on. "We trained hard with Adam Speer in pre-season and that set the platform for the year."
McElhinney admits that the team would have been happy to consolidate their position in Senior 1 last season, but their hard-work in preseason saw them get off to a flying start in their league campaign. An excellent cup run also inspired confidence, and when they defeated Banbridge in December, they knew they could put it up to anyone.
"After three games we were top of the table and things were going well, and then we went on a good run in the cup. "We got to the semi-final and we played Banbridge. We played them in the league on the first Saturday in December and we lost our first game of the year 4-1. We let in goals that we shouldn't have let in. "We had to go back up the next day, and we played them off the park. "We were 2-0 up, but we let them back in and we beat them then in flicks. "In fairness, they were superior to all the teams in the league, and that was the only time they lost all year."
That semi-final victory put them through to the Ulster Ladies Cup Final where they faced Ballymena in Coleraine, but things didn't go to plan. Despite the best efforts of the goalkeeper, Raphoe lost out on penalty strokes, and McElhinney said it was a heart-breaking defeat.
"We lost the final in flicks to Ballymena. We just didn't attack. We were afraid of losing rather than going for the win. There was a big crowd and it was probably the biggest game we had ever played in and we just didn't perform. "That hurt us and it took us a few games to get back into our stride. "We were winning all our games and then we started to draw a few. "We were panicking but we sat down then and we had a team meeting. "There was four or five games left and we knew that promotion was still there. We had actually dropped to fifth in the league at one stage, but we had games in hand."
It took Raphoe a few games to get back into their stride, but they regained their focus in time to achieve promotion. Tinney's team had no bother adjusting to life in a higher division last season, but McElhinney admits that it is ambitious to think that they could be chasing glory next year in the Ulster Premier League.
"We're not expecting to do what we did last year. If we can get third last, so we don't have to go into the play-off, we'll be delighted. "We haven't sat down and talked about it, but I would like to stay up."
It may be the hockey close season now, but the Dry Arch Bar employee won't be taking too much of a break. She has other sporting commitments, and has her eyes set on more success before the year is out.
"I'll be playing soccer with Bonagee and GAA with Convoy and that will keep us ticking over. "There's a good buzz there now with Convoy. We have a new manager and he's got us all pulling together. "I won't say too much now, but it's looking good."
Save
Save
Save
Receive quality journalism wherever you are, on any device. Keep up to date from the comfort of your own home with a digital subscription.
Any time | Any place | Anywhere
Posted: 4:04 pm June 3, 2016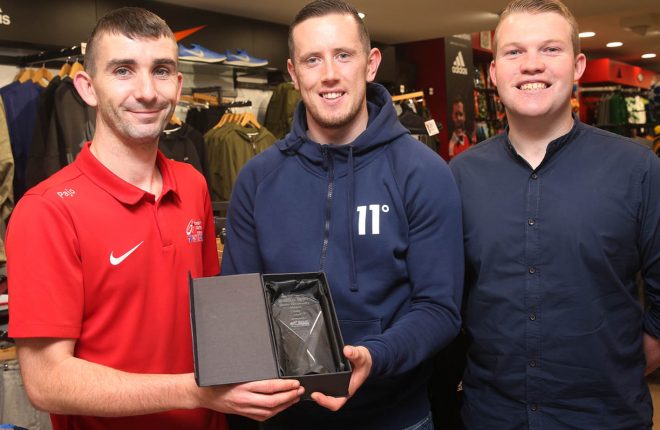 Gallagher was awarded the Donegal News Sports Personality of the Month award for July