BY SEÁN P. FEENY
A FREE three-day summer workshop for teenagers and young adults was hosted by Letterkenny Youth Theatre at An Grianán Theatre last week.
Devised and facilitated by Eoghan Mac Giolla Bhrighde, Youth Initiative Coordinator for An Grianan Theatre, and assisted by Gawain McBrearty, the workshop touched upon aspects of drama, improvisation, movement, characterisation and creativity.
Eoghan said: "The objective was developing performance and language skills, fostering creativity, improving listening and observation skills, building social skills (co-operation, trust, respect), and building self-confidence."
As part of the workshop Aoife Toner, (Dance Artist In Residence at An Grianan/Donegal County Council, gave a workshop in Contemporary Dance, Improvisation and Movement while professional actor John Ruddy gave a short workshop on Characterisation.
The purpose of the workshop was to introduce new members to the Youth Theatre while at the same time refreshing existing members before the Youth Theatre commences its year-long course again on Wednesday, September 10.
With the emphasis on fun, Eoghan said Youth Theatre contributes to the artistic, personal and social development of young people. "It provides an outlet for self-expression and helps the development of imagination and artistic awareness, it increases social awareness (particularly through role play), mental awareness, fluency of speech, self- knowledge, self-respect, self-discipline and self-confidence.  
"It gives them the opportunity to learn how to co-operate with others and helps develop orderly thinking and the ability to organise.
"It improves physical co-ordination and physical fitness. It provides social and moral training, and helps young people to mature emotionally, preparing them for adult life."
The Letterkenny Youth Theatre is a drama group for young people, which offers a year round programme of activities, including a regular programme of drama workshops and the staging of at least one theatre production each year.
Past and existing members of the Youth Theatre have attended courses run by the National Association for Youth Drama (NAYD) and have been involved in many theatrical and television/film productions. 
Eoghan said: "There is a lot of talent in the group at the minute and through their commitment and voluntary participation, together we can develop creative and expressive potential alongside the honing of a craft and all that entails in terms of discipline, technique and confidence."
The Youth Theatre is open to all young people regardless of their gender, background, race, sexuality, religion, ability or economic situation.
It will begin on Wednesday, September 10 and run every Wednesday evening from 4.30 until 6.45pm throughout the school year finishing up in June. For more information contact An Grianan Theatre at 0749120777.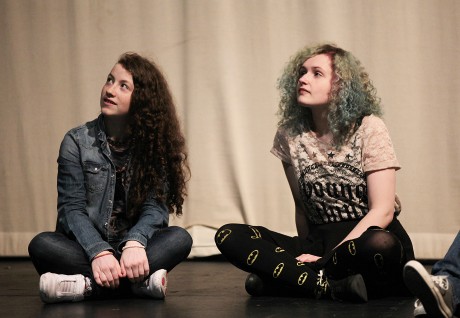 Posted: 7:30 am August 26, 2014