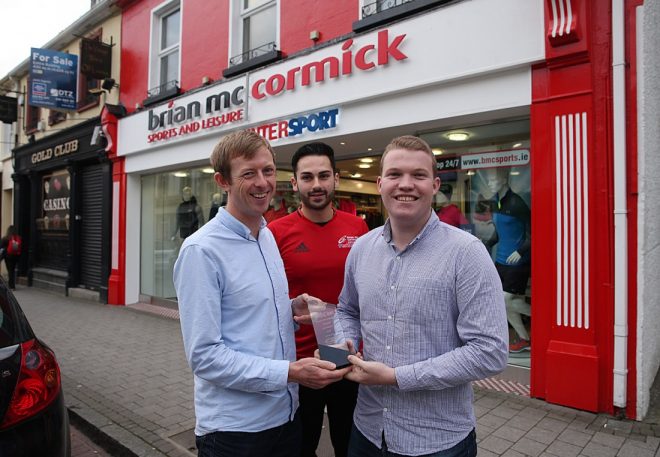 SEPTEMBER was a month to remember for Aidan Callaghan as he was crowned Triathlon Ireland's Middle Distance champion for 2016 after winning the 'Lost Sheep' Triathlon in Kenmare, Co.Kerry.
The Letterkenny 24/7 triathlete was one of 350 competitors who put themselves through a gruelling race which consisted of a 1,900 metre swim, an 80 kilometre cycle and a 21 kilometre run.
However, the Hawthorn Heights native came through the rain and the fog in first position to claim a memorable victory.
It has been a wonderful few years for Callaghan, who was Traithlon Ireland's Super Series champion in 2015, and two weeks ago, he competed in the Ironman World Championships in Hawaii.
It has been an incredible rise for the 33-year-old and he explained where it all began for him.
"I started off swimming when I was seven or eight and I qualified for Mosney back around 1990.
"I was with Swilly Seals until I was 18, and I travelled all over Ulster competing.
"I did that until I finished school and moved away to Bolton to study sports science.
"Unfortunately the year I landed there, the local swimming pool was closed down, and the nearest one was in Manchester, which wasn't really accessible to me."
Callaghan played GAA and soccer while he was based in England, and he continued to do that when he returned home to Ireland in 2007, to take up a post as a co-ordinator in Lifford Youthreach Centre, which he still holds to this day.
However, he struggled with a persistent groin problem and not wanting to have an operation which may not have solved the problem, he opted to take a year's break from GAA and soccer.
He always had an interest in Triathlons and when a club was formed in Letterkenny, he decided to give it a go, and that proved to be a wise decision.
"Triathlons were something that I always had an interest in, but there was no club around when I was younger.
"When I started off, I was nowhere near as good or as fit as I am now.
"But the big advantage that I had starting out in comparison with other people was that I had the swimming background, and I was always near the front or in the top five or 10 coming out of the water.
"I had a pretty good engine from playing midfield in Gaelic and soccer, but I had to work very very hard on the bike, and still do.
"It's only really this and last year that things are starting to come together on the bike.
"I was a decent five or 10 k runner, but I used to really struggle when I came off a tough bike stage, but I'm getting faster now."
After coming second in the Middle Distance championship race last year, Callaghan was determined to come out on top in Kenmare, but he knew he faced some stiff competition.
European Ironman 70.3 Champion Ritchie Nichols was in attendance as was former professional footballer, Bryan McCrystal, and they both had their eyes on the top prize.
Nichols led after the swim, and while Callaghan overtook him on the cycle, McCrystal then hit the front.
However, he subsequently crashed out of the race and that opened the way for Callaghan to power home to glory.
"I was second coming out of the water to Richie who is a professional triathlete – it's his day job, so he just trains all day.
"I was 10 or 15 seconds behind him after the swim, but I caught up with him after about 20km of the cycle.
"Bryan McCrystal came and passed both of us, but then I heard this big noise and he had crashed out.
"I knew then that it was my race to win, and I put the head down and didn't look back. I just pushed as hard as I could.
"I could see at the transition to the run that I was around two minutes ahead, and then during the run, there was another time when you could look at the competition, and I knew I had two to two and a half minutes on him.
"I stuck to my plan and just went as hard as I could, and I did the run in around 1.20 which was good because there were three tough climbs."
Callaghan was thrilled with the triumph that he had been working towards all year.
"It was a reward for all my hard work.
"I knew going into the race that I had the potential to win it, if I stayed close to Bryan on the cycle and tried to catch him on the run.
"It was really satisfying to win especially after coming second last year."
There are more people taking part in triathlons than ever before, and the Letterkenny 24/7 club is growing from strength-to-strength.
Callaghan says it is a sport that you can make big strides forward in, if you are prepared to go about things in the right manner.
"It seems to be something that has really just exploded over the last year or so.
"When I first joined the club there were 12 members, and now we're pushing on 150, which is a massive growth in five or six years.
"It really is a sport for everyone as you don't have to be really brilliant to compete.
"You just have to be prepared to work very hard and you'll soon get the results.
"You have to look after yourself very well. I remember back at the World Championships in 2013 when I had a really poor week and I knew I wasn't doing it wholeheartedly.
"I was eating things I shouldn't and going out for a few pints and not putting in the effort that I needed to be putting in.
"I'm more tuned in now on nutrition, recovery and the sleep I need and things like that and it has definitely helped me."
Callaghan tested himself against the world's elite Ironmen in Hawaii earlier this month, but he will take it easier for the remainder of the year, although he will compete in the cross-country in November.
He has one big date pencilled into his diary next year when he will marry his girlfriend Catherine, but he also added that he will go back down to Kenmare in 2017 to try and defend his crown.
"I'll rest and recover for the rest of the year and I have a few duathlons planned for the start of the season and then the Omagh half-marathon.
"I'm getting married to Catherine in April, so next year won't be as full on with the honeymoon and everything else.
"I have a few events lined up for the back end of next year. I'll be going to Barcelona for an Ironman next October, and I'll be heading back down to Kerry to try and defend my title. That should be another ding-dong battle, but I'll give it my best."
Save
Posted: 2:10 pm October 28, 2016