A COLLECTION of artwork spanning three generations is to be showcased at the re-opening of the popular Gailearaí Dixon on Tory Island next weekend.
Tory based artist Nóirín Meenan has been busy restoring the gallery which closed over five years ago.
Her vision was to celebrate the work of both past and present artists. This became a reality when the project secured funding from Ealaín na Gaeltachta and Pleanáil Teanga Oileán Thoraí.
The exhibition will showcase the rich heritage of local art including a piece of much sought after work from James Dixon.
Born on Tory Island in 1887, James Dixon spent most of his life on the island as a fisherman and farmer. Unusually he began painting at quite an old age, after an encounter with Derek Hill, a renowned English artist who lived in Glebe House.
"Derek Hill fell in love with Tory. He was fascinated by the islands rugged landscape," Nóirín said.
Whilst Hill was painting, Dixon, the islander, stood watching the artist work. Hill asked him what he thought and Dixon confidently replied and said he could do better himself.
Hill was intrigued by his confidence and offered him some paint and brushes which Dixon turned down. Instead he used the hair from a donkey to make his own homemade brushes.
"Hill was fascinated by his use of donkey tail and how he looked at things, because he had a childlike naivety," Nóirín explained.
This became an important element of his unique style of painting that influenced the primitive style of island art that arose in the area and ignited the first generation of Tory Island artists that will feature in the upcoming exhibition.
Included is the work from James Dixon and his brother Johnny Dixon, the late King of Tory, Patsy Dan Rodgers and Seán Rodgers who owned the shop at the top of the pier.
The second generation of artists native to Tory are Anton Meenan, Ruairí Rodgers and Michael Rodgers. The third generation of artists exhibiting their work includes Nóirín Meenan, as well as Christina Rodgers, Majella Cullen, Daniel Cullen and Padraig Diver.
There will also be crafts on display from Grace Ann Meenan, Sarah Coll, Seán Rodgers, Michael Rodgers, Colm Rodgers and Teresa Jordan, as well as artwork from Saskia Rodgers and Aoibheann Meenan, the two most recent painters added to the exhibition.
Nóirín described the gallery which is based in an old house as "very homely" despite the lack of running water and electricity.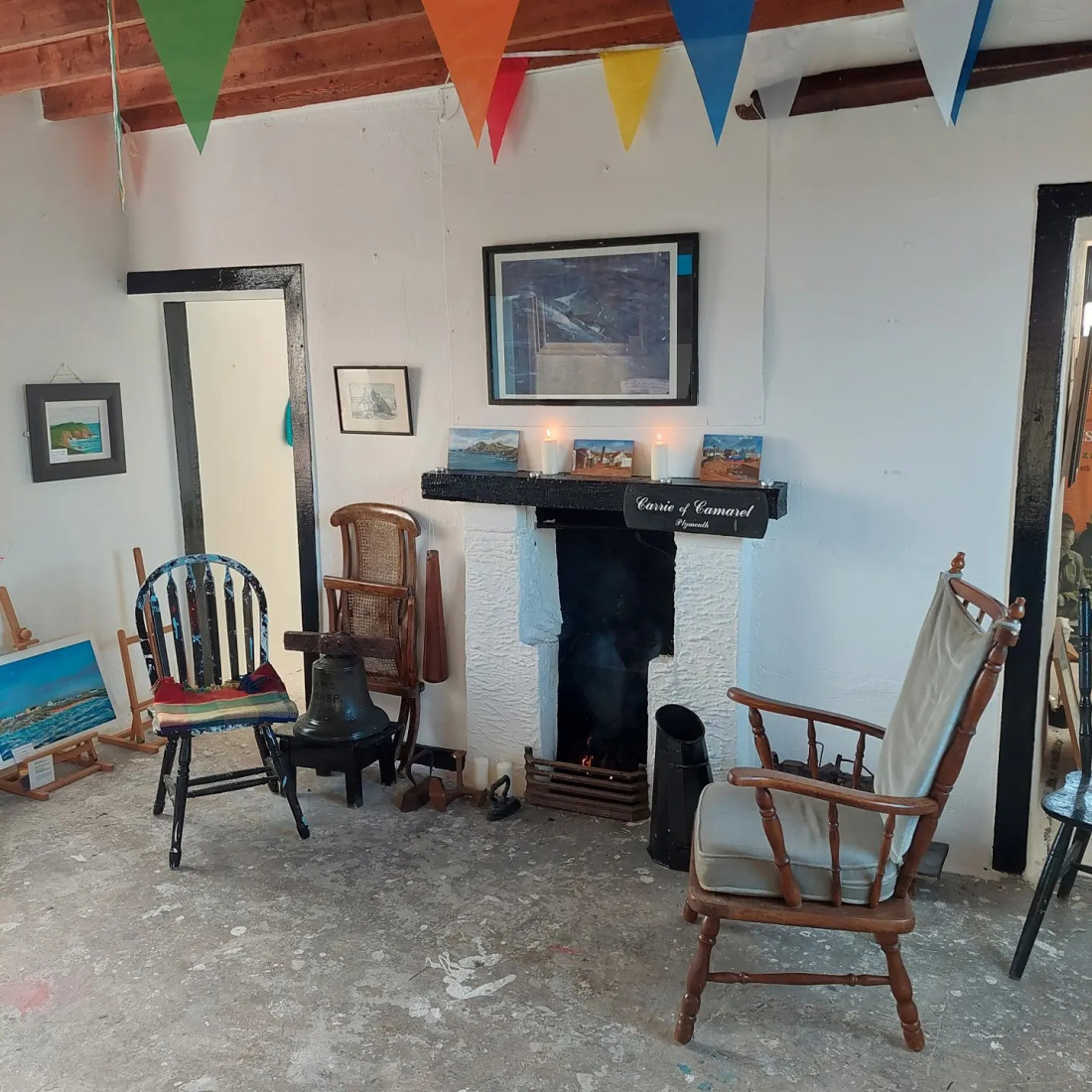 For the opening night the cottage will be illuminated with a cosy open fire and flickering candle light.
This vision was inspired by the intimate atmosphere at a recent Culture Night held on the island, when local musicians gathered around the glow of an open fire.
"It will be just like old times; the way Tory used to be," Nóirín said.
A renovation of the gallery has been in the pipeline for many years, Nóirín explained.
The revitalisation would see an extra storey added to the building to accommodate a studio fully equipped for an artist residency. The building would also serve as an information centre with details on the history of local artists.
But unfortunately this project may not come to fruition for another while as they wait on grants and funding, she added.
The reopening of the iconic gallery is something Nóirín has always been interested in. As a teenager she was immersed in creativity. Two of her uncles are artists and she worked in the old gallery in her teens.
Art gave her a purpose when she struggled in other academic subjects. This inspired her to follow a career as a secondary school art teacher. From her experience as a teacher she has encountered a lot of parents putting pressure on their children and dismissing art as a serious subject.
"Whereas to me art was always important," she said.
Unfortunately as there are only two students currently attending Coláiste Phobail Cholmcille, one of whom is Nóirín's younger brother, there is no position as an art teacher in the secondary school.
So instead of teaching Nóirín is shifting her focus to preparing Gailearaí Dixon for the busy summer season ahead.
There has been a huge influx in tourism on the Island due to the increasing popularity of sea-bird spotting excursions and people hoping to catch a glimpse of Tory's famous puffins and corncrakes. Locals are preparing for tourists to continue to flock to the island for the upcoming summer season.
A collection of artwork spanning three generations is to be showcased at the re-opening of the popular Gailearaí Dixon on Tory Island next weekend.
The re-opening of Gailearaí Dixon will take place next Friday, June 2 at 7pm. There will also be live music on what promises to be a fantastic night filled with culture and craic.
Receive quality journalism wherever you are, on any device. Keep up to date from the comfort of your own home with a digital subscription.
Any time | Any place | Anywhere
Posted: 3:59 pm May 26, 2023