By Diarmaid Doherty
MAUREEN Shiels doesn't remember the day her husband Hugo died in Letterkenny University Hospital.
She never got to say goodbye.
As her husband of 54 years spent his final hours in this world lying in a hospital ward, Maureen was in a coma in the same hospital's ICU department.
She was battling to survive, kept alive on a ventilator having contracted Covid-19, pneumonia and sepsis.
Miraculously she fought off the illness. She came off life support and some two weeks later, she was eventually well enough to be told by her son Enda that her dear Hugo had since passed away.
Maureen struggles to hold back her tears as she tries to outline a timeline of events that make up a nightmare of memories.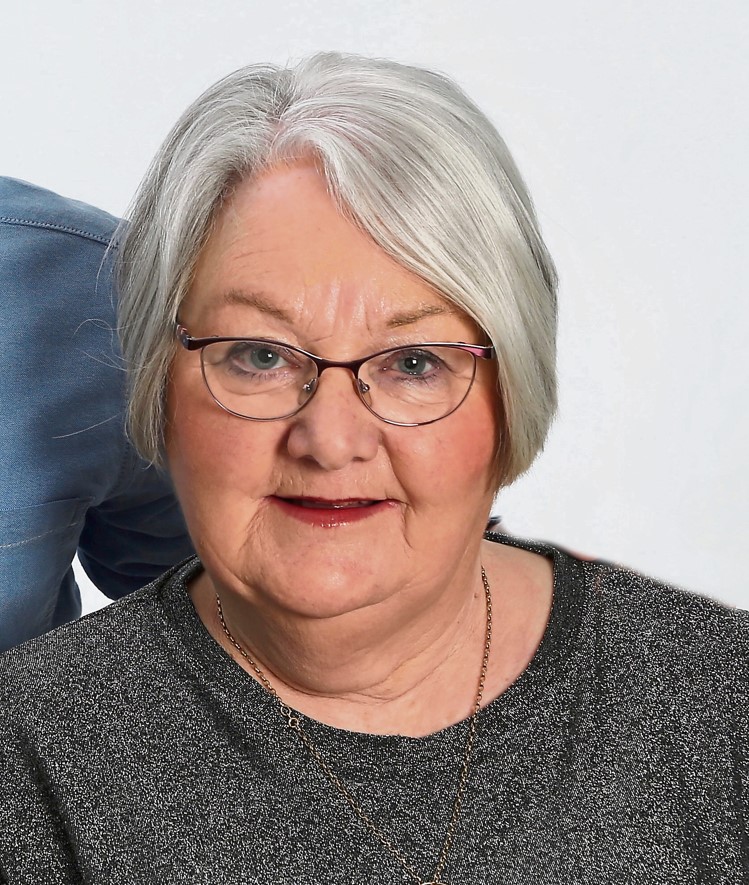 "I was on life support when Hugo was dying," she said.
"I never knew Hugo was dead.
"Hugo was dead and buried for two weeks before I knew a thing.
"Even when I was told, I didn't even remember being told. I was so drugged up.
"I even remember being in Rehab and I was asking for Hugo. But he was dead for weeks"
Maureen Keogh and Hugo Shiels were teenage sweethearts having first met on a blind date outside Clarke's Newsagents on Letterkenny's Main Street. It was Christmas Eve of 1965.
They were married soon after. As Maureen recalls, she turned 19 on the Monday and was married by the Wednesday.
They worked together too – in Little Angels in Lettekenny where Hugo was the school caretaker and Maureen a cleaner.
Five years ago, in October 2018, they retired together on the same day.
"Everybody loved Hugo," Maureen says.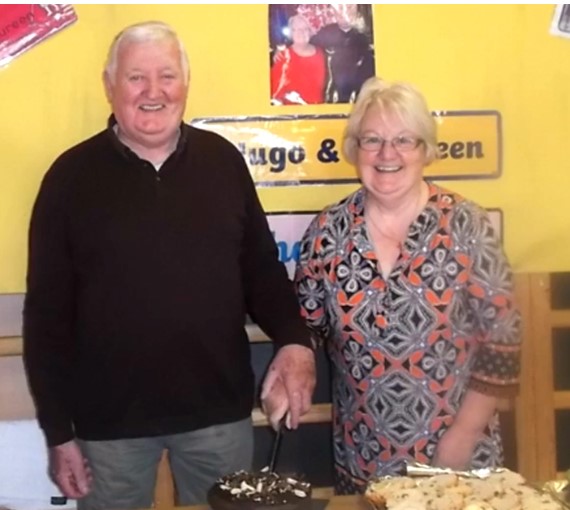 And it's fair to say everybody did. The tributes that flowed following his death at 74 on April 16, 2020 remember a man who left his mark in his hometown. A man who touched the lives of so many. A man who always seemed to wear a smile.
But because the country was into the first weeks of a dreadful pandemic when Hugo was dying in Letterkenny University Hospital, the final weeks of his life were spent in a time of deep uncertainty.
When he eventually passed away, there would be no funeral. The priest said Mass alone in St. Eunan's Cathedral.
At their home in Ros Suilighe, their son Enda played the Mass online and because his father didn't have Covid, Hugo's remains were allowed to be kept in the conservatory of the house – the place where he said his prayers every morning.
Outside in the backyard, a few of the neighbours and some relatives had quietly gathered.
Then when Mass ended, Hugo was brought for burial to the nearby Leck Cemetery.
At the same time, Maureen, seriously ill in ICU, lay on life support.
Looking back now, her emotions are a mix of hurt and deep, deep sadness.
She speaks with frustration and even anger when she recalls how Hugo ended up dying alone in hospital. Their son and daughter, Enda and Angela, weren't allowed to be with him.
Nor were his brothers or sisters, some of whom live close to the hospital.
"That's the thing that breaks my heart," Maureen says. "The fact that Hugo died alone."
Up until shortly before the previous Christmas, life had been pretty normal for Hugo and Maureen.
He'd had his health problems over the years, and in his youth, had suffered from epilepsy.
But having not been an issue for a long number of years, Hugo had to attend a consultant in Sligo after experiencing a strange dizzy feeling while on a visit to his brother Declan's house that November.
By December, the test results were back and the news wasn't good. Hugo was told he wouldn't be allowed to drive again.
"He cried his eyes out," Maureen recalls.
That Christmas, Enda had bought his parents a new television and on New Year's Eve, Maureen said they were getting ready to watch something on their new TV.
"It was at about 9.30 that night and poor Hugo took an epileptic fit," Maureen said.
"We got Dr John McGeehan down and got him up to the hospital."
Later that night, Hugo suffered another seizure, combined with a cardiac arrest.
"I never heard his voice from that day on," Maureen, pictured below, said.
"Everybody had just wished everyone a happy New Year in the hospital. I'd even said I hope next year will be a lot better for us."
In the days and weeks that followed, while her husband lay on life support, Maureen would visit twice a day, once in the morning, and then in the evening.
He eventually came off life support, but was still unable to speak.
"On this particular day, a nurse took me aside," Maureen recalled.
"She said she thought all the visits were taking too much out of me. She said to take the morning off.
"So the next morning, I didn't go up. That evening I wasn't in the best of form, so I didn't go up then either. I took this kind of dose and by God did I not have to go into the hospital. They said it was a flu virus."
That first spell in hospital was in February and it was the first sign of a sickness that almost cost Maureen her life.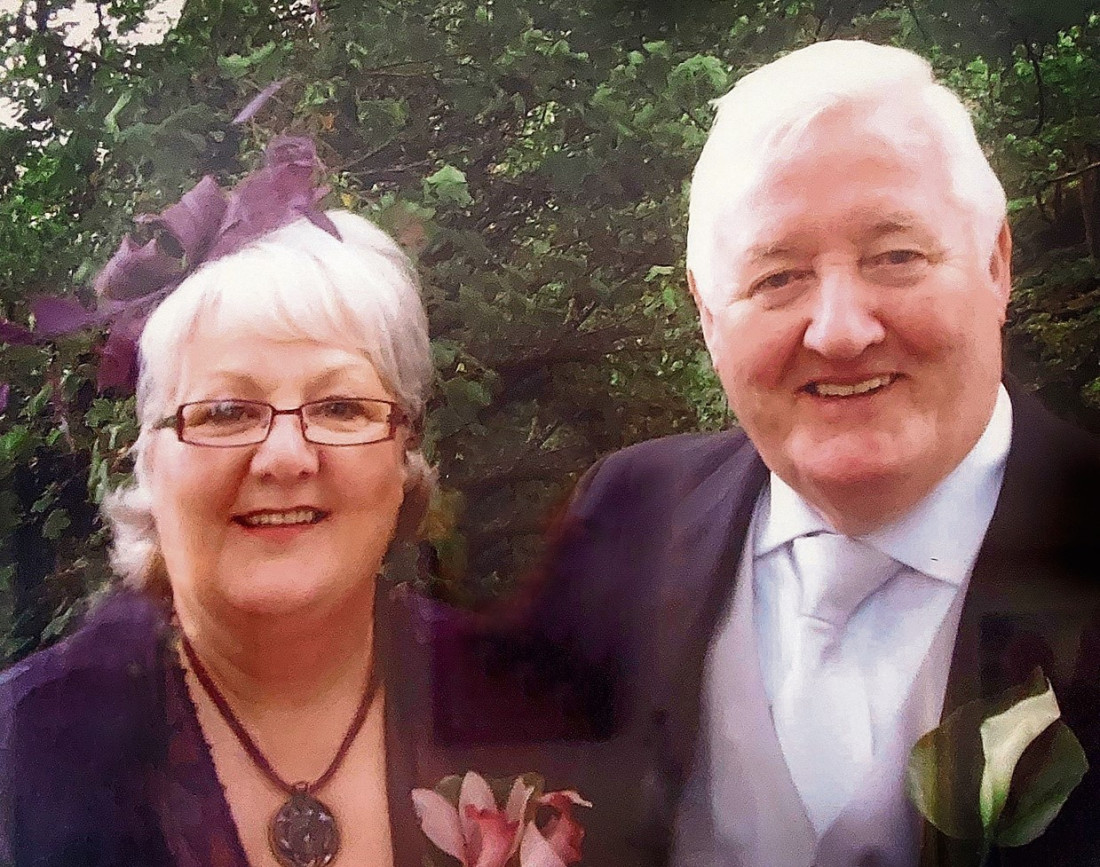 She was in and out of hospital, never really getting any better and all the time her son Enda was coming back to Letterkenny from his own home in Dublin, sometimes to look after his mammy, and when he was allowed, to visit his daddy in hospital.
But when Covid-19 hit in March, the visits to the hospital ended.
Both Maureen and Hugo were in separate wards in the hospital, and both battling serious illness. Maureen would spend four months in the hospital and it was during that time that Hugo died.
"The doctors had phoned Enda and didn't give any hope for me," Maureen said.
"Enda thought I was going to be away before his daddy. It was a cruel time."
She adds: "That was one of the worst things. Nobody could come near Enda because of Covid to support him.
"He was here in the house on his own. Then he couldn't get in to see his daddy and he couldn't get in to see me.
"His daddy died and there was not one being with him.
"The thing about it, Hugo didn't have Covid. He was in from New Year's Eve until the 16th of April and he never got Covid.
"You'd think that they could have a wee corner, knowing that he was dying and let his family go and have five minutes with him.
"Hugo had a brother Jim – he's a year dead now. His other brother Declan lives close by. He had his brothers and sisters, a son and daughter, but they weren't allowed in."
Maureen would spend two months in Rehab and while her recovery went well, life had changed forever.
"They saved my life," she said of the staff at Rehab."They saved my sanity."
Almost three years later, Maureen (75) is still on tablets for an issue with the nerve endings in her feet caused during her time on life support.
She's suffered a couple of falls, but says she's keeping okay.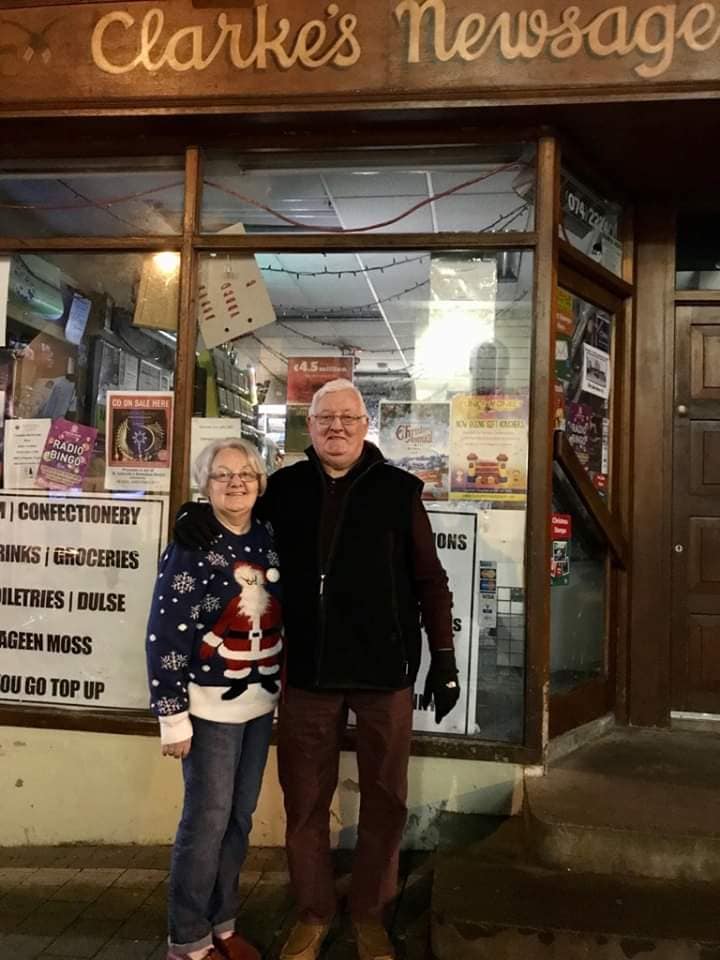 She'd lost all her hair but notes that every so often, someone will compliment her on how well she's looking, and how well she's getting on.
She talks with love for her two grandchildren, Rhea and Caiden McFadden. Her brother Tommy keeps her company as does his daughter Karen and along with Enda and his wife Niamh, Hugo's brother Declan and his wife Madeleine have also been a great support.
If she could turn back time, she just wishes she could have been with Hugo in his final hours.
All that's left are happy memories and a collection of mementos, some which make her smile, others which prompt a tear.
There's a brown envelope which had contained some money, organised by Hugo so that the family could treat relatives and friends to a bite to eat after the funeral. Because of Covid, that meal didn't happen.
There's a wee note scribbled to Maureen from Hugo on the front of the envelope, telling her how much she meant to him.
There's a bag of Mass cards too, and Enda kept the cuttings from newspapers on the articles written about his father when he died.
"Enda kept a book and he put everything down in it," Maureen said.
"I have the book out there. I have a bag of Mass cards and letters. I don't know half of the people who sent them. But Hugo knew them all. He knew everybody.
"Everybody loved Hugo."
Receive quality journalism wherever you are, on any device. Keep up to date from the comfort of your own home with a digital subscription.
Any time | Any place | Anywhere
Posted: 5:01 pm May 22, 2023